5 New Chicago Cocktail Bars Focusing On The Casual Side Of Good Drinking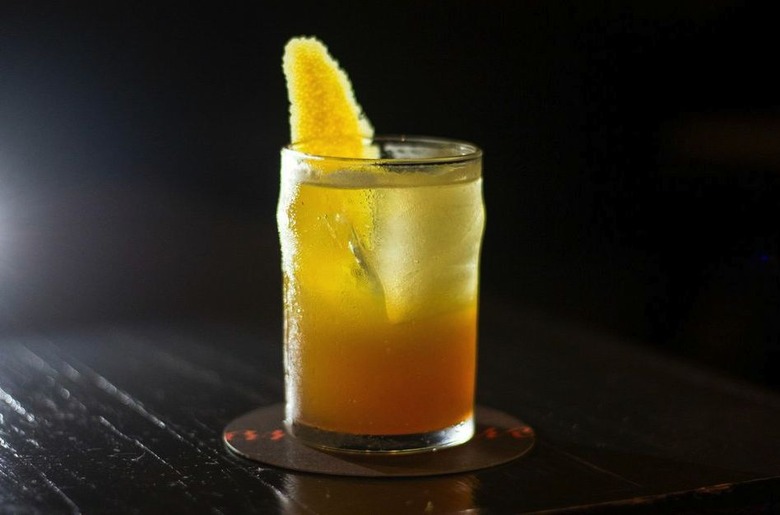 There's no questioning that Chicago has some of the most respected and downright fancy craft cocktail bars in the country. We've got the inimitable Aviary, Michelin-starred Longman & Eagle, The Violet Hour and a helping handful of other spots that helped put the city on the map as the movement has spread and evolved.
Now, as some of the city's best barkeeps fly the coop to open their own concepts, the latest slew of craft cocktail bars boasts a new mentality: the drinks should be top-notch, but the atmosphere a tad more laid-back. This evolution falls right in line with the larger national trend of bars aiming to make craft cocktail drinking more of a fun recreational activity, as opposed to one that requires a certain sense of pomp and circumstance.
So here are five excellent cocktail spots that opened in Chicago within the last year, shrouded in the guise of fun-loving neighborhood bars. A few are revamps of existing concepts and a few others were built from scratch, but all of these spots serve the same high quality level cocktails in environments that have a more welcoming, "everyone's invited" feel.
1. Slippery Slope
Affordable, fun and easy-to-serve drinks are the liquid focus of the new bar from Scofflaw's Danny Shapiro, but it's the ambiance that provides the biggest draw for Logan Square customers. Shapiro says he wanted to create a friendly place that would avoid inhibitive rules and "create memorable experiences at an exceptional value." He nailed the concept — it's the best spot to grab a delicious bottled cocktail (good for high-volume crowds and less dance floor spillage, he says) or a canned brew and hit the Skee Ball machine or the red-hued dance floor for a night of reckless fun. 2537 North Milwaukee Avenue, Chicago, IL 60647, slipperyslopechicago.com
2. Analogue
This quirky casual cocktail spot from Violet Hour alums Henry Prendergast and Robert Haynes will celebrate its first anniversary this December. When it comes to the cocktails, you'll notice a rigid attention to quality spirits, fresh juice and house-made ingredients that's reminiscent of the pair's former haunt, but presented with a sense of cheeky sass instead of quiet reverence. For example, the house shots are classic cocktails mixed in mini form, and the strikingly bitter Purls will challenge your notion of what a beer can taste like. With great music programming and downright delicious Cajun cuisine to boot, it's an easy sell for the laid-back Logan Square crowd. 2523 North Milwaukee Avenue, Chicago, IL 60647, analoguechicago.com
3. Sportsman's Club
The Ukrainian Village's Sportsman's Club has been in operation since the 1940s, but was revamped by Heisler Hospitality (Trencherman, Revel Room, Lone Wolf, etc.) in December 2013. The cozy neighborhood spot modeled after a French hunting tavern features a daily menu of drinks designed and served by the dynamic duo of Jeff Donahue (Aviary, Graham Elliot and Barrelhouse Flat) and Wade McElroy (Barrelhouse Flat, Trenchermen). Sit under the watchful glass eyes of one of the many taxidermy guards that grace the walls and enjoy the drink perks the bar has to offer, like the Amaro machine, dispensing bitter delights in single-serving drams. 948 North Western Avenue, Chicago, IL 60622, drinkingandgathering.com
4. California Clipper
This classic Humboldt Park dive got a fresh new slate when Brendan Sodikoff (Au Cheval, Gilt, Green Street Smoked Meats, etc.) took control of the space, which reopened after a deep scrub in September. The atmosphere hasn't changed much, as they kept the same cozy neighborhood bar feel the original 1937 space boasted for so many years. The drink program — on the other hand — has received a significant upgrade; the multiple-page menu now features a range of classic cocktails, punches, digestifs and ice cream drinks (!) that typically fall under the $10 mark. 1002 North California Avenue, Chicago, IL 60622, californiaclipper.com
5. Bordel
Say the words "new speakeasy" and eyes will no doubt roll across the city, but this Wicker Park attic bar modeled after a French cabaret feels more artfully risqué than pretentious. Former Drumbar bartender Brian Sturgulewski (who also mans the beverage program at sister bar Fulton Market Kitchen) assembled a menu of tried-and-true classics to pay homage to the days of Prohibition, when many American bartenders fled to Paris to continue the profession legally. The bar, which sits above the Black Bull restaurant on Division, also plays to the cabaret theme with a program of live entertainment that includes jazz, flamenco dancers and burlesque shows.  1721 West Division Street, Chicago, IL 60622, bordelchicago.com
Read these Chicago stories on Food Republic: