6 Places To Eat Incredibly Well In Saint Thomas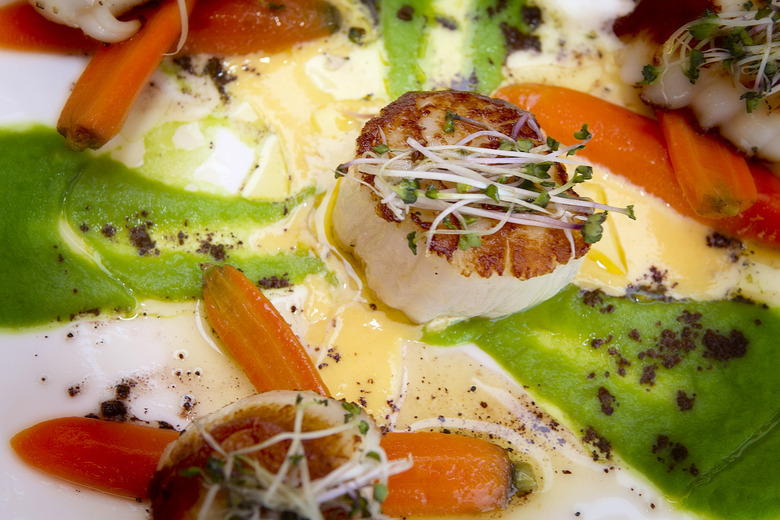 Sparkling, pristine beaches? Check. Over-the-top, posh resorts? Check. Glamorous, extravagant shopping options (that are also duty-free)? Check. A dynamic, vibrant culinary scene? Oh yes, you bet.
On St. Thomas, the second largest of the U.S. Virgin Islands, even the most informed epicurean will be surprised to find globally inspired cuisine from local specialties like fungi (a cornmeal-based side that's similar to polenta) and conch fritters to bacon-wrapped filet mignon and an Asian-inspired, spicy-soy tartare made with tuna caught that morning.
But, perhaps the best part of eating in St. Thomas is the laid-back casual vibe that's found island-wide at beloved casual spots like Gladys' Cafe and splurge-worthy upscale establishments like Oceana. Meaning, whether you're enjoying a cheap lunch or seven-course dinner, you don't have to dress up. And for the most part, "shoes and shirts with sleeves" is as formal as it gets. Here, we share six places to eat incredibly well on the island of St. Thomas.
Oceana
Romantic. It's a word food writers are loathe to use, because it typically screams style over substance. But Oceana — tucked away on an unusually unassuming corner of Frenchtown, right on the water — dodges all the predictable pitfalls with its locally minded and fresher-than-fresh menu. How fresh, you ask? Not only are chef/owner Patricia LaCorte and chef de cuisine Corey Magras passionate about partnering with local farms for greens, fruit and even honey — it's not as easy on the island as you might think — their dedication to securing the most pristine seafood is unparalleled. As Magras is a born-and-bred islander, local fishermen will often contact him first with their daily catch. If your server says the tuna special is fresh, you better believe it. Honduras, Charlotte Amalie, 340-774-4262, oceanavi.com
Fresh Bistro
No doubt, the address is swanky. Fresh Bistro is located in the Yacht Haven Grande, where you can gawk at $200 million mega yachts and the millionaires that own them. But, the service and menu, in contrast, are approachable and laid-back. Those needing a break from meat will welcome the veggie-friendly menu. Starters like crisp crudite — they arrive with hummus and baba ghanoush prepared with local pumpkin and eggplant — whet the appetite without weighing you down. The popular MLT puts a lighter spin on a BLT by swapping out bacon for silky, braised mushrooms. Those seeking more sustenance should indulge in the French Onion tartine — baguette gets topped with heaps of sweet, caramelized onions and gooey Gruyère. Even the typically humble fry surprises with fat, golden slabs that have a satisfyingly crisp exterior and fluffy insides. Yacht Haven Grande, 340-777-2747
Havana Blue
A rare spot that's big on both space and buzz, Havana Blue has packed in the crowds since opening with its Asian-meets-Latin inspired cooking and unabashedly fun cocktail menu (yes, expect plenty of rum drinks). Among the most ordered items are the sea bass — a delicate, miso-glazed filet is paired with garlicky spinach and wasabi-spiked potato mash — and the citrus-marinated skirt steak topped with tempura-fried asparagus and crispy onions. Side dishes like the fluffy bonito-laced fried rice and spicy bacon brussels sprouts make for the perfect dining companions. Wash it all down with the house spin on a piña colada: it's subtly sweet and topped with toasted coconut flakes. Route 315, 340-715-2583, havanabluerestaurant.com
Caribbean Fish Market
The name is a a bit misleading, so let's set the story straight. Yes, seafood reigns supreme here. But no, the cooking isn't completely Caribbean-driven. In the fact, the menu is globally-influenced and takes cues from Asia with its tuna tartare, where the locally-caught fish is finely diced, marinated in soy, spiced with jalapeño and topped with a Sriracha cream. Lettuce wraps get the Caribbean treatment with crispy, coconut-crusted shrimp and a tangy mango purée. One of the house favorites, the she-crab soup, pays homage to the American South. It's a deeply fortifying and hearty bowl packed with plenty of sherry, heavy cream and fresh lump crab. Elysian Beach Resort, 340-714-7874, caribbeanfishmarketvi.com
Finish your meal at Gladys' Café by purchasing one of the four house-made hot sauces.
Gladys' Café
An island institution located in downtown Charlotte Amalie, this casual spot has been turning out homestyle West Indian and Caribbean specialties since 1992. We recommend kicking off your meal with the most popular item, the conch fritters, which are pillowy, handsomely-portioned and studded with plenty of fresh conch. Then move on to one of Gladys' special plates, featuring curried goat and stewed oxtails. The meats are accompanied by "provisions," including peas and rice and fried sweet plantains. Heat seekers will flip for the four house-made hot sauces (tomato, mustard, mango and oil and vinegar), which you can also purchase (and you'll want to) on your way out. Royal Dane Mall Shopping Center, Charlotte Amalie, 340-774-6604
Coco Joe's
Quick, quick. Name a restaurant where you can enjoy top-notch Caribbean classics like seafood kallaloo soup and jerk chicken alongside perfectly-prepared American comforts like burgers and wings — because let's face it, we all get homesick from time to time — immediately followed by a dip in the ocean (or vice versa, if you wish). Not so easy, right? And that's exactly why this open-air, beachfront joint has long been a draw — the happy hour here is an especially lively scene — for both tourists and locals alike. In addition, it's open morning through night, so you can soak in its warm, laid-back vibes anytime you please. Route 315, 340-776-8500
Read more Caribbean stories on Food Republic: