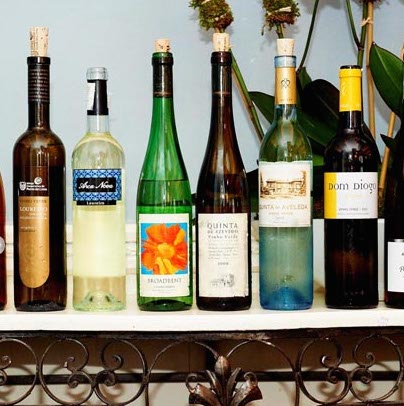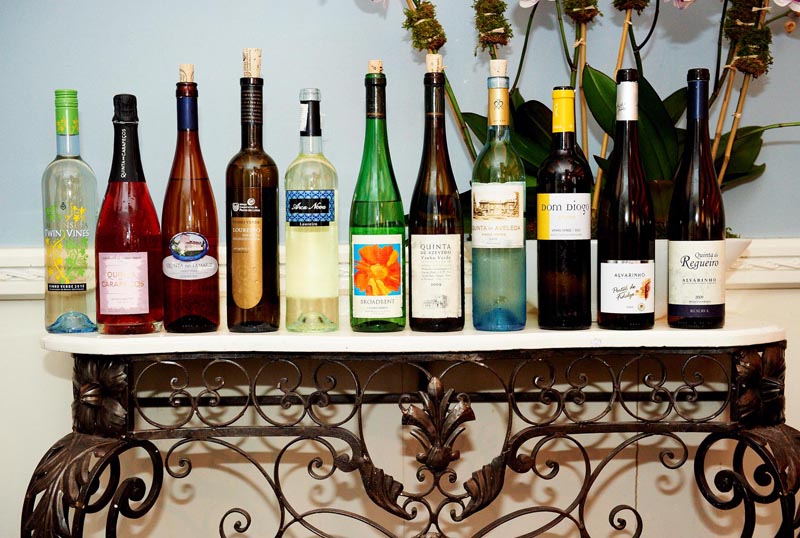 'Tis the season for holiday entertaining, and the adaptability of Vinho Verde makes it an excellent option for all the festivities. From indulgent party appetizers to classic dinners and desserts, Portugal's signature white pairs seamlessly with sugar, spice and everything nice. Especially for foodies, this is definitely the most wonderful time of year when it comes to culinary choices. Decadent and dynamic meals are often on the menu, which include succulent sauces and amazing glazes, while finger food favorites such as stuffed mushrooms, bacon wrapped dates, deviled eggs and roasted nuts are all enjoyed in abundance. Actually, let's be honest — all are enjoyed in serious overindulgence because the more the merrier, right?
The crisp, refreshing acidity of Vinho Verde, plus its harmonious blend of rich fruity and floral aromas and flavors, provide an ideal combination to help revitalize the palate and prevent any fatigue that comes from indulging in so many diverse tastes. The fact that Vinho Verde is also lower in alcohol makes it a gift in and of itself — and one that keeps on giving with a range of varietals and blends to choose from. Not only will Vinho Verde help ensure wine lovers less exposure to drunk mumbling uncles, but they will also enjoy peace of mind (and palate) with classic light-body blends, medium-bodied gems, as well as more complex, fuller-bodied bottles.
Lighter-bodied wines produced primarily from Loureiro grapes will often express hints of sweet citrus notes with marked minerality, enabling them to enhance tantalizing servings of food such as glazed ham, potato latkes, green beans and cinnamon-spiced almonds. Full-bodied wines made with Arinto or Alvarinho grapes match miraculously with dishes such as roasted prime rib, braised brisket and noodle kugel.
In addition to pairing favorably with holiday foods, Vinho Verde works exceptionally well on its own as an elegant, affordable aperitif. Select wines even feature a slight effervescence, which bursts the bubble on pricey sparklers as the perfect pick for seasonal parties and holiday toasts. As a premium palate primer, Vinho Verde helps prepare the senses for the flavorful evening ahead and everything to be consumed thereafter.
Try these Vinho Verde:
Dom Diogo Arinto
Quinta da Lixa Alvarinho Pouco Comum
Broadbent Vinho Verde
Here is one example of an enticing appetizer to pair with Vinho Verde, Portuguese baked cheese puffs:
Pao De Queijo Recipe
Crispy puffs of dough with a mild, cheesy flavor, pão de queijo are eaten for breakfast or as a snack all over Brazil. The secret to this addictive treat is the use of cassava flour (polvilho azedo), which gives the balls an irresistibly moist, chewy texture. The best ones we've ever tasted were from a tiny hole-in-the-wall bakery in São Paulo, and we like to think this recipe comes pretty close.
Reprinted with permission from Brazilian Barbecue & Beyond
Servings: 25-30 puffs
Ingredients
1/2 cup whole milk
scant 1/4 cup vegetable oil
1 teaspoon sea salt
2 cups cassava flour (or substitute tapioca flour)
2 eggs, lightly beaten
1 3/4 cups Parmesan or sharp cheddar cheese, grated
Directions:
Put 1/2 cup water, the milk, vegetable oil and salt in a large pan and bring to a boil.

As soon as it rises up the sides of the pan, remove it from the heat.

Quickly tip in the flour and stir vigorously to combine. Keep stirring until the mixture comes together as a wet dough and comes away from the side of the pan.

Transfer to the bowl of a stand mixer and let cool slightly.

Once slightly cooled, add the eggs and start mixing at a low speed.

After 1 to 2 minutes, increase the speed to high and beat vigorously until all the egg has been incorporated and the dough is smooth.

Add the Parmesan or cheddar and keep beating until the cheese is evenly mixed in.

Line a baking sheet with silicone liner or baking parchment.

With damp or lightly oiled hands, roll tablespoons of the dough into small balls, about 1 ounce each.

You may need to wash your hands occasionally, as the dough is quite sticky. (If you have one, use a small ice-cream scoop to make this easier. Dip the scoop briefly in water, then flick away any excess water before scooping each ball).

Arrange the balls 1 inch apart on the prepared baking sheet. (You can prepare them a few hours ahead and put the tray in the refrigerator until you're ready to bake.)

Preheat the oven to 400°F.

Bake for 20 to 25 minutes, until puffed up and evenly golden brown. They should have a crisp exterior and a doughy, chewy center. Serve immediately.
Level of Difficulty: Moderate
Prep Time: 20 minutes
Cooking Time: 25 minutes