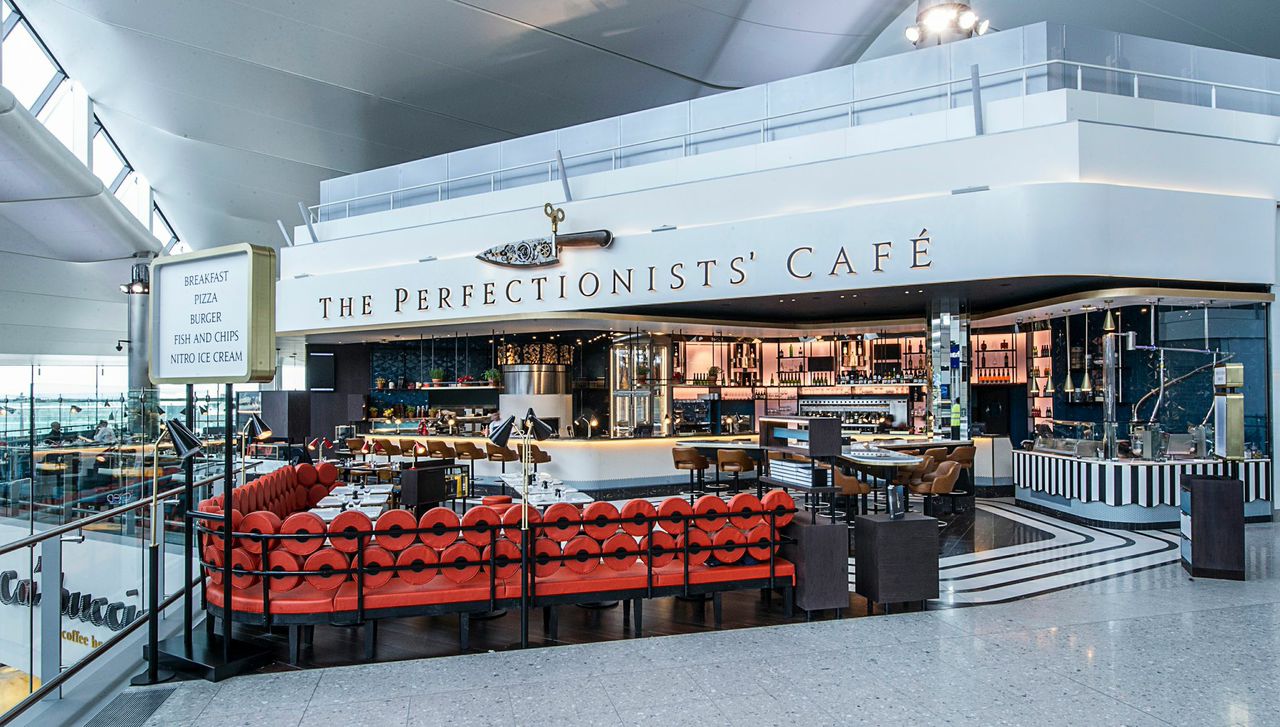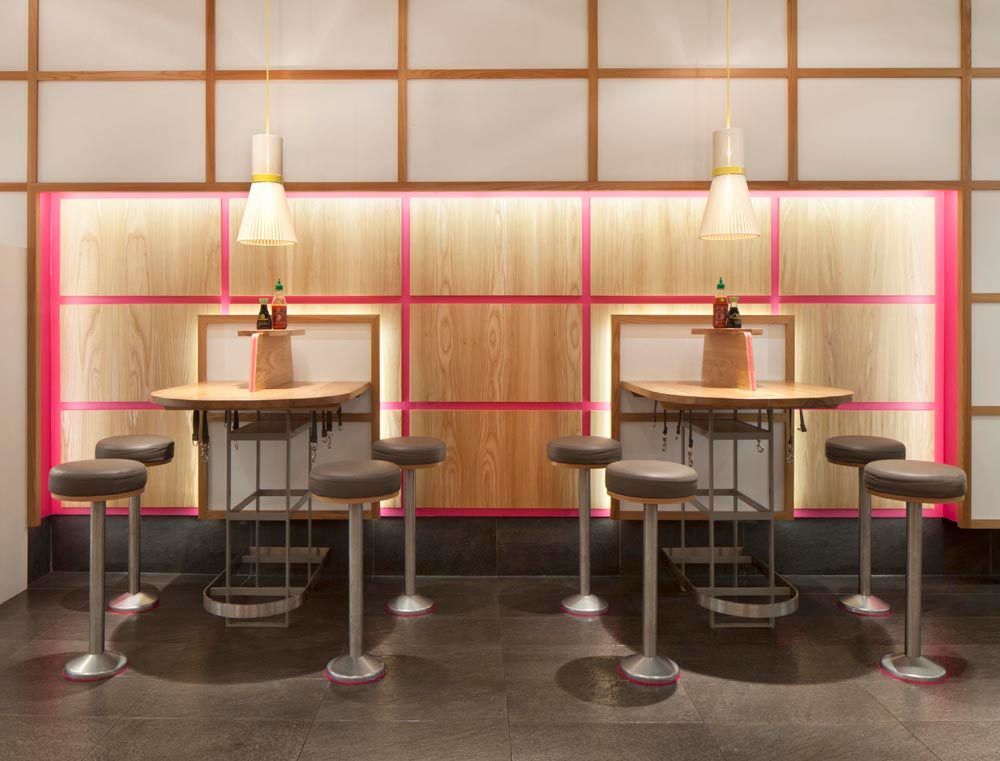 This past summer, Afroditi Krassa, a London-based designer originally from Greece, made a big splash on the restaurant scene with The Perfectionists' Cafe, inside Terminal 5 at Heathrow Airport. It was notable in large part because the chef behind it, Heston Blumenthal, is one of the more eminent culinary figures, but also because it signaled a moment in time, when restaurant design, even in something as mundane as an airport, seriously matters.
An industrial designer by trade, Krassa began working on restaurants after writing Julian Metcalfe, a co-founder of Pret-A-Manger, to praise the company for its choice of wallpaper. Metcalfe called Krassa in for a meeting and eventually hired her to design restaurants for his nascent sushi chain Itsu. A decade later, Krassa is entrenched in restaurant and other interior design projects (more info is on her website), and she recently swung through the U.S. to meet with New York City restaurateurs about finding projects in the U.S. We caught up with her at the Royalton hotel to discuss good (and bad) restaurant design, what it's like designing with Blumenthal and her take on London's buzzy dining scene.
What are you doing in the States?
I've been fascinated with how the restaurant industry is changing in the US. When it comes to grand hospitality spaces, the U.S. is slightly more advanced than the rest of the world, I believe. You know it's kind of in the DNA of American culture to have these massive grand chains. Obviously all the way back from McDonald's, but I'm very fascinated by also how this world is changing, and I think in many ways you guys are leading the way on how branding and hospitality space or restaurant space and designing a space. So it's been kind of my target in the last year or so to start working with somebody in the US.
Do you think there's a lot in common with London?
I think there's a lot of synergy between what's happening in London and New York in specific when it comes to food. And chefs. And the movement between the food. And I think my expertise is very much the London market. I know it very very well, but I think it's time for me to branch out to a new market with something that I don't know
---
"Why is the debate on design so left behind when it comes to food? It's beyond me. I don't understand it."
---
One of your most notable projects recently was Heston Blumenthal's restaurant in Heathrow. What were the challenges you faced for that?
It's a very good question. The expected answer would be the challenge of working within an airport, but that wasn't so much of a challenge. We've done another restaurant in an airport so we were quite familiar with the technicalities of working within an airport environment and the specific needs of the traveler, who's dining — they need to be served in less than 15 minutes. Cooking is very restricted to microwaving. All of that I was very familiar with because I've done it before. The space, you know the layout, people carrying luggage, how do they move around tables when they carry big luggage. When they're very stressed, they want to enter a place which is very relaxing. Food and eating is a very relaxing experience for a lot of people. It's psychological — it's a very psychological relationship that we have with food, so I think people before they go on a plane, they wanna drink, and eat to relax themselves before and after – in the middle of a very stressful experience, getting to the airport, going on a plane, it's like one of the shittiest things you can be doing, sorry excuse my language. So they see that as a haven.
That makes sense.
Yes. But regardless of all of that that I've done before, I think the biggest challenge would be working with Heston's team. Obviously… Heston is an amazing chef and an amazing personality. So, I was under the impression that I'm entering a world [with Heston's team] which is very experienced. However, these people are not experienced in building and designing a restaurant. They've never ever done that before. So to them it was a completely – it was almost like working with a start-up.
Are you happy with the way it turned out?
It's doing extremely well and I'm very, very proud of it. I flew out of Terminal 2 in Heathrow on my way here. Not out of Terminal 5. So the equivalent of Terminal 5 is Gordon Ramsey's Plane Food. The experience – in terms of the design — was so poor. I mean no disregard to what Gordon does, he does what he does very well. But I'm looking and I thought, My God. It's just – so – uninspiring in the space, it's beyond belief. And – that reflects on staff, you know? You can look at the service and people are unexcited.
Yes, design can affect how people interact with their environment.
The best part of my job – I'm not kidding you, the part I enjoy the best – is when you redesign [a dreary space] and you hand it back to the manager and you see their change! You know they are like, Oh my God, we love it. And suddenly they look after it and their service becomes better and they're happier people. And that reflects back to the customer because the people who are there 12 hours a day working in this environment are happier, and much more energetic and much more proud of what they do. So I really believe that it causes a significant impact, this work. Not just on the customers, but more importantly the staff. These people spend more hours in these spaces than they do at home. Back of house is usually dreadful, front of house if you're lucky can be quite nice, but generally, you get to places like Gordon Ramsey's and you think, come on, why is the debate on design so left behind when it comes to food? It's beyond me, I don't understand it.
What are some spaces in New York that you've seen so far that you think are inspired?
I think New York – and the same as London — which is now becoming the same in London, is suffering from a lot of homogenous kind of design. Which is well executed, and I think that style that we're seeing everywhere now — you know the exposed bricks, the rough and ready, the Edison light bulbs, all of that — New Yorkers do it better than anyone. London is almost trying to copy that. What I hate about London right now, it's almost trying to look like Brooklyn.
Yeah, I mean Shoreditch and Brooklyn and almost interchangeable, right?
There's this new area called – what's the name, beyond Shoreditch now in the east? Oh yes. It's a new hip area called Walthamstow. And it's turning into Brooklyn. And I think you guys can do it very well. It comes au naturel. The Brits try to do that but we don't have the same spaces.
Nobody is willing to deviate from that trendy look…
Right. I am from Greece. You go to Greece and it's the same. You go all over the world – you go to India, it's the same. You know with all this global design, everything spreads like fire across the world. I try to analyze that, [and my answer is that] in times of economic crisis people become very nostalgic. And they almost wanna go back into themselves and be retrospective. As we're exiting hopefully that economic crisis which has taken place for the last six or seven years, people will become more buoyant and happier, and suddenly you'll see — I believe that the next step will be that you'll see a lot more extrovert type of design, which will be cleaner, almost more polished, almost going back to early '90s. You know, quite sophisticated, quite minimal. And I think this is the next step.
More restaurant design stories on Food Republic: