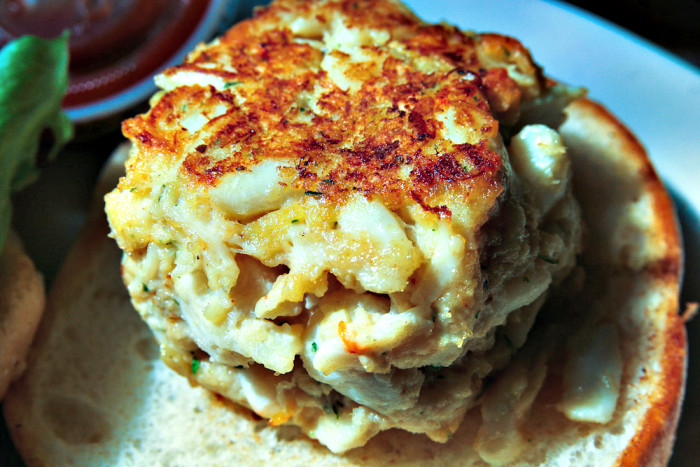 Kathy Wielech Patterson, a lifelong Baltimorean and avid eater, blogs at Minxeats.com. She's the co-author of the restaurant guide,  Food Lovers' Guide to Baltimore , and the cookbook,  Baltimore Chef's Table , both written with her husband, Neal.
There's one question that any Baltimorean can answer with ease: Who has the best crab cakes? Of course, each answer will be completely subjective. Some folks will name the restaurant that they've been going to since they were a kid. Others have found a restaurant that makes them pretty good, so they've never really tried them anywhere else. Still others have heard that such-and-such place makes a good crab cake. Despite having never eaten one there, they'll name it anyway because they hate being wrong. Then there are the people who have tried every crab cake ever recommended and have settled on the one they think is the very best. But, despite the many crab cakes (and opinions) in this town, the same handful of restaurants is mentioned over and over again. I won't name them here, because heaven forbid I miss someone's favorite and get taken to task for it.
Also see: Here's A Strong Argument That Maryland Is America's Top Oyster State
One thing everyone should know is that the best crab cakes don't require any particular seasoning blend or special recipe (except that it should not — under any circumstances — contain bell peppers). You wanna use Old Bay? Great. Saltines? Fine. Ritz crackers? Yum. Bell peppers? No, no and no. The most important ingredient in a crab cake is the crab. In the case of Maryland crab cakes that would be callinectes sapidus, a.k.a. blue crab. These beautiful swimmers can be found in the Chesapeake, around the Carolinas and Louisiana, and here and there along the eastern coastlines of both North and South America. The best-tasting blue crabs come from the Chesapeake. You knew I was going to say that, but it's true. The Chesapeake Bay is north enough that the waters get cold. Cold water means that crabs have to put on some fat to beat the chill and stay alive. And fattier crabs are tastier crabs.
While locals all swear that their favorite restaurant makes the best crab cakes, I'm here to steer you towards six places that don't necessarily come to mind when on the hunt for a satisfying crabby patty. None of these restaurants are primarily seafood-focused and not all of them have crab cakes on the menu year-round. Most — if not all — use Maryland crabmeat and several are certified by the Maryland Department of Natural Resources to be "True Blue."
There's True Blue participant Alewife, for example. This gastropub is on the west side of downtown Baltimore in an area that might almost pass for the city's theater district. It's across the street from the Hippodrome and around the corner from the Everyman, so it's a favorite dinner spot for theater-goers. Alewife is probably best known for its selection of microbrews, and its Smoke Burger: a giant slab of meat with all sorts of smoky-flavored goodies on top. All well and good, but give me their crab cake. Chad Wells, the chef, makes them with local crab meat and little filler. Their spicing gives it a traditional flavor, allowing the sweet taste of the meat to be the star. 21 North Eutaw Street, Baltimore, MD 21201, alewifebaltimore.com
Liv2Eat is a restaurant in the Riverside neighborhood of South Baltimore, between Federal Hill and Locust Point. Chef Kevin Perry's cuisine is seasonal comfort food prepared simply and with great care,and their crab cakes are a thing of beauty. Some places offer customers the choice between broiled and fried cakes, but Liv2Eat offers the best of both worlds. Their cylindrical crab cakes are pan-fried — creating a nice crust on the top and bottom — with softer sides. Crispy bits are always my favorite part of a crab cake (and something a broiled cake almost never achieves). The insides are delish, too, with chunks of ultra-fresh sweet meat, lightly seasoned with Old Bay. 1444 Light Street, Baltimore, MD 21230, liv2eat.com
Another place you may not expect to find a fine crab cake is at a little café on the cusp of Baltimore County. The Corner Pantry specializes in British foods with an American twist, or is it vice-versa? There are crumpets, scones and sausage rolls and even a Ploughman's plate. There's a cold counter with gorgeous noodle salads and slabs of fish and whatnot available by the pound. Everything is made with care and truly delicious. But when the daily specials involve crab cakes? That's when I make time for a visit. Owner and chef Neill Howell, who hails from the UK, makes his delightful variation on the Baltimore favorite with lemon zest, fresh dill and tarragon. The lemon flavor is a perfect foil for the buttery, fatty, crab and makes for a nice change from the usual highly spiced versions around town. 6080 Falls Road, Baltimore, MD 21212, corner-pantry.com
If you are in the mood for a one-pound hamburger and a brew, Alonso's is your place. Around since the early 1930s, this neighborhood joint has been feeding generations of Baltimoreans. When I was a kid, we'd go there for pizza. Now, it's to indulge in mountains of beef and a beer or three from their impressive selection. Sometimes, when I'm not feeling particularly beefy, I go for the crab cakes. They are nicely sized, traditionally spiced and sweet with blue crab. Alonso's is True Blue certified, so chances are excellent that those cakes are made with Maryland crabs. They also pair nicely with one of those 150 or so beers, including those by local favorites Brewer's Art, Flying Dog, Union, Evolution and Heavy Seas. 415 West Cold Spring Lane, Baltimore, MD 21210, alonsos.com
Flash Crabcake Company does one thing and does it well: crab cakes. Literally, that is all they do. Their plump six-ounce blue crab beauties are served on your choice of crackers or a potato roll, with mustard or tartar sauce. Neither condiment is necessary, as the cakes have a nice hit of spicy seasoning. The crab cakes are served  from the window of a food truck owned by Jeff and Jo Gordon, who are happy to give you a cute little quarter-sized crab cake to taste before you take the plunge. Varying locations, flashcrabcakeco.com
We rejoiced when Cunningham's opened in Towson. The area around Towson University is rife with mediocre pizza and fast food, but Cunningham's and its farm-to-table sensibility is the perfect antidote. It's fancy yet relaxed, perfect for special occasions or everyday dinners, and the bar is a swell place to grab a (very good) burger. Cunningham's crab cakes are lightly broiled to a perfect golden-brown and served with an elegant accompaniment of French beans and mustard-seed smashed potatoes. These cakes have a luscious melt-in-the-mouth quality and a light spicing that lets the crab flavor shine through. 1 Olympic Place, Towson, MD 21204, cunninghamstowson.com
Of course there are more than five restaurants and a food truck that serve really delicious crab cakes. If the establishment prepares everything with care, chances are good their crab cakes will be, too. This is Maryland after all.
Read these Baltimore stories on Food Republic: