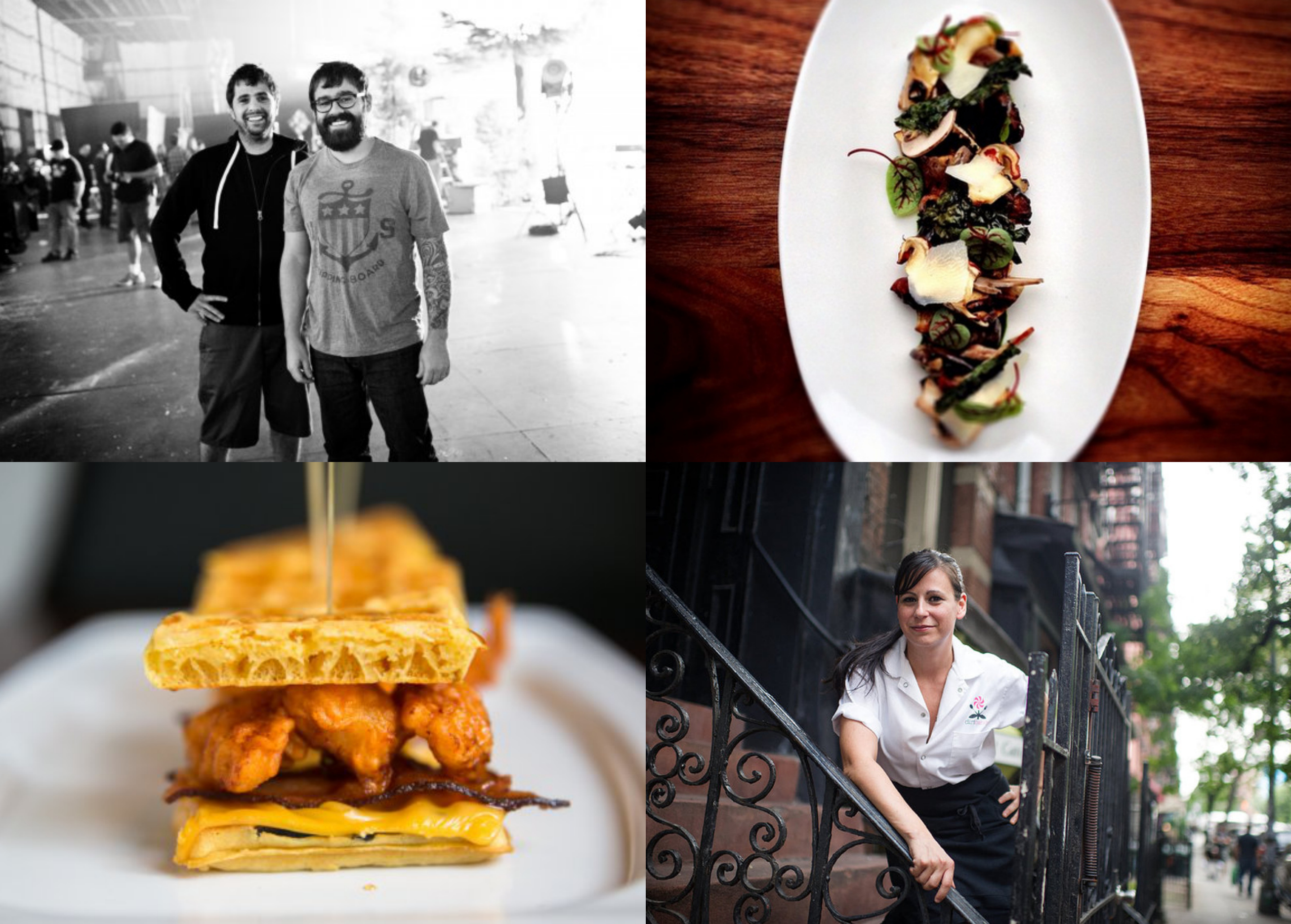 It's admittedly an imperfect science to write about a restaurant in preview form. The business of building restaurants is messy, and oftentimes vague. As we transition from fall to winter, some of the openings we wrote about in our many fall previews are still in the oven, if you will. And on top of that, new projects with winter openings have been announced. Here are 20 we are keeping our eyes on from around the United States.
1. Spoon and Stable (Minneapolis)
Minneapolis is certainly making a case as a culinary destination in the United States. Former Café Boulud chef Gavin Kaysen became the second big name to pack his bags for the city this year, joining Nashville transplant Erik Anderson. Kaysen is heading up his first project, Spoon and Stable — formerly known as Merchant — in an expansive North Loop space that served as a horse stable when constructed in 1906. The other half of the name? It's a reference to the hundreds of spoons that Kaysen has stolen from dining out at memorable restaurants over the years. A peek at the chef's Instagram account reveals a "garden" section of the menu that includes wild mushrooms with kale salsa verde, anchovies and pecorino, a "grains & pasta" section featuring pappardelle with goat ragu and eight entrées divided evenly between "sea" and "land." Look for a mid-November opening. 211 North First Street, Minneapolis, MN 55401, spoonandstable.com
2. Pok Pok and Pok Pok Phat Thai (Los Angeles)
Andy Ricker's expansion to Los Angeles was obvious, and almost expected, if you've been following the Portland (and later New York City) chef's keen eye for neighborhood spotting. Downtown L.A.'s profile has been rising steadily for the past decade — but only until very recently has anybody pushed far north to Chinatown (Roy Choi's Chego most certainly led the way). It is there where Ricker is planning two openings: Pok Pok Phat Thai (an homage to the greatly misunderstood rice noodle dish) and a 6,000-square-foot Pok Pok branch, his third in the growing business. "The Chinatown neighborhood has been very welcoming and helpful," said Ricker earlier this week via email. Expect PPPT to open sometime in December and Pok Pok in the spring. Pok Pok Phat Thai: 727 North Broadway Los Angeles, CA 90012 in the Far East Plaza; Pok Pok: 970 North Broadway Los Angeles, CA 90012 pokpokphatthai.com
3. Prima (Nashville)
Nashville's vibrant dining scene has been covered extensively (and rightfully) in the past couple of years and no neighborhood has blossomed more than the Gulch. Community Hospitality — the group behind local favorites Burger Up and Josephine — will unveil its newest venture Prima there this Saturday. Veteran chef Salvador Avila, who has spent time in the kitchens of City House and 360 Bistro, describes his new restaurant as a steakhouse with Mediterranean influences. The menu includes grilled spicy lobster with semolina gnocchi to start and trout, swordfish and Spanish mackerel entrées to complement a large selection of steaks and poultry. 700 12th Avenue South, Nashville, TN 37203, primanashville.com
4. Jon & Vinny's (Los Angeles)
Jon Shook and Vinny Dotolo are busy guys: in addition to running their always packed Animal and Son of a Gun restaurants and supporting Ludo Lefebvre with his two restaurants (Trois Mec and Petit Trois), the duo are working on yet another project, tentatively called Jon & Vinny's. The space also will house a wine shop headed by Director of Operations/Beverage Director Helen Johannesen, as well as the company's offices and test kitchen. As for the menu, it's still being developed. We caught up with Shook in Portland, Oregon earlier this fall and he described the restaurant as having many influences. "It's our version of Italian-American," he said. "But another thing that I really like – and we've talked about it for a long time — is doing our version of Japanese sushi." 412 North Fairfax Avenue, Los Angeles, CA 90036
5. Zuma (New York City)
Eight international locations of this upscale, contemporary Japanese kitchen and yet no New York City outpost. Until now. The second U.S. edition of Zuma (the first is in Miami) will be situated across two spacious levels in Midtown and highlight many of the signature dishes that have already made Zuma a fixture in cities like London, Dubai and Hong Kong. Starting this winter, diners at Rainer Becker's ninth restaurant can expect sea bass sashimi with yuzu and salmon roe, sake-glazed chicken wings with sea salt and lime and jumbo tiger prawn with yuzu pepper, as well as a number of creations specific to New York. 261 Madison Avenue, New York, NY 10016, zumarestaurant.com
6. Coya (Miami)
Peruvian food is just starting to make its mark in the U.S. Bringing the flavors of Peru and South America — and two years of success in London — to the Brickell neighborhood this December is Coya. A private members' club, a pisco bar and a music and arts program will also open as parts of the restaurant, which will marry authentic ingredients and techniques indigenous to South America. The restaurant will offer a profusion of traditional Peruvian dishes — look for contemporary takes on ceviche, tiraditos, anticuchos and cazuelas — as well as plates that reflect the country's multicultural history, like tuna tartare seasoned with yuzu kosho, and tamarind-brushed chicken wings. A large selection of piscos is made in-house and infused with various herbs, fruits and vegetables. 999 Brickell Avenue, Miami, FL 33131, coyarestaurant.com
7. Talde (Jersey City, NJ)
More Korean fried chicken and pretzel, pork and chive dumplings? Trust us, that's a good thing. Along with partners David Massoni and John Bush, chef Dale Talde is bringing his signature Asian-American cuisine to Jersey City in late November. The new menu will focus on a variety of Talde's creative dim sum and robata-grilled dishes in addition to the aforementioned classics. The team is working with HGTV's "Kitchen Cousins" hosts Anthony Carrino and John Colaneri on the design of the space, which includes a 40-foot-long bar, an expansive communal table and outdoor sidewalk seating available during warmer months. 8 Erie Street, Jersey City, NJ 07302, taldejerseycity.com
8. Dirty Candy 2.0 (New York City)
Since 2008, Amanda Cohen has been the loudest, and most talented, supporter of a vegetable-based restaurant diet — preparing exceptionally flavorful dishes like smoked cauliflower with waffles and kimchi donuts. But with success came demand for one of the 18 seats (in a dining room fit for 12) and reservations proved difficult. This will change with an Allen Street location that will swell to 60 seats, offer a full bar and maintain a wine list that will "remain strange, but expand." While the restaurant was slated for a fall opening, Cohen tells us the opening is now looking more like early January. 86 Allen Street, Manhattan, dirtcandynyc.com
9. The Duck Inn (Chicago)
On the border of Chicago's booming Pilsen and Bridgeport neighborhoods, Kevin Hickey (Bottlefork, Rockit Ranch Productions) is opening a causal bar and restaurant serving hearty dishes like a hamburger sandwich, foie gras and duck confit tamale and a rotisserie duck for two with "duck drippings potatoes." Hickey won Top Dog at a tubesteak takedown run at September's Food Network In Concert. No opening date is set yet, but the aim is to open by the end of 2014. 2701 South Eleanor Street Chicago, IL 60608, theduckinnchicago.com
10. Odys + Penelope (Los Angeles)
Culinary power couple Quinn and Karen Hatfield — owners of the city's Hatfield's and The Sycamore Kitchen — are behind this casual churrasco and grill opening in December in the city's La Brea neighborhood. An eclectic menu focused on simply prepared California fare will utilize the restaurant's open grill, wood-fired smoker and churrasco, with a live-fire cooking method emphasis on prime meats, seafood and seasonal vegetables. Original Greek-style columns in the space pay tribute to the legendary couple — and restaurant's naming inspiration — Odysseus and Penelope of Homer's epic The Odyssey. It's slated to open before the end of the year. 127 South La Brea Avenue, Los Angeles, CA 90036
11. El Colmado Butchery (New York City)
Tertulia chef Seamus Mullen is behind this tapas and wine bar in the heart of the Meatpacking District. Offering traditional tapas and quality Spanish wines, the second outpost of El Colmado (the first is located in Gotham West Market) will feature classic takes on pan con tomate and hand-cut jamón Ibérico, as well as creative small plates like langostinos (Mediterranean prawns with fennel aioli), remolachas marinadas (marinated smoked beets with Caña de Cabra cheese and candied almonds) and albóndigas (lamb meatballs with mojo picón and sheep's milk yogurt). Originally scheduled to open earlier this fall, El Colmado is now targeting this month for lunch and dinner service, with plans to expand to breakfast, catering and delivery. The rustic yet modern 41-seat space will include a large rotisserie and true butcher's counter for fresh meats, available for retail. 53 Little West 12th Street, New York, NY 10014
12. Cantina Leña (Seattle)
Tom Douglas has taken on everything from Greek to Asian to bakery to pizza in Seattle. His latest endeavor — on track to open later this month — will take him South of the Border. T-Doug's 11th city restaurant will feature locally inspired Mexican cuisine in a 40-seat space within the newly constructed Martin Apartments on Fifth and Lenora. The former James Beard Award "Restaurateur of the Year" winner will serve corn tortillas fashioned from volcanic stoneground masa and banana leaf-wrapped pork flavored with bitter orange from an all wood-fired kitchen (leña means "firewood" in Spanish), which includes a 10-foot long grilling pit. The back half of the cantina includes a colorful 10-seat bar and a commissary bread bakery for all the group's restaurants. 2105 5th Avenue, Seattle, WA 98121
13. Mexicano and Flautas (Los Angeles)
Jalisco-born chefs Jaime Martin del Campo and Ramiro Arvizu are famous in their native Mexico (they are judges on the country's version of Top Chef) and have won major props Stateside for their Bell, California restaurant La Casita Mexicana. They currently have two spots planned at the Baldwin Hills Crenshaw Plaza. Mexicano will feature their take on classics from their hometown (ceviches, cochinita pibil, basket tacos); there will be a full bar with an extensive mezcal menu, a main dining room decorated with art from Jalisco and an outdoor patio. Much more informal will be Flautas, in the mall's food court, where the chefs will serve just flautas with various toppings and fillings like potato and homemade chorizo flautas topped with tomatoes and chile de arbol sauce, and chicken flautas topped with green mole. To drink, agua frescas and lemonade with chia seeds. 3650 West Martin Luther King Boulevard, Los Angeles, CA 90008, baldwinhillscrenshawplaza.com
14. Untitled Tom Colicchio Project (Miami)
Tom Colicchio's storied culinary career has included a number of restaurant openings on the East and West coasts. The Top Chef head judge will soon open his first restaurant in the Sunshine State. This winter, Colicchio will unveil a farm-to-table establishment in the 1 Hotel & Homes South Beach, with a Mediterranean-inspired menu showcasing South Florida's local farms and fishermen. Though details are scarce, Colicchio has revealed that the restaurant will serve mostly seafood and that he will look to source produce from as many nearby farms as possible. 2399 Collins Avenue, Miami Beach, FL 33139
15. Bierocracy (Queens, NY)
In wine there may be truth, but in beer there is democracy! A group of Czechs and Slovaks has designed a branded beer hall concept and is determined to turn it into a global chain with a focus on non-traditional beer markets. Bierocracy's first location will launch in Long Island City this December. The 4,000 square foot venue, which can seat approximately 200 guests, will emulate the relaxed atmosphere of a Central European communal beer hall. The menu — inspired by the dishes of Central Europe — has a decidedly gastropub feel and will include simplified classics like pretzels and sausages. Carefully selected European imports will be on tap accompanied by interesting local brews, ciders or radlers (beer mixed with soft drink). 12-23 Jackson Avenue, Queens, NY 11101
16. Summer House Santa Monica (North Bethesda, MD)
At Summer House Santa Monica in Chicago, Partners Jeff Mahin and Francis Brennan have spent the past year transporting Windy City dwellers to California via their first bright, airy restaurant. The duo now sets its sights on Pike & Rose in North Bethesda, Maryland with a second location, once again using beach house–inspired décor and a large glass ceiling to give the venue a true Golden State feel. The menu will feature choice meats, seafood and seasonal vegetables prepared on a wood fire grill and complemented by a selection of California wines, while the space will share a bakery counter with the team's Stella Barra pizzeria, also opening next door this winter. 11825 Grand Park Avenue, North Bethesda, MD 20852, summerhousesm.com
17. The Gorbals 2.0 (Los Angeles)
The Gorbals is a bi-coastal restaurant group run by celeb chef Ilan Hall. While the original in downtown Los Angeles was pioneering in location and intended to blend the chef's Scottish and Jewish heritage, a Brooklyn outpost in Williamsburg leans more global and zeitgeisty (lamb ribs with fried ginger, bánh mì poutine). But late last week some crazy news landed in our inbox. Hall will be moving out of LA's Alexandria Hotel and taking the menu "80% vegan," according to the report. We expect a quick-turn on this one. Location TBD
18. Fred's Meat & Bread and Yalla (Atlanta)
Two stalls, one market. Chef Todd Ginsberg and the team behind the city's new hit The General Muir (be sure to try the matzo ball soup!) are slated to open both Fred's Meat & Bread and Yalla at the nine-acre Krog Street Market this winter. The former will serve an assortment of burgers, sandwiches and fries (as well as a killer cauliflower and eggplant bánh mì) to complement casual counter seating, while the latter will dish out traditional Middle Eastern cuisine such as hummus, baba ganoush, falafel and spit-roasted shwarma. 99 Krog Street, Atlanta, GA 30307, krogstreetmarket.com
19. MP Taverna Williamsburg (Brooklyn, NY)
Michael Psilakis has established himself as one of the country's finest Greek chefs. He will continue to expand his New York empire this December by opening two different concepts, both housed in the same space in Williamsburg, Brooklyn. A yet-to-be named convivial beer hall will offer local beers and wine on tap, do-it yourself cocktails and Greek "street food" dishes like papoutsakia (stuffed eggplant), baked eel and feta and gigantes plaki (giant baked beans). The beer hall will also serve as a studio and platform for Brooklyn street artists to create art. The second half of the space will be home to the fourth New York location (Roslyn, Irvington, Astoria) of the chef's popular MP Taverna and highlight a modern interpretation of a traditional Greek tavern with accessible Greek cuisine. 470 Driggs Avenue, Brooklyn, NY 11211, michaelpsilakis.com/mp-taverna
20. Gardner (Austin, TX)
Here's one last one that is actually open…this week, in fact. Andrew Wiseheart and Ben Edgerton, co-owners of Contigo Austin, hope to point the barbecue obsessives visiting their fine town towards the garden a little bit. The restaurant's name is a tribute to Wiseheart's father, Gardner, but also meant to evoke a love of Texas produce. The opening, vegetable-centric menu features dishes like sunchoke custard, yellow squash with bonito butter and a full-on root vegetables entrée (though, dry-aged beef and a Spanish mackerel are also available). There's a carrot dessert which will likely grab some attention, and a wine list packed with old and new world selections from Beverage Director Paul Courtright. 914 East 6th Street, Austin, Texas  78702 gardner-austin.com
Tien Nguyen contributed to this story.
Check out these newly opened restaurants on Food Republic: