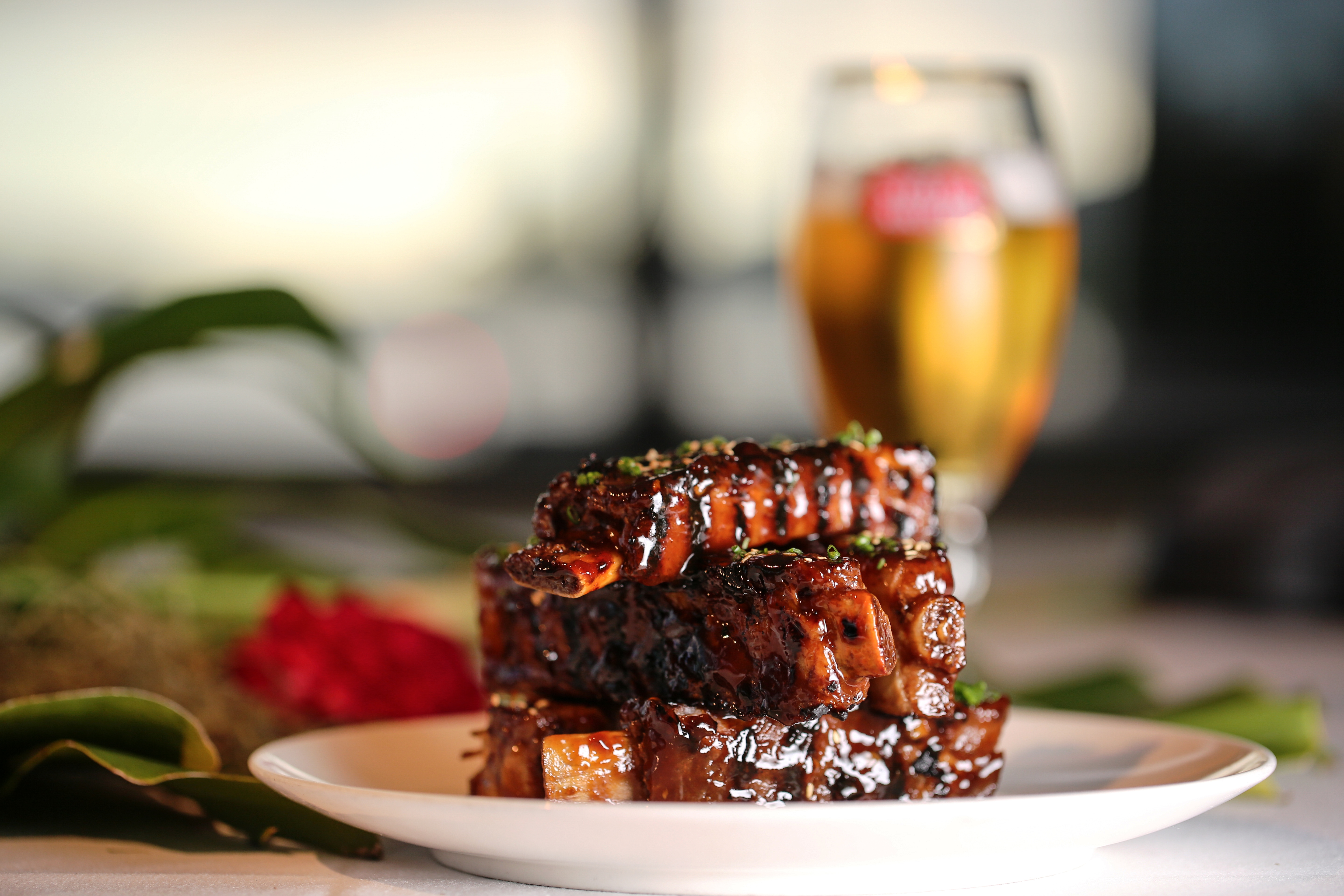 This post is part of an ongoing partnership with The Getaway , the celebrity-guided travel series produced by Food Republic parent company Zero Point Zero Production. This week's episode, featuring actor Jack McBrayer in Hawaii, airs at 9 p.m. EST, Nov. 5, on Esquire Network.
There are a lot of misconceptions about Hawaiian cuisine. Like the stereotype that everything has Spam in it. Yes, the tinned ham appears in a number of home-style dishes – most notably, Spam musubi and certain hamburger-less variations on loco moco. But, it's by no means ubiquitous. And, it's easily avoided, if preserved pork isn't your thing. The islands are a cultural crossroads, so you'll find world-class restaurants influenced by a multitude of Asian cuisines, mainland American trends and classic European traditions. Chefs meld those culinary tactics to an ever-generous bounty of local ingredients from both the land and the sea. Whether you're in the mood for creative comfort food or forward-thinking fusion cuisine, the Aloha State has something to offer. Especially on Oahu, the state's most populous island. Here are five great places to try:
1. Leonard's Bakery
Almost every culture has its version of the doughnut. The Portuguese are no exception. Malasadas are essentially yeasted doughnuts rolled in granulated sugar. For more than six decades at this Kapahulu neighborhood bakery, island pastry pros have been putting a sunny spin on the deep fried delicacies. They inject them with a rotating cast of tropically flavored fillings, like creamy haupia (coconut), rich pineapple and tartly sweet lilikoi (passion fruit). You can also get more mainstream fillings, like vanilla custard or chocolate. More traditional bakery offerings, such as scones, muffins and cupcakes, are available, too. Stay focused. It's all about the malasadas, which are best enjoyed while they're still piping hot, washed down with a cup of coffee. Once you've got your order, grab a seat outside the charming bakery, which looks much the same as it did when it opened back in 1952. 933 Kapahulu Ave., Honolulu, (808) 737-5591, leonardshawaii.com
2. Marukame Udon
Don't be deterred by the sometimes epically long cafeteria-style assembly line and often overcrowded dining room. The food at this cash-only noodle and tempure bar in Waikiki is worth the hassle. Pass the time by watching the Sanuki-style udon being made from scratch daily. Swirled nests of noodles are cooked to order and served al dente, so they're springy and tensile when they end up in between your chopsticks (or wrapped around your fork, if that's your thing). There are several broth choices and serving styles, but the aromatic, beef curry stands tall above the rest. Top off your mound of carbs with crispy tempura treats, such as shrimp, asparagus and sweet potato. 2310 Kuhio Ave., Honolulu, (808) 931-6000, toridollusa.com
3. Roy's
Roy Yamaguchi's namesake restaurant is a Hawaiian institution. There are now more than 30 Roy's locations around the globe. But, those in the islands are the truest representation of the talented toque's work. That's because his unique brand of fusion cuisine, rich with Asian spicing and classic European sauces, is so dependent on locally sourced seafood and produce. The menu shifts slightly day-to-day based on what the oceans and the soil offer up. But, some signature dishes are always available, such as the broiled golden misoyaki butterfish in a pool of sweet ginger wasabi beurre blanc. A strong selection of poke (pronounced poh-kay) – or, raw fish salad – is an excellent introduction to a Hawaiian staple, and one that's a lot fancier that you'll find elsewhere. 226 Lewers St., Honolulu, (808) 923-7697, royshawaii.com
4. Prima
The phrase "Hawaiian pizza" usually evokes images of pineapple chunks and diced ham. Erase that expectation before heading to this Kailua pizzeria. The Neapolitan-style pies don't feature any fruit, though you will find plenty of porky toppings. A standout is the Di Bologna, which stars pepperoncini and mortadella surrounding an orangey, soft yolked egg at its center. Begin with a few small plates, which focus mainly on locally grown vegetables. Balsamic dressed radicchio gets crisp edges after a quick oven roasting, then a shower of nutty Parmesan cheese. Pro tip: if the fennel panna cotta is available, don't pass it up. The creamy custard is savory with an herbaceous hint of the stalky vegetable's tell-tale licorice flavor. 108 Hekili St., #107, Kailua, (808) 888-8933, primahawaii.com
5. Opal Thai
A former food truck phenom has been transformed into a bustling strip mall gem on the North Shore. It's cash-only, no reservations and there's no menu, per se. Your server – or, if you're really lucky, owner Opel Sirichandhra himself – will ask about your preferences, heat tolerance and allergies, then take it from there. Trust these people! The kitchen crew knows how to create complex, deeply flavorful Thai fare that ranks as some of the best on the island in any category. The pork larb is equally savory, spicy, vinegary and sugary, while the chicken wings artfully balance heat and sweet. Duck curry and crab noodles are both first rate, so keep your fingers crossed that they appear in your omakase-style spread. 66-197 Kamehameha Hwy, Haleiwa, (808) 637-7950
Food Republic is the media sponsor of  The Getaway , with new episodes every Wednesday on the Esquire Network.
Read more about Hawaii on Food Republic: