Food Before Fatherhood: Jim Gaffigan's First Love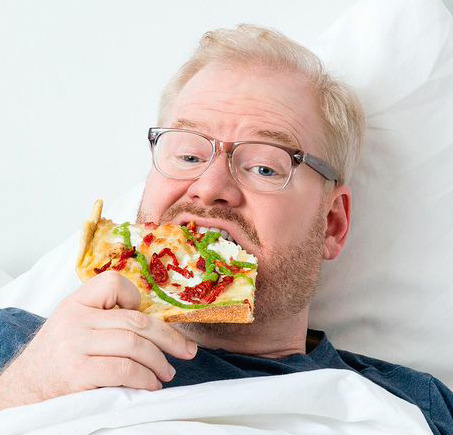 We may receive a commission on purchases made from links.
A late-night relationship with Big Macs, mid-afternoon Auntie Annie trips or sneaking in a Cinnabon on a layover: Everyone's been there but few talk about it and definitely not with the raw honesty or adoration that Jim "Hot Pocket" Gaffigan reserves for every conversation about food from deep-dish pizza to Popeyes.
Food: A Love Story is a follow-up to Gaffigan's New York Times-bestselling book Dad is Fat. After building a career off tales about his favorite foods — pretzel bread and bacon — to his most hated — coconut water and water — Gaffigan writes his second book, where he spills his innermost thoughts on the most irreverent of food discussions. He wastes no words as he digs into the dangers and delights of buffets, meticulously maps out the geography of American food from the Mexican Foodland to Eating BBQland, and ruthlessly decimates any value that vegetables might hold.
Gaffigan's book isn't just grease-covered laughs. His honest approach to talking about the food Americans love to indulge in includes morsels of truth about the culture, stereotypes and addictions surrounding these irresistible treats. From musings on the virtues of bacon bits to theories about why fast food drive-thrus exist (to hide our late-night shame), Gaffigan tells us what he loves about food and, in turn, finds the reader nodding his/her head along with him.
Take a bite of that cinnamon bun and indulge in a love story that only Gaffigan has the guts to tell.