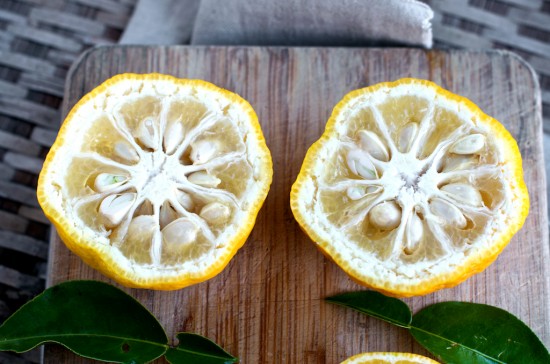 A contingent of New York's most respected food journalists gathered for lunch earlier this month at the Bouley Test Kitchen in TriBeCa. Chefs David Bouley of the city's eponymous French restaurant and Isao Yamada — the man behind Bouley's excellent neighboring Japanese venture Brushstroke — wowed the crowd with a stunning five-course menu. But the group wasn't assembled for the various preparations of caviar, oysters and uni. It had gathered to learn more about yuzu, a citrus fruit whose popularity is rapidly growing outside of its home continent of Asia.
Mainly cultivated in Japan, China and Korea (where it's often combined with sugar and honey to make a marmalade-like syrup used in yujacha tea), yuzu has a fragrant aroma and refreshing flavor that's less tart than its citrus counterparts. "[Yuzu] has a very distinct flavor and aroma that you just can't get from lemon or limes," says chef Sharon Nahm of San Francisco's E&O Asian Kitchen. "It's got great acidity and elements of other citrus fruits like grapefruit and tangerine…a flavor you don't forget."
Yuzu's juice and peel are widely used to flavor and color dishes in Japanese cuisine, and Japan is the fruit's largest producer and consumer. Take a look at the menu next time you're at an upscale Japanese restaurant: chances are that yuzu is featured in several courses, ranging from appetizers to desserts.
Representatives from Kochi Prefecture — the district that accounts for nearly half of Japan's yuzu production and is beginning to move into the U.S. market — are quick to point to the many nutritional benefits associated with the fruit. In addition to containing more Vitamin C than lemons, yuzu is high in calcium, potassium and citric acid. Most of all, yuzu is highly versatile. Bouley mixed a vegan yuzu soymilk mayonnaise where the fruit's juice not only imparts a distinct flavor, but also serves as an emulsifier. Yuzu juice and water — a daily favorite of Bouley's — is an energy-boosting morning drink. The chef also speculates that since "yuzu has lower acidity and more stimulating aromatics than our western citrus," it can "achieve success in almost any application… yuzu brings out the natural flavors beautifully." Bouley listed ceviche — traditionally cooked with sharper-flavored citruses — as one dish that would benefit from using yuzu. Green and yellow variations ensure that it can be cultivated year-round.
Yuzu is commonly used in drinks at cocktail bars and restaurants in the U.S. Roger Dagorn, a beverage director living in New York City — and one of only 180 Master Sommeliers worldwide — describes yuzu as very refreshing. "It's a great way to start the meal. It sweetens the cocktail, but also works well with drinks that are meant to be drier and doesn't overpower them," he says. One of Dagorn's trademark drinks is the Four Citrus Gin Rickey, which combines yuzu with lime, lemon and grapefruit. Gin works especially well with the tart elements of the fruit.
Yuzu is currently available as a juice — both regular and concentrated — and in dried and powdered peel forms. It is also purchased as the spice paste Yuzu Kosho and as a main ingredient in sauces like ponzu and some condiments and seasonings. The mass exportation of Kochi yuzu to the U.S., however, will soon allow restaurant and home cooks easier access to the delicate, aromatic citrus. "It's something that I do think we'll continue to see being used more and more across the food world and plays along with the trend we are seeing in the entire shift of many restaurants that really look to using Japanese ingredients," says Kyle Itani, chef of Oakland's Hopscotch (you may also recognize him from Esquire Network's Knife Fight). In a market that fast embraces alternatives seen as hip and/or healthy, we're betting that we'll soon be seeing an increase in the usage of yuzu stateside.
Read about Japanese cuisine on Food Republic: