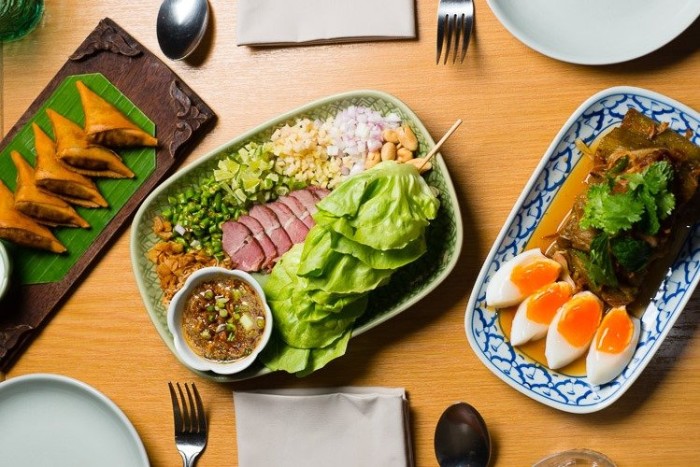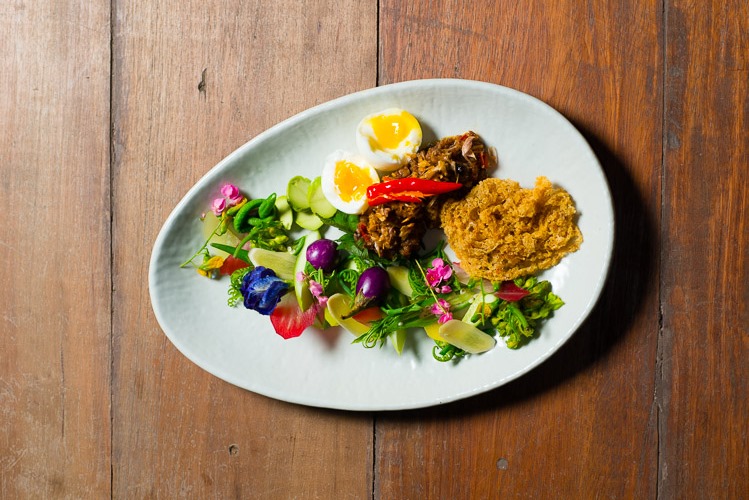 Visitors to Bangkok are typically drawn, tractor beam-like, to the city's food carts. Yes, they're cheap, ubiquitous and fun, but we're going to let you in on a secret: much of Bangkok's street food isn't that great. There's a reason street cart food is so inexpensive, and low-quality ingredients and lax hygiene aren't always the ideal ingredients of a great meal. Fortunately, Bangkok is also home to proper restaurants — a lot of them — and one of the most tempting places to wean oneself away from the plastic stools and foldable tables of the food cart scene is the city's Thonglor neighborhood.
For years now, Thonglor has reigned as one of Bangkok's trendier nightlife zones, which means it's home to some of the city's best bars. But the area is also home to a diverse spread of restaurants, ranging in cuisine from British to Korean, and, with the recent resurgence of interest in Thai cuisine, many places serve unique takes on local fare as well.
If this isn't enough incentive to head indoors, consider these two words: air conditioning.
1. Bo.lan
You can't get much further from the food cart than Bo.lan. Both in terms of locale (the restaurant's new home is a sumptuously refurbished Thai villa) and cuisine (many of the dishes here – some sourced from ancient cookbooks – haven't seen the light of day in decades), Bo.lan is one of Bangkok's best reasons to consider an upscale Thai meal. With dinner now only available as a seasonal set meal, there's even more incentive to dive headfirst into a world of Thai food that you previously didn't know existed. 24 Soi 53, Thanon Sukhumvit. 02 260 2962, www.bolan.co.th
2. Studio Lam
In the Bangkok of 2014, nothing is hotter than the Bangkok of 1967. Hence, this new bar run by the same folks behind retro Thai/world record label ZudRangMa. The emphasis here – not surprisingly – is on music, and Studio Lam has the sound system to match. Enjoy live DJ sets and shows as well as jars of housemade yaa dong (herbal Thai liquor) – a drink that rarely otherwise makes it indoors. Soi 51, Thanon Sukhumvit. 02 261 6661, www.facebook.com/studiolambangkok
3. Ginzado
Bangkok has a huge Japanese expat population, many of whom live in the Thonglor area. That means a wealth of excellent Japanese restaurants, some of which are the only branches outside of the homeland. Not surprisingly, upscale sushi made from fish flown in several times a week from Tokyo abounds, but we like the more obscure stuff. Case in point is Ginzado, a Japanese-run yakiniku (DIY grill) joint.  The menu here emphasizes beautifully marbled slices of imported Wagyu beef, but don't miss the humbler players: delicious Japanese-style pickled vegetables and a bibimbap with a crunchy crust that – dare we say it – is almost as good as the beef. It's popular, so book a table early, before all the best cuts are sold out.
Ground floor, Panjit Tower, 117 Soi 55 (Thong Lo), Thanon Sukhumvit. 02 392 3247
4. Soul Food Mahanakorn
When Soul Food Mahanakorn opened in 2010, Thai and "trendy" hadn't yet crossed paths. Four years and heaps of impersonators later, Soul Food continues to deliver. Come for meaty Thai and Southeast Asian-influenced bites – think fragrant lamb samosas or rich, seafood omelets – and signature cocktails that play with local flavors and ingredients. 56/10 Soi 55 (Thong Lo), Thanon Sukhumvit. 02 714 7708, www.soulfoodmahanakorn.com
5. Badmotel
As the name makes clear, Badmotel is undeniably kitschy, but that's what makes it so fun. Occupying a uniquely Thai space somewhere between a bar and a restaurant, here you can bounce between fun, locally-influenced dishes. Try the Nam Prik Oong, a northern Thai dip (served here rather cheekily, with Indian lentil pappadum crisps) and any of their over-the-top drinks like the Never Say Never, a blend of rum, Hale's Blue Boy – a Thai childhood drink staple – and Thai dessert toppings.  Between Soi 15 and Soi 17, Thanon Thong Lo. 02 712 7288, www.facebook.com/badmotel
6. J. Boroski Mixology
Are you a fan of secrecy? Don't like making decisions? Then consider a visit to J. Boroski Mixology, the closest thing Bangkok has to a speakeasy. There's no drinks list here, instead, tell the eponymous owner/mixologist – a Bangkok nightlife staple – what kind of flavors you like, and, blending top-shelf booze and decadent ingredients, he'll craft you a one-of-a-kind cocktail. 
125/13 Soi 55 (Thong Lo), Thanon Sukhumvit (see website for directions). 02 712 6025, www.josephboroski.com
7. WTF
Wonderful Thai Friendship (what did you think it stood for?) is only four years old, but manages to be one of those bars that feels like it's been serving Sazeracs for decades. A retro vibe and friendly staff make it a cozy, welcoming place for great cocktails (try the Portuguese Manhattan, boosted with a splash of port) and inventive bar snacks (steamed buns filled with fried soybean curd, smoked cheese, Sriracha mayo and kimchi). There's even a linked art gallery.  7 Soi 51, Thanon Sukhumvit. 02 662 6246, www.wtfbangkok.com
Food Republic is the media sponsor of  The Getaway , with new episodes every Wednesday on the Esquire Network.
Read more about Thailand on Food Republic: