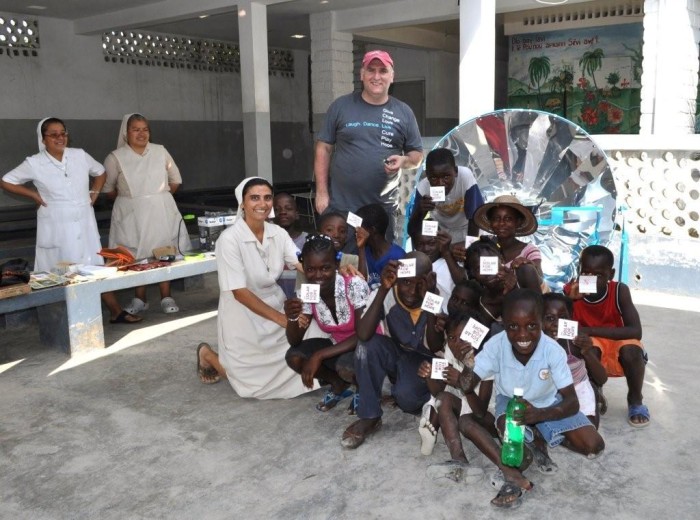 This weekend in Las Vegas, José Andrés will do something unprecedented, and it doesn't involve the usual bad behavior associated with Sin City. No, the chef and restaurateur will debut a pop-up restaurant at the massive Life Is Beautiful festival, with all the food cooked via solar power. The Sunny Day stand is part of Andrés' mission to make cooking more earth-friendly. To showcase what cooks can do sans gas or electricity, he'll prepare tacos using two different solar-powered stoves, the GoSun Stove and Solsource from One Earth Designs.
While Andrés intends to teach festivalgoers a lesson, he says he'll capitalize on the ability to check out A-list acts at the three-day music and food festival (full lineup here), and he tells us he's intent on checking out Kanye West's set tonight, and tomorrow's trio of St. Lucia, OK GO and the Roots. Here, the chef tells us more about this passion project and his role as culinary ambassador for the Global Alliance for Clean Cookstoves.
How'd you come up with the idea for Sunny Day, and why debut it at a food/music festival?
Sunny Day was created to make sure America knows what the Global Alliance for Clean Cookstoves is doing around the world trying to bring 100 million cookstoves to 100 million households. For me to do this restaurant, in a project that is so dear to my heart, where we'll be using clean energy with clean cookstoves to feed thousands of people for three days, I think is the perfect way to make a statement and to tell people about the incredible efforts of the United Nations and U.S. government. I think a food and music festival is the best platform to debut this project because there is nothing more fun and more serious than the time where you are celebrating the food that feeds us all and the music that keeps us all moving through the soundtrack of our lives.
What are the challenges of cooking with solar power?
The solar cooker is very powerful, but it is still a very new idea. People are so accustomed to cooking with fire as humanity has been doing for thousands of years. There are obviously other means of cooking but it's not easy to convince people to change their methods to something they have never seen or heard of. I believe we have to spend more time on education and we should identify the communities that could most benefit from solar cookers. I believe the most important thing is that we show the real value of using solar not only in terms of money but show that we have the potential to feed many people at a low energy cost with zero emissions, which could help reduce deforestation. We should invest in technologies that make cooking healthier, quicker and more efficient, and we should work towards making this technology more accessible. I cannot wait to see the day that renewable energy will be the key source for cookstoves around the world.
What is the Global Alliance for Clean Cookstoves, and why is this an issue home cooks should know about?
I joined the Global Alliance for clean cookstoves as the culinary ambassador in 2011. Our goal is simple: by 2020, we will have replaced inefficient cooking technologies with clean energy cookstoves, including solar. In many countries around the world, cooking with inefficient technologies is the root cause of many health and environmental issues. For people like you and me and in developing countries, turning on the stove is as easy as turning on the stove. In many developing countries, young women and children spend their days gathering wood, dung or coal and other biomass to fuel the fires and cook their humble meals. The result is that children miss out on education because they spend their days gathering wood, which then leads to deforestation, and in a country like Haiti when the rain comes down it washes away the topsoil, causing devastating landslides and jeopardizing agriculture. A clean cookstove like solar can be a powerful solution to help solve many of these issues. I think this is an important issue that we need to bring to the forefront.