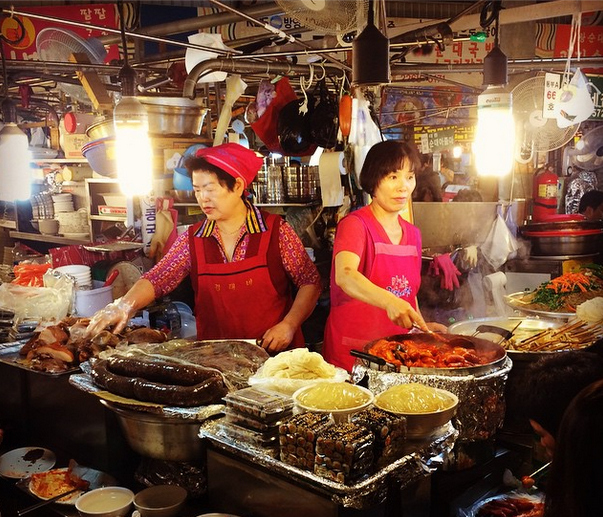 That is, of course, unless you live in Korea, where the Parts Unknown host is currently filming an upcoming episode of his award-winning CNN show (the producers are our bosses at Zero Point Zero Production in New York City).
If you're a follower of all things Bourdain, you know that he's visited Korea in the past as part of his previous show, No Reservations. In that episode, which debuted in June 2006, he traveled with production assistant Nari Kye to discover Seoul, which Bourdain describes in voiceover as "like a pinball game of flashing neon, sign written in a script that I don't understand." The episode covers a lot of ground in under 45 minutes — kimchi making, eating live octopus for breakfast, piles of street food served at tented restaurants called pojangmachas, dak dong jib (look it up) and plenty of soju. But like all travel TV, the episode left fans of Korean food and culture, hungry for more (sorry, had to drop that).
It's been nearly eight years since that episode debuted and I'm excited to write that Bourdain is back in Korea filming an episode for his CNN show Parts Unknown. I'm writing a book about Korean food in America and I can personally say how thrilling it is for Koreans around the world to have TB back in the motherland. And, by the looks of it, he's having a pretty good time. Earlier today, Bourdain took to Instagram with a photo from Gwangjang Market — if you're up on your Korean cuisine you will spot a mild blood sausage called soondae, wok-fired noodles (japchae) and large vats of spicy rice cakes (ddeokbokki).
While we certainly don't want to spoil the show — likely to air sometime in 2015 — I think the themes covered will change the way you think of Korean food and culture. Our friend Helen Cho, Director of Digital Content at ZPZ, is also in Korea and will be filing photos on the Food Republic Instagram this weekend. So check that out.