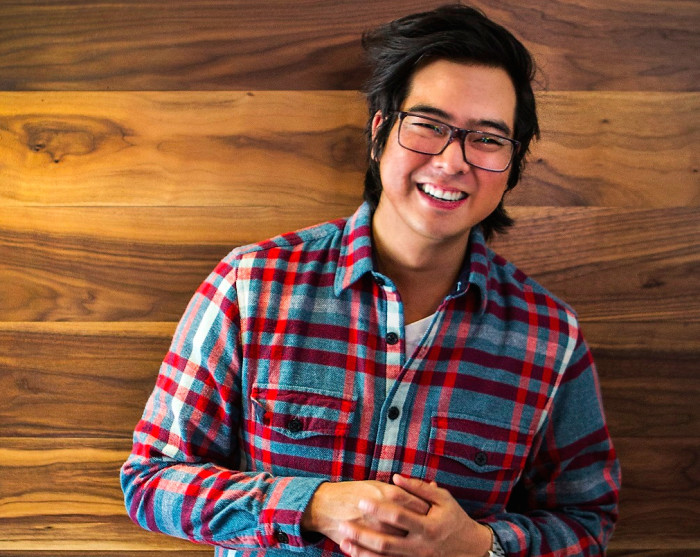 Lima-born chef Diego Oka travels the world, cooks for the hungry masses and spreads the word about delicious Peruvian food. Not a bad gig. Perhaps you are familiar with the country's famous roast chickens, bright sauces, goat cheese-spiked huancaina sauce and ceviche as far as the eye can see? Peruvian cuisine is recognizably Latin American, with staples like fried plantains and rice and beans, accented by cultural influences from around the globe. Take tiradito for example, a Japanese-Peruvian hybrid that is popping up on menus that recently only sported ceviche, crudo, carpaccio and tartare. A protege of renowned chef Gastón Acurio, Oka has been cooking this fast-growing cuisine for nearly a decade and currently serves as Executive Chef at La Mar at the Mandarin Oriental in Miami. So don't let the baby face fool you. When we spoke, Oka was gearing up to head the kitchen at the James Beard House for a sold-out dinner.
He also came prepared with a bottle of Pisco Portón, made in the Andean foothills at the oldest distillery in the Americas, and had been tearing up the city since he landed a week before: Gramercy Tavern, Roberta's, Tørst, Pulqueria, Motorino, EN — an endless crawl of some of the city's most beloved restaurants. 
What do you think is the key to the rising popularity of Peruvian cuisine?  
I think Peruvian cooks really want to make their food known around the world — it's delicious. In Peru, the only thing we talk about is food. Peru is crazy about food. We have breakfast and we think about what we're gonna have for lunch, and then at lunch we're thinking about what we're gonna have for dinner. And I think also our culture is very into family. We live in our houses until we get married, it's not like here where you leave for college. So we are very homey, all the houses cook. Microwave food doesn't exist in Peru.
When we opened in La Mar in March, the whole thing was about embracing the Peruvian community and working with all the small, casual Peruvian restaurants where you can eat really well. It's like one family. At the end, if Peruvian food is really famous, it's better for everybody and that's our philosophy. The Peruvian community and restaurant industry in Miami is very tight, we all know each other — Gaston did an excellent job, and I'm so lucky that I work with him. 
Are you excited to cook at the James Beard House?
Yes, it's beautiful, it has a great vibe and it's an honor to be invited to cook there. We went to see [James Beard's] bedroom! The kitchen's very small, though.
It is very small but there's something about James Beard's ghost lingering over you that's kind of neat. 
Yeah, I'm excited. And New York's not like Miami. In Miami there are 200 Peruvian restaurants. Here, there's a few. And I think New Yorkers try them a lot, but Peruvian food is really new.
True, we're pretty into the roast chicken but we've still got a way to go. I've started seeing tiradito on menus other than Peruvian, how do you feel about that? 
Good! Tiradito is a new Peruvian dish with a hundred percent Japanese influence, made by a Japanese person. It's a very thin sashimi cut, not like actual sashimi, which is thick. Tiradito is very thin. A long time ago in Peru, we didn't eat raw fish. We ate ceviche, but the grandmothers prepared it in the morning and soaked it in lime for ten hours because of the sanitation problems in the markets. In ten hours, the fish is like wet toilet paper, you eat it and you don't know if it's fresh or what type of fish it was. When the Japanese in Peru started making sashimi, we learned to buy, to clean, how to store it, how to cut it. And that's why now, our ceviche can be "of the moment." And the same with tiradito — leche de tigre, and done.
I saw you Instagrammed a really cool musician in Brooklyn the other night wearing a dress made of speakers.
Pauchi Sasaki, she's my classmate from Peru. She makes electronic music and is an electric violinist. She created a dress with sensors for movement, then programs computers and uses a sensor and her hands to make music, and the cool thing is she records it, then mixes it live with her violin and the sounds of her hands. At the end, the song depends on the temperature of the sensors — if she puts it close to her body, it makes a different sound and it goes through the speakers of the dress. She's very talented, she calls it "The Floating Library." I said we should do something crazy together, a collaboration — she can put sensors on the food, each food makes a different sound because of the temperature, the content of water or if you put it on the grill. We've talked a lot about that. 
Does other art inspire your cooking? What about your father's art?
Why I study and why I'm dedicated to cooking now is because of my parents. They love to eat and we always go to restaurants. His art is beautiful, it's abstract and when I open my restaurant, that's going to be my inspiration — he is my inspiration. I will make a collaboration with my dad, a collaboration with my brother who's a photographer, with Pauchi and all the friends that I have who make art. I think everything has already been done, but not a lot of chefs can express their real personalities in their restaurants with minimalistic decoration, right? That's just to follow a trend. But I will make it like my house, I will paint the walls. 
Speaking of other people's restaurants, tell me about some of your other stops on this trip.
Yesterday at Eleven Madison Park, I had foie with dashi and mushrooms that was like a new flavor for me. When you go to restaurants, usually you've tried all the flavors — sweet, sour, salty, vegetables, meat. But yesterday, that dish was a new flavor for me, it was very concentrated full umami. There was a gel that was powerful. I haven't felt a new flavor in my mouth for a long time. I love the pork bun at Momofuku, it's very famous, and the apple kimchi with Greek yogurt and bacon. Delicious, that was the best.
What have you discovered in your new hometown of Miami that you really love?
When you think of Miami, you don't think "foodie town" like San Francisco, Chicago, New York. I moved there because I wanted to learn about the hotel, the Mandarin. I'd never worked in a hotel, but food-wise, I wasn't expecting that much. My surprise was that there is a food industry that's growing, and I think this was the best moment to move to Miami for my career. The past year has been events, great chefs, Michelin-star chefs opening restaurants. I think Miami is developing a personality and becoming a foodie town. And of course I think the Cuban sandwich is an iconic cultural representation of Miami. 
Related: Decoding Peruvian Food — 5 Ways To Think Beyond Ceviche And Choco-Tourism
If it's 2 a.m. and dinner service has just let out, is what you're going to eat?
Actually, there's a new Venezuelan place that I love called La Latina. It has really good arepas and empanadas, and for sure there's the classic, Gigi's. Everyone knows Gigi's. On weekends they have banh mi and pork fried rice, the music is super-loud hip-hop and the cooks are dancing. For three months, I was going out every night. Every single night, just trying, trying, trying. That was research, because Miami people are not the same as Peru, San Francisco, New York or Chicago and you have to understand what the customer wants. Our customers are not tourists, 70% come from outside the hotel. And they have to cross a bridge to get to us.
You're an outspoken lifelong fan of dining out. What's your advice to other "restaurant addicts?"
I don't go to restaurants just to be not hungry, I go to learn, that's my only purpose. You could study at the best school in the world, but it doesn't make you the best cook, the best chef. In nine years, I've learned to make ceviche by living in Mexico for years, in Colombia, in San Francisco, Chicago and now Miami. One day when I open my restaurant, I'll know a lot from that experience. I also go to restaurants because I love to eat with friends, I'm very laidback and don't say things like oh, this needs salt, this is burned, just enjoy and don't investigate the food. Well, yesterday Eleven Madison was a place to investigate.
More Chef Talk on Food Republic: