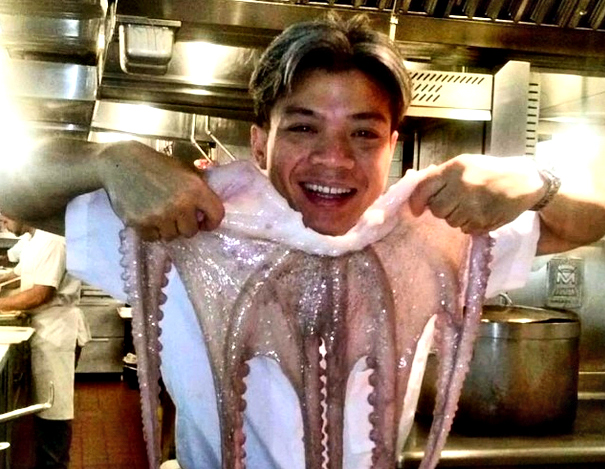 Hung Huynh is perhaps most recognizable as the winner of Top Chef's season three, and the acclaimed chef has continued to appear as a guest judge in subsequent seasons. His culinary career — which has included stops at the venerable Per Se in New York and Guy Savoy in Las Vegas — has most recently taken him to the EMM Group's Catch in New York City, where he presides over a sophisticated seafood menu. The Vietnamese-born chef (his entire family hails from the country) recently returned from a trip through Asia, where he documented his adventurous travels — including being held-up at knifepoint (!!) — for Food Republic. As for the food he sampled along the way? We're talking sea worm, sea squirts, ant larvae, baby chicken soup and live baby octopus. On second thought, "adventurous" might be an understatement.
Seoul
After almost 20 hours of flying, I finally landed in Seoul. It was a very sleek and modern city, and immaculately clean. The people were polite and service at restaurants was much friendlier than in Manhattan's Koreatown. I stayed at the W Hotel, which was such an awesome experience but everything was ridiculously expensive. They charged me $45 for two eggs, and the toothbrush and toothpaste in the bathroom weren't even free.
For my first meal, I went out with my friends for Korean BBQ (of course). The beef, which was a Korean version of Japanese Wagyu, was delicious and cooked perfectly. That night, I couldn't sleep so I got up at 6 a.m. and went to explore the fish markets and food stalls. Unlike the markets I tried in Japan with the big tuna and other fresh fish, these had more shellfish and little sea creatures. One of the weirder things I tried was probably the sea worm. It was bloody and had the texture of a rubber band. I don't know if it did anything for me. I also tried sea squirts (or tunicates), which are bitter and perfume-y in taste. Another specialty there is live baby octopus. It is still moving so you have to swallow it and the tentacles stick to the side of your mouth and tongue, which is supposed to be erotic.
Vietnam 
My family is from Vietnam and I've been there a couple of times, so, of course, I love it. My mom was there and I met up with her. I was surprised that my brothers and cousins also happened to be vacationing there at the same time since I had not seen them for a while. I had the chance to have traditional two Vietnamese outfits custom fit for myself.
Ninety-nine percent of food in Vietnam is amazing. I had fresh fish, shrimp, shellfish and snails almost every day. We also had a whole roast suckling pig, which was about 8 pounds of meat. One of my favorite meals on this trip was at Cuc Gach Quan, a beautiful, rustic restaurant that Angelina Jolie and Brad Pitt ate at when they visited Saigon. The [restaurant] served all traditional, country-style family meals like canh chua (sour soup) and thit kho (braised pork).
The weirdest thing I had was probably the black chicken soup, which was literally just a baby black chicken, Chinese black truffles, roots and herbs. This soup is supposed to have traditional medicinal properties and be a "male enhancement."
The Philippines
I bought a ticket to Manila on a whim and didn't do any research on current events prior to arriving. I was so shocked when we were greeted at the hotel with bomb-sniffing dogs, security guards and metal detectors. It shocked me to see the state that the country was in.
I was scared that I wouldn't be able to enjoy my time in The Philippines, so I asked for advice on Facebook. A friend of mine who also graduated from The Culinary Institute of America lived there, so she sent her driver to pick me up and take me to her house. That night, her staff cooked a massive Filipino feast with all kinds of dishes from noodles to braised oxtail and huge mud crabs cooked in curry and coconut milk.  
Thailand
I originally planned to return to Vietnam after The Philippines, but the embassy absolutely wouldn't issue me a visa in the same day. So instead, I flew directly to Bangkok, where I had inexpensive massages every day and drank a lot.
I met up with a friend who used to work with me in Las Vegas, and we checked out all the street stalls. There are more in Thailand than in Vietnam and the food is so spicy. One interesting thing I tried was the ant larvae, which was mostly texture and didn't taste like much. I really loved how Bangkok was so trendy but also had its real traditions and grittiness.
After two days in Bangkok, I headed to Chiang Mai in the northern part of the country, where they had the most amazing food. My favorite was the khao soi, floating curry noodles, which was the most perfect balance of taste, texture and flavor I had ever put into my mouth. The dish comes with crunchy noodles over egg noodles all floating in a curry-based broth.
Next was Koh Samet, a small island, which was so relaxing. I just ate more and watched fireworks on the beach at night. The craziest part of the entire trip occurred when I flew back to Bangkok for my very last night in Asia. After partying pretty hard, I decided that I wanted to pull a Hangover so I postponed my flight for two days and went out to get a tattoo! But the guy who was supposed to drive me to the tattoo place pulled a knife on us at the hotel and then tried to scare me for money. In the end, I just paid him off for gas money but it could have been a lot worse.
Check out these chef travel stories on Food Republic: