Pucker Up, Show LoverBeer's BeerBera How You Really Feel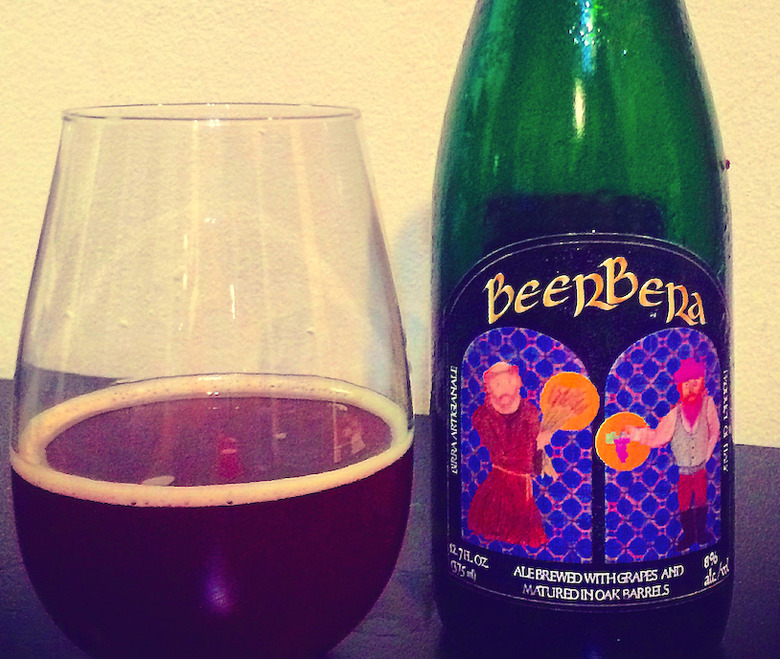 When it comes to food and wine, Italy simply does not mess around. These were things I had assumed and confirmed firsthand in 2002 when I spent a summer in Treviso. The family I stayed with would return home during siesta to make their own pasta and sauce. Freshly carved prosciutto e melone was always on hand. An Italian meal is filled with simple luxuries like that, and one of those luxuries was the constant flow of local wine. At 16 years old, this was pretty awesome.
My host family also loved good beer, and back in the day there was pretty much only Peroni, Moretti or German beer available. Today, there are at least 500 small breweries in Italy, and at least a dozen brews are available stateside. My most exciting discovery has been LoverBeer's BeerBera, a wild ale brewed with grapes aged in oak barrels — a fitting tribute to the country's prestigious winemaking traditions of old, combined with their impressive breweries of new.
If there's one problem with the growing number of American craft breweries, it's that it can be hard to keep up with the plethora of worthy imported brews. The international sour market has also been dominated by Belgium for a long time, with Cantillon and Drei Fonteinen flying off the shelves. Particularly when it comes to the labor-intensive and high-priced sours, it's hard to justify spending in excess of $15 for a 375-ml bottle...but LoverBeer's beautifully designed bottles had piqued my interest for some time now, so I took the plunge.
LoverBeer is doing incredible things with wild beer, and BeerBera is my favorite of their lineup. First off, their packaging is immaculate — the labels look like they were taken from a monastic manuscript. BeerBera's artwork features a monk carrying grain and a farmer carrying grapes in what would be a fitting stained glass window in a church (or maybe just a really awesome brewery). Sure enough, the stuff inside has been taken through a holy treatment. The ale itself is a tribute to the Piedmont region, where LoverBeer's hometown of Marentino is locared. Piedmont's primary produce is wine grapes, therefore this wild ale drinks more like a wine than beer. The grapes and oak barrels combine for an full, vinious flavor with hints of cherry, pomegranate and raspberry.
Make no mistake, this is a sour beer. The bottle I purchased is from 2012, and displayed great balance. The acidity was bright, but not quite puckering. I also tasted this on draft from a more recent batch with much more of that in-your-face sourness, so if that's what you're after, find yourself a tap.
The most remarkable thing about this beer is that no yeast is added. Just like in winemaking, it's the yeast from the grapes that lead to a natural fermentation and the resulting alcohol is on par at a warming but undetectable 8%. While there are plenty of wild beers coming out today worth your time, I give this one props for being both original in a growing world of sours and yet still definitively Italian. Just like with the food and wine that made me fall for the country, this beer was undoubtedly made with love. Cincin!
More Weekend Drinking Assignment on Food Republic: