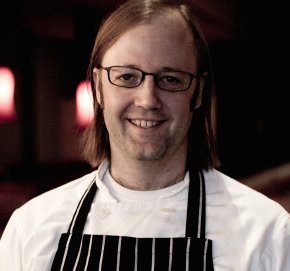 Wylie Dufresne shocked the restaurant world when he revealed earlier this year that he would be closing his groundbreaking wd~50. After over 11 years spent cooking inventive modernist dishes on New York City's Lower East Side, Dufresne announced – due to a new real estate development – that the restaurant's last night of service would be on November 30. Dufresne already runs the kitchen at the more accessible Alder, but will he revert back to a more formal tasting menu format and re-open elsewhere in the city? While that remains to be seen, the influential chef has managed to keep busy lately.
In April, over 30 of the world's most renowned chefs flew in from around the world to surprise Dufresne at his restaurant. It was pretty epic and we put together a short clip with some video highlights. The chef also recently sat down with Vice's Munchies to provide some basic cooking tips and to demonstrate how to make shrimp grits (yes, that would be grits made of shrimp), one of his most recent menu's trademark dishes. Check it out below.
Finally, Dufresne just outlined plans to release his first cookbook, to be published by Anthony Bourdain's Ecco imprint. Co-authored by Lucky Peach co-founder and editor Peter Meehan, the book will focus on many of the plates that came to define wd~50 over the years. Publication is currently slated for 2015. While a big chapter of the pioneering chef's career may soon be coming to an end, Dufresne is certainly going to remain a big part of the city's food scene long into the future.
Check out these Books to Devour columns on Food Republic: