You'll Like NYC Persian Pop-Up Restaurant Lakh Lakh A Lot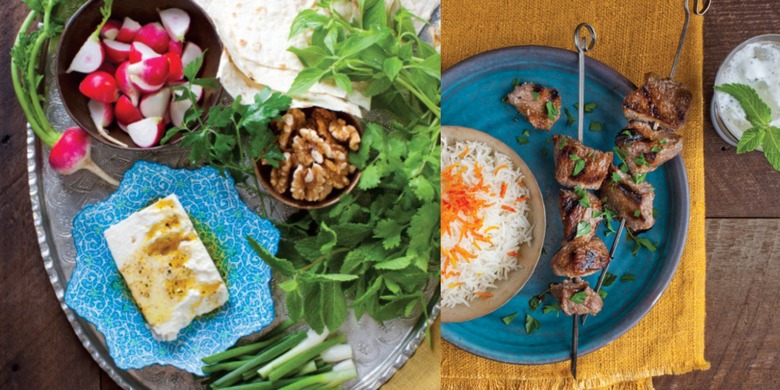 We may receive a commission on purchases made from links.
It is not often that a chef comes out from the kitchen to greet each and every guest personally, explaining how each dish is prepared. Of course, it helps if there are only 18 seats, and the meal takes place only once weekly. But that's what Louisa Shafia will do if you are dining at her Iranian pop-up, Lakh Lakh.
Lakh Lakh takes place every Monday, running until the end of the year, at Sara Jenkins' East Village wine bar Porsena in New York City. If you want to sample Shafia's Iranian cooking, featuring street food and home-style dishes, it's best to get there as close to the 5:30 p.m. start time as possible, as the place fills up quickly.
The cooking is profound. Sabzi khordan consists of soft cheese, soaked walnuts, radishes and parsley wrapped in soft, paper-thin wheat rolls that come on the side. The plates are not just small, they are in fact tiny. So it's best to order three or four per person. Definitely start with the light, crispy sambouseh — a filo stuffed with cardoons (of the artichoke family), farmer's cheese and dusted with nigella seeds. The succulent lamb kebabs, marinated in sour pomegranate and walnut sauce, are great and you may want more than one on the table. And make sure to order the wonderful saffron ice cream, sandwiched in between house-made cardamom wafer.
The menu changes slightly from week to week, with some dishes, like the sambouseh and the sabzi khordan, remaining constant, while the soup, stew, rice, kebab and cocktail will vary each time.
Before launching Lakh Lakh, Shafia's cooking career was sailing along in a fairly standard way — she went to culinary school and was cooking healthy cuisine in California. Then, at her first job, she was asked to devise a new entrée. Reaching back to her childhood, days spent cooking with an Iranian aunt, Shafia set out to make a signature Persian dish called fesenjan — something she's written about eloquently. The dish's success motivated Shafia to learn more about her culinary heritage, and she found out that fesenjan was so integral to Persian life that, as she writes, "A cache of inscribed stone tablets unearthed from the ruins of the ancient capital of Persepolis show that as far back as 515 BCE, early Iranian pantry staples included walnuts, poultry and pomegranate conserve."
If you're in New York, you've got until the end of the year to check out Lakh Lakh on Monday nights; if not, Shafia's writings and more can be found on her website — and you can buy her cookbook of contemporary Persian cuisine online or behind the bar at the pop-up.
Lakh Lakh* (located at Porsena)
21 E 7th Street
New York, NY 10003
212-228-4923
*Mondays through the end of December