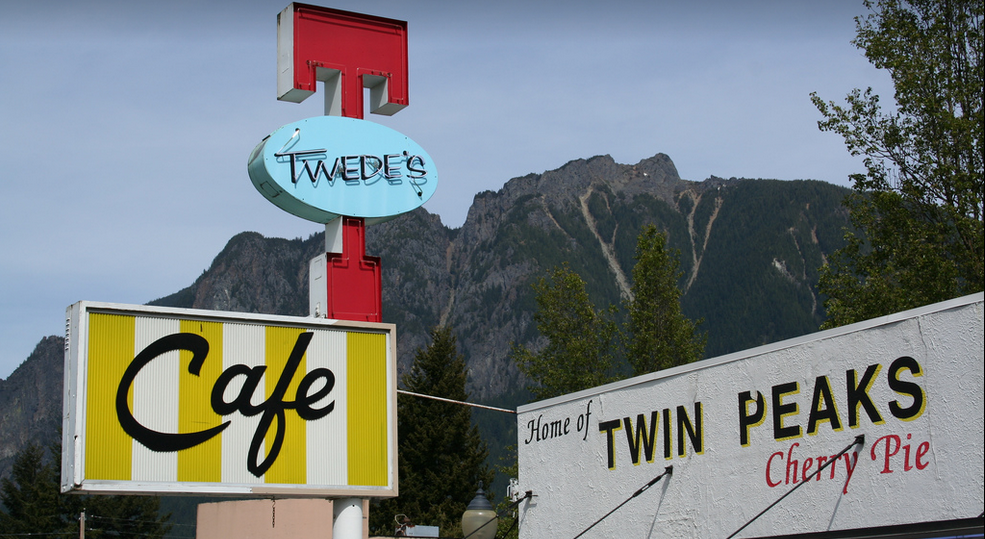 For years, Twede's Cafe in North Bend, WA, has played up its connection to Twin Peaks. Just to be clear here: we're referring to the cult TV series from the 1990s; not to be confused with the nation's fastest-growing "breastaurant" chain of the same name, which is something else entirely.
Fans of the show will recognize the place as the fictional "Double-R Diner," where actor Kyle MacLachlan's quirky character, FBI Special Agent Dale Cooper, raved about the food: "This must be where pies go when they die." And, the "good hot black" coffee.
More than two decades after the show's final episode, the real-life 1950s-style diner, located roughly 30 miles east of Seattle, still clings to its pop-cultural notoriety. Its menu, souvenir t-shirts and coffee mugs come emblazoned with the slogan: "the home of Twin Peaks cherry pie and a damn fine cup of coffee."
So, you can imagine how thrilled owner Kyle Twede must be to find out that Showtime plans to resurrect the long-dormant television drama for an all-new third season in 2016.
"We'd love to have that popularity come back," Twede tells Food Republic in a phone interview. "I mean, it's still really popular, as far as people coming out here and wanting to try the coffee and pie." Every day, he estimates, at least one or two tables at the diner is occupied by "Peakies," as Twede refers to the show's more passionate devotees. Showtime's planned reboot, he says, "is going to make a lot of people happy, that's for sure."
But, this time around, Twede has a suggestion for the show's Hollywood producers, David Lynch and Mark Frost: Guys, pick something else from the menu.
"I hope it's damn fine pancakes…damn fine hamburger, or damn fine something else," Twede says. Anything else, really, but cherry pie. "Cherry pie is a hell of a labor," he says. "Cherry pie has killed my food costs and my payroll since day one."
The diner was under different ownership when it made its initial appearance in the show's pilot. And, the pie it sells today is an entirely different recipe than the kind that first inspired all the tasty dialogue and food-porny camera angles on TV. By the time that Twede took over the place, post-Twin Peaks, the original baker — "she was a pie artist," he says — was no longer around. And, Twede wasn't a fan of the newer version. So, he decided to change it up. "We wanted to be sure that we had a damn fine cherry pie," he says, "because people were coming in, left and right, to try this cherry pie."
For his first five years as owner, Twede held an annual in-house contest to test-out cherry pie recipes, he says. Eventually, he settled on one particular formula, which he's stuck with for more than a decade now. The crust is made with seven ingredients (compared to the typical three: water, flour, shortening) and comes out "nice and flaky," with a shortbread-like flavor, he says. "We put in a lot of butter," he stresses. The filling, too, gets special attention. "We try to purchase pie filling at the beginning of the year, and we look for the most cherry count we can get," he says.
"It's an incredible cherry pie," says Twede, "and we're really proud of it." That said, he notes, it's not easy to produce, nor is it particularly lucrative: "It is work, and I don't make a lot of money off of it."
Coffee sales don't make up for the high pie costs, either. Twede says the house java, too, has gone through several upgrades over the years, both on account of the show's superlative advertising and the location's close proximity to coffee-crazed Seattle. "We'll get people coming in here, saying, 'This isn't damn fine coffee,'" says Twede, who points out that the stuff at his classic diner isn't supposed to be Roast magazine-quality, even if it is ground fresh daily.
If nothing else, the TV-tie in pie and coffee combo at least creates a conversation. "It brings people in," Twede says.
For a run-down of every pie and coffee reference in Twin Peaks (so far) — and there are many — check out this Slackstory video: