SoCal's Stone Brewing Picks Virginia For New East Coast Home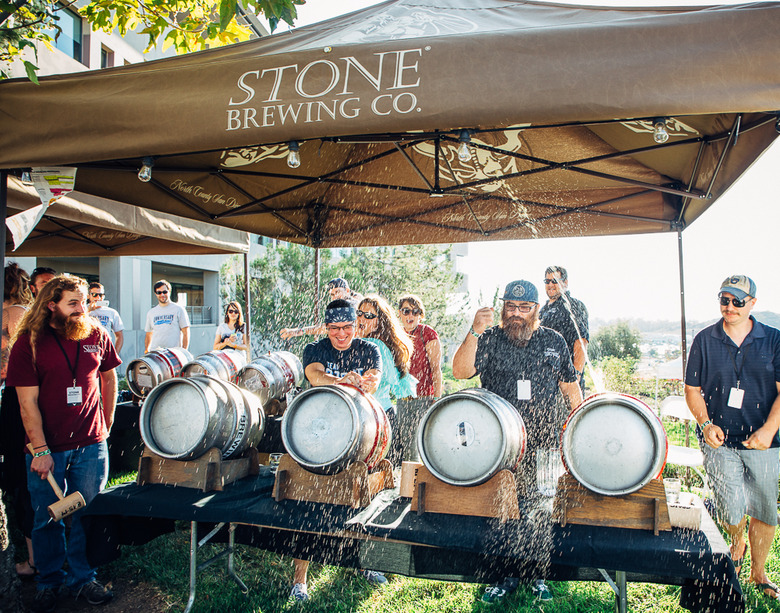 After months of speculation, lobbying and pleas from state governments and hopheads alike, Stone Brewing Company has finally chosen Richmond, VA as its East coast home. Construction of the $74 million brewery will start soon, with an estimated completion date of late 2015 or early 2016. Stone's famous World Bistro & Gardens, which has locations in Escondido and San Diego, California, will also open at the new location soon thereafter. Stone isn't the first to move east, but their new brewery could be the most important of them all.
Stone has been around since 1996 and built its name by crafting unabashedly aggressive beers with gigantic hop profiles. Their IPA and Arrogant Bastard Ale are certified hop classics, while their Russian Imperial Stout was one of the first "extreme" beers of its kind. As tastes and palates evolved, Stone stayed ahead of the game, first with their Vertical Epic series, a 10-year experimental series meant to test drinkers' patience by cellaring one beer from each year for an epic tasting on 12.12.12. Most recently, their "Enjoy By" Double IPA series brought true West Coast hop bombs nationwide, with a clear emphasis on freshness.
This year in particular has very much been the year of Stone. Back in July, they announced plans to become the first American craft brewer to own and operate a brewery in Germany. In a somewhat controversial but still arrogantly awesome Indiegogo campaign, Stone raised more than $2.5 million dollars to finance FOURTEEN collaboration beers to be brewed across their now-international brewery network within the next three years. On top of all that, Stone continued to push boundaries with some of the best releases in the brewery's history, like their Xocoveza Mocha Stout and "Enjoy After" series (which encourages the buyer not to open the beer for at least a year to allow it to evolve).
While Stone's distribution footprint, especially for collaborative beers like Xocoveza, has increased, the East Coast still doesn't see many of the more limited Stone releases. Last year's outstanding Fyodor's Classic and Mikhail's Odd were only available at the Stone World Bistro and Gardens. The opening of the new brewpub and bistro will cut down on the travel time and temperature fluctuations that can affect the hoppy beers Stone is so famous for. We're talking about the makers of "Enjoy By," so you know freshness is definitely a factor here.
It may still be more than a year before that first beer leaves the line, but this is undoubtedly huge news not just for Stone, but for the state of Virginia. There's good reason they fought hard to secure more than $5 million in financing to entice Stone to settle in the Commonwealth, beating out 20 other states. The brewery and bistro will create up to 300 jobs and have a big economic impact. Stone is also a major advocate of local brewers, featuring tap lines at the bistro dedicated to local beer. You can be sure this will also happen once the bistro opens, so think of the new facilities as the ultimate crossroads of good beer, which is what I'll be telling myself when I head down as soon as it opens.
Here's a video announcement about the East Coast outpost:
More WDA on Food Republic: