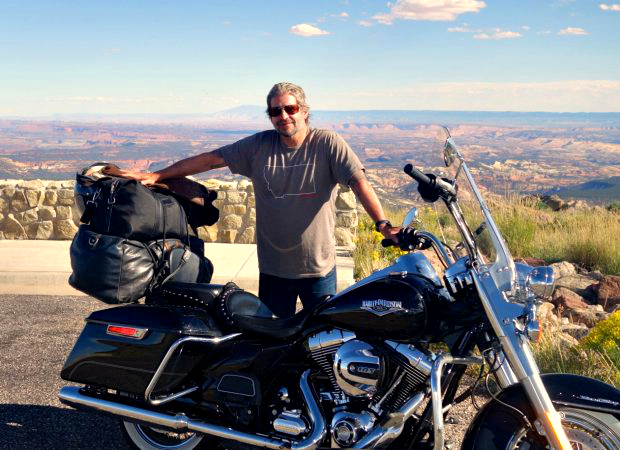 One man, one motorcycle and over 90 well-planned meals during a 45-day stretch. Now, that's certainly our kind of trip. New York City's Dinosaur Bar-B-Que pitmaster and Harley Davidson enthusiast John Stage – he's got '57 and '74 models to complement the 2014 bike he broke in on his journey – recently embarked on a month-and-a-half road trip around the United States. His goal? Simple. Eat the absolute best food he could find along the way. Fresh off his ambitious excursion, Stage wrote in to us to talk about some of his most memorable stops.
The genesis of this trip started a whole 30 years ago when I got my first Harley and simultaneously started Dinosaur Bar-B-Que. While all my friends were riding, partying and carrying on, I was busting my ass getting the business started. I would always fantasize about the day I could ride cross-country with no time limit and some money in my pocket. Fast forward to now! I spent the last year-and-a-half getting the right people in place to make this happen. It was time to ride and blow 30 years of cobwebs from my head.
So, just how did I choose where to go? I took the map of the United States, spread it over my kitchen table and saw four states I'd never been to: Oklahoma, Oregon, South Dakota and Nebraska. I wanted to knock them all out, so I planned my trip accordingly. I went from New York City to West Virginia, to Louisville, to St. Louis, to Omaha, to Valentine to Rapid City. Then I went from Rapid City to Sheridan, Wyoming to Cody, then on to Montana. In Montana, I did Bozeman, Butte and Missoula. From there, I went to Walla Walla, Washington, and then to Portland, down the Oregon coast through the redwoods and made a left turn. I came back through northern California and traveled to Reno, Nevada – the loneliest road in America – down into southern Utah through the canyon lands and into Santa Fe and Taos, then Amarillo, Texas, Oklahoma, Arkansas and Tennessee before banging it back home.
I ate over 90 meals on the road over the course of 45 days. As you can imagine, there were some hits and some misses. With the exception of Portland, Santa Fe and Missoula, I was in most towns for just one meal so it was important to get it right!
I chose my meals based on a combination of online research and old school local watering hole inquiries. Here were the most exceptional meals of the trip:
St. Louis
Pappy's Smokehouse has amazing BBQ baby back ribs. Full disclosure, I'm friends with these guys but good is good! pappyssmokehouse.com
Portland
Apizza Scholls has excellent pizza. For a New York guy, my expectations were high and the restaurant exceeded them all. apizzascholls.com
Olympic Provisions has great charcuterie, sandwiches and salads. olympicprovisions.com
It was late, I was drunk and I loved Biwa's late night ramen and izakaya. biwarestaurant.com
San Francisco
Lers Ros Thai is possibly the best Thai I've ever had. I tore up the rabbit and frog legs, which were all crazy hot. lersros.com
Reno
At Louis Basque Corner, I had a classic, old school Basque sliced lamb with red beans, roasted potato salad and wine for $12.95! louisbasquecorner.com
Butte, Montana
Pekin Noodle Parlor is one of the oldest Chinese joints in the country. It was a complete time warp. The food was totally 70's-style Chinese but really good, and the experience was a trip! butteamerica.com/pekin
New Mexico
I was on a quest to find the best breakfast burrito (Mantes Chow Cart in Taos), best green chili cheeseburger (Santa Fe Bite in Santa Fe) and best huevos rancheros (Kix on 66 in Tucumcari). I ate myself silly on New Mexican chilies and these were the best in class. It was hatch chili season when I was there, and I just could not get enough of the red and green chilies. The great Mexican cooking just fired me up. When you've got those fresh hatch chilies that are only in season for a certain time in New Mexico, it's awesome. I hit it at just the right time, too! I couldn't decide which one I liked better, so I kept the green chili sauce and red chili sauce on my plate at the same time. Usually they dry the hatch chilies and those are available here, but it's a really short season so I had never had them fresh. I tried them in a few different preparations, but the sauces were amazing. santafebite.com, kixon66.com
Hot Springs, Arkansas
Steinhaus Keller is home to some great sauerbraten and spaetzle and a vast selection of German beer. It was an unexpectedly great meal.
Memphis
The multi-course dinner at Hog & Hominy was a mind blower. The restaurant has top-notch hospitality and a wonderful mash-up of Southern and Italian cooking. Chef Andrew took great care of us. hogandhominy.com
Louisville
Proof on Main features some mighty fine Kentucky cooking; Chef Levon did us right. proofonmain.com
---
What was your favorite city on the trip?
My favorite city was the one I stayed in the longest: Portland. The food was rippin' good, there were friendly people and the city is home to a great beer and music scene. I felt right at home. I also really liked Louisville. I spent only one night there and could have definitely used another day.
What were you surprised by during your travels?
There are espresso bars in the most desolate towns in Montana, Wyoming, South Dakota and Utah. I didn't see that coming but I'm glad there were because they kept me flying from town to town! The west is all over good coffee.
Also, I was surprised by the growing food scene outside the traditional big hubs. There's great food starting to happen in a lot of unlikely places, especially within the locavore movements.
Craft beer is exploding everywhere, from coast to coast. I've always been in the thick of it, so it was a nice surprise to be drinking so well everywhere.
Did you encounter any extreme weather at all?
There were actually wild fires out west, which altered a bunch of the routes. That's another thing I noticed – how dry it is out there. You can almost smell it. It's like if there isn't a fire, there's about to be one. You can feel it about to erupt at almost any minute.
Where did you stay?
I stayed in motor lodges, mostly. I like a good motor lodge because the bike's right there and it's easy to unpack the bike. A lot of Hampton Inns, you know? When I got into the bigger cities, I stayed in some nicer places. If I'm going to go out and drink and carry on, I want a safe, secure place to leave the bike, but most of the time I was just on the lookout for great motor lodges.
Read these chef travel stories on Food Republic: