What's In Season In Early October: Sweet Potatoes, Aged Cheeses, Honeycrisp Apples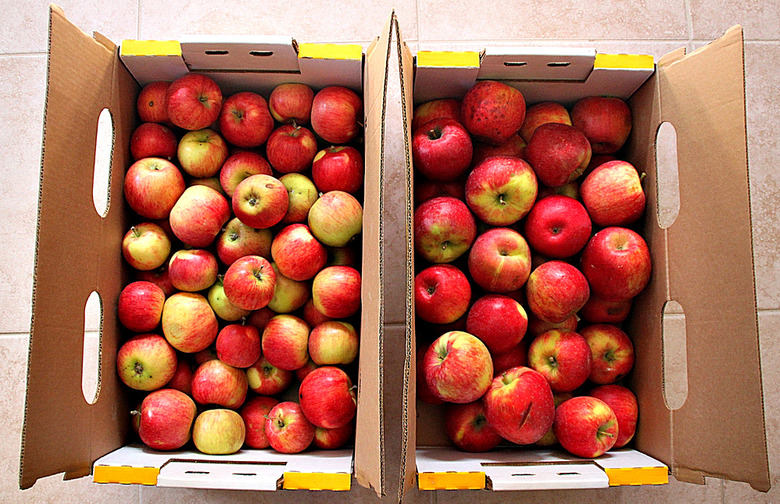 As the leaves start to change, you can expect the farmers market to shift to fall vegetables and fruits. But just because summer is officially over and done, it doesn't mean there aren't plenty of reasons to get excited about shopping fresh and local this time of year. For one, it's apple season again, and as apple varietals make their way back into the farmers market stands, you will also see an abundance of hot apple cider and fresh apple donuts to help warm you as you shop around. This is also a good time to experiment with butternut squash and sweet potatoes. And for those cheese lovers out there, look for the aged varieties to start making the scene as the weather cools.
Aged Cheeses: At 2 Sparrows Restaurant in Chicago, chef Greg Ellis is gearing up for all the aged cheeses that he can find this time of year, which vary from coast to coast. "In the spring, fresh cheeses are really in season, but then they get aged in the caves all summer long," says the chef, who has a preference for aged cheddar and goat cheeses. "I feel like a lot of people like having local, but everyone thinks of cheese in the terms of being French, Spanish or from Wisconsin. But, there are so many differ creameries around the United States that are make amazing cheese." Check out your greenmarket and see what the dairy farmers have been aging, then take some samples home to nibble on during happy hour, with a plate of charcuterie, or pressed into an superb sandwich.
Sweet Potatoes: Most people don't think of sweet potatoes beyond Thanksgiving or the occasional take on a French fry, but for Ellis they hold a lot more potential. "Sweet potatoes are something I think about during this time, and there are tons of different applications," he says. "We have done a sweet potato gratin, which comes out really nice and it's not what many people expect." You can also roast them and puree the tubers with peanuts into an African-style stew, turn them into a sweet and savory hash, or simply mash them up like you would a potato — just skip the marshmallow topping. When choosing the best specimens at the market, pick ones that prove heavy with no sprouts or soft spots. Also, don't be confused when you cut into the starch, as sweet potatoes tend to have yellow or whitish flesh, unlike the bright orange color you see in yams. Once home, store up to a week or two in a cool, dark place and do not refrigerate.
Honeycrisp Apples: Of all the varieties of apples out there, the honeycrisp is one of the most popular, and for a good reason – they are crunchy, tart-sweet, juicy and delicious. And who can you thank for this marvelous apple? The Minnesota Agricultural Experiment Station's Horticultural Research Center at the University of Minnesota, who patented the varietal in 1988. Now, you can get this apple all over the country, and there is no time like the present. As an added bonus, these apples tend to prove heartier, meaning they bruise less easily than other types, which makes them perfect for taking on the road, a fall hike or packing into lunches.
Butternut Squash: Another favorite fall vegetable of Ellis' is the butternut squash, a long, pale orange-brown gourd that has a sweet, creamy taste to it. "I love the flavor and you can do so many different things with butternut squash," he says. "You can go the sweet route or the savory route, and it lends itself so well either direction you want to go." At the restaurant he uses the vegetable to do a hot cous cous dish with some Moroccan spices (recipe below), and, he says, if you can't find butternut or happen to have random acorn or pumpkin lying around, it's easy to interchange the them with just a slight variation to the flavor. Another great thing about stocking up on these squash is that they last a long time in the pantry and, they are pack full of vitamin A and D.
Israeli Cous Cous with Moroccan Spiced Squash and Cranberries Recipe
Courtesy of chef Greg Ellis of 2 Sparrows
Servings: 2
2 cups cooked Israeli cous cous
3/4 cup dried cranberries
1/4 cup red onion, diced
2 tablespoon butter
1/2 medium-sized butternut squash, or one whole small squash, peeled and medium diced
1 serving of Moroccan spice blend (see below)
Salt and pepper, to taste
Moroccan spice blend
1 1/4 ounces whole cumin seed
1/2 ounce whole coriander seed
1/4 ounce chili powder
1/4 ounce Spanish paprika
1/4 ounce ground cinnamon
1/4 ounce ground allspice
1/5 ounce ground ginger
Pinch of ground cayenne
1 whole clove
Directions:
For the Moroccan spice blend:
Toast all spices and then place all spices together in a spice grinder and grind until they become a fine powder.
For the cous cous:
Preheat oven to 350 degrees F.
In a large bowl, toss the squash with enough of the Moroccan spice blend to evenly coat each piece.
Spread the squash pieces out on a cookie tray and roast until fork tender, about 20 to 25 minutes.
While the squash roasts, in a large non-stick saute pan, melt the butter over medium heat. Add the red onion and saute until translucent.
Add the cranberries and cous cous and constantly stir and toss so that nothing sticks to the bottom of the pan. The goal is to heat the cranberries and cous cous all the way through, about three minutes.
Place the cous cous mixture and roasted squash into a large bowl and stir all of the ingredients together and season with salt and pepper.
Spoon out into bowls and serve.
Read these Market Watch stories on Food Republic: