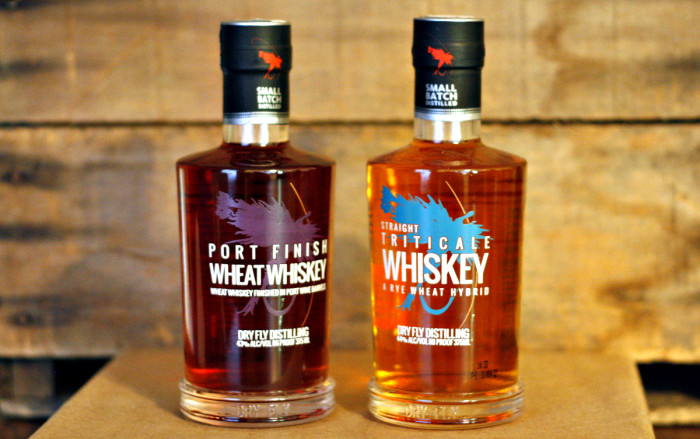 Throw over a hundred distillers together in a hotel ballroom and you're bound to find more than just a wild party. There was some interesting booze to try out. This year's annual Independent Spirits Expo in Chicago featured around 500 (!!) new and existing gins, tequilas, rums and more curiosities from distillers around the country. While it's impossible to hit every sample at the event, here are some of the most interesting things we stumbled across.
1. BroVo Spirits Boomerang
One of the newest spirits from the Seattle distillers who brought us the experimental Amaro Project is a recipe from Aviary's Chef de Cuisine Micah Melton. The cherry liqueur also features cinnamon, walnut, orange, peppercorn and more. Slightly bitter like a Campari, but dripping with big fruit and pops of spice, we're looking forward to drinking this one on the rocks when it comes out in the next month.
2. Covington Yam Vodka
Sweet potatoes are not usually the first ingredients that pop to mind when thinking about vodka production, but Covington owner John Kimber says yams were a natural choice for their flagship product, as the root veggie grows abundantly in their North Carolina location. Twenty pounds of yams are used to make each bottle, producing a flavor that is bigger and more complex than your average potato vodka.
3. La Venenosa Raicilla
With tequila and mezcal consumption on the rise, it was only a matter of time before American importers started to look at other indigenous Mexican agave spirits to bring into the country. The four expressions in the Venenosa line are a stunning example of the diversity of Raicilla, which is made from various agave plants in four regions of Jalisco. The flavors range from floral with big sour cherry elements to deeply mineral with hints of brine. RIYL: the wild world of tequila, mezcal, sotol.
4. Dry Fly Distilling Triticale Whiskey
With craft distillers starting to push the norm in the whiskey category, we're going to see a lot of progressive single-grain bottlings hitting the market in the coming years. One such spirit, made with 100% triticale (a wheat-rye hybrid) comes from this distiller in Spokane, Washington. It's got a spicy characteristic like rye whiskey, but with a bigger, rounder texture and soft lingering sweetness.
5. Pickett's Ginger Beer Syrup
Following on the heels of the craft tonic syrup trend, Pickett Bros. Beverage Company offers a duo of ginger beer syrups, a "just add soda water" alternative to existing brands in fizzy non-alcoholic beverage category. What's great about Pickett's concentrate is they offer medium and hot n'spicy versions, so people who seek less fiery ginger spice in their soda have options.
Read more about interesting booze on Food Republic: