Drink These 10 Pumpkin Beers To Celebrate Fall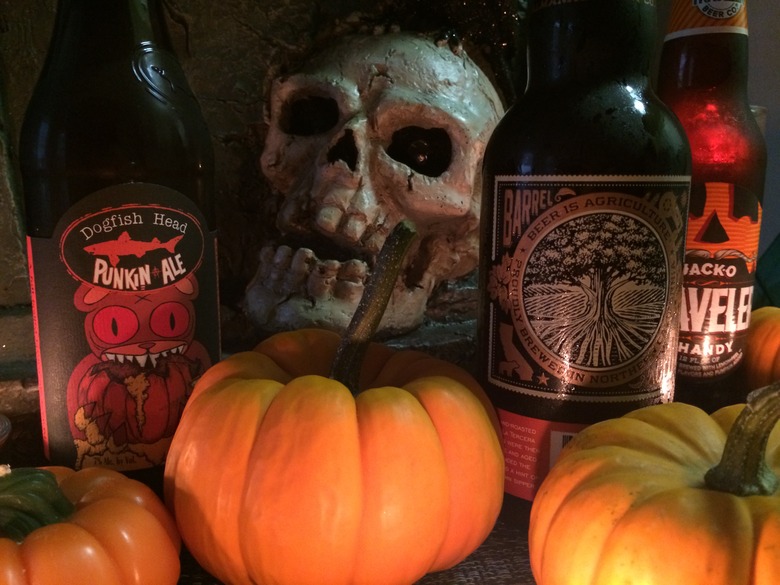 Ready, set, drink pumpkin beer! It's October, so you officially have our go-ahead to drink all the pumpkin beer you could ever want. If you're confused as to why you'd need our permission, well pumpkin beer has gotten a bad rep recently through no fault of its own. There's nothing wrong with the style, but breweries keep pushing it out earlier and earlier to outduel competition. Sure enough, pumpkin beers have been on the shelves in June, nearly three months before any pumpkins should be in season. While we do not approve of this tactic, there's no doubt that the taste of pumpkin beer officially ushers in fall for beer drinkers everywhere, so we're here to guide you toward finding the right pumpkin beer for you.
Navigating the increasing variety of pumpkin beers takes some effort. The pumpkin IPA is still an elusive beast that few have been able to nail, but it does exist. Others work with stouts, barleywine and sour ales. A few years ago, the idea of barrel-aging a pumpkin beer or adding pumpkin to a sour brew might have sounded downright ghoulish. Yet pumpkin has prevailed as a taste just as fitting for roasted malts and tart yeast, pairing well with a hearty fall dinner, as it does with the pumpkin pie flavors of dessert. These styles have been so developed that it's become very difficult to pick favorites, but of course, we had to pick just 10 for this Weekend Drinking Assignment. One last thing: You may want to stock up now, since pumpkin beers tend to disappear from shelves due to overwhelming demand by Halloween.
1. Cigar City Brewing Company: Good Gourd
Every year I wait to be blown away by a new pumpkin ale but nothing has yet to beat Good Gourd from Tampa, Florida's Cigar City. It really is that good. So many pumpkin ales get lost in over-spicing, but even with healthy doses of exotic fall spices like cinnamon, allspice, cloves and nutmeg, this beer still has balance. Underneath the flavors lurks an 8.5% ABV though it's nearly undetectable. There's also an amazing variant called Good Gourd Almighty, which is Good Gourd aged in rum barrels — absolutely worth tracking down.
2. Schlafly Brewing Company: Pumpkin Ale
Another unlikely location for world-class pumpkin beer is St. Louis, Missouri. Schlafly Brewing have it figured out. It's honestly right up there with Good Gourd and might even be their best beer. Cinnamon, nutmeg and clove are added in with lots of pumpkin. The brew is smooth and creamy with pie crust breadyness but also packs a deceptive punch at 8%. Props to Schlafly for continuing to release this in six-packs even when the demand is so high. It's great to be able to have just one 12 oz. bottle at a time, rather than commit to at least 22 oz. bombers like many of the others on this list.
3. Southern Tier Brewing Company: Pumpking
Lakewood, NY's Southern Tier are best known for their imperial style beers like the very sweet (and very delicious!) Mokah and Choklat. If you're not a fan of big sweet beers this is probably a good sign to turn back. Pumpking weighs in at 8.6% and has a ton of pumpkin pie spices and sweetness to it. I find that it works best paired with casseroles, roast squash and other warming dinners.
4. Almanac Beer Company: Dark Pumpkin Sour
After a year filled with solid sour releases, we find ourselves with yet another new release from the enterprising-as-ever Almanac from San Francisco. Last year, I recommended their Heirloom Pumpkin Barleywine, which is back again and still great, but I'd recommend switching it up for this sour treat. Dark Pumpkin Sour is brewed with pumpkin and spices and aged in wine barrels. You get quite a bit of tartness followed by gourd, spices, dark fruits and roasted malt. It's definitely different, but don't get spooked by the unknown.
5. Elysian Brewing Company: Punkuccino
One of the master breweries of pumpkin beer, Seattle's Elysian only seem to get better with each new release. Coffee seems like an unlikely, though enticing, pairing for pumpkin pie, and after drinking Punkuccino, I can say that it works! Just imagine one of their great pumpkin ales like Night Owl or The Great Pumpkin but with a shot of Stumptown coffee. Big-time coffee and pumpkin flavors blend seamlessly. Not as spiced as their other offerings, but it's also the most drinkable at just 5% ABV.
6. Dogfish Head Brewery: Punkin
Delaware craft stalwarts Dogfish Head have worked wonders with the rustic brown ale style before. Their Indian Brown Ale is particularly good, but here we have another winner with pumpkin, brown sugar and spices. Punkin has a nice balance of pumpkin and spices like nutmeg, cloves and cinnamon and is still really drinkable for 7% ABV. This one especially is just as much a fall beer as a pumpkin beer — it would probably be great to cook with.
7. Alaskan Brewing Company: Pumpkin Porter
Alaskan has had the porter game on lock for awhile — their Smoked Porter remains an original craft classic. Their Pumpkin Porter is the newest addition to the family and it was so successful in the limited Pilot Release series that they decided to make it a yearly offering. Lots of pumpkin flavor, thanks to 22 lbs. per barrel, but also quite spicy with clove, nutmeg, cinnamon. As it's a porter, there's plenty of roasted malts, brown sugar sweetness and even a bit of smoke. An excellent, festive choice to pair with smoked meat.
8. Two Roads Brewing Company: Roadsmary's Baby
If the name doesn't already want to make you grab a sixer of these, the fact that you can even get a sixer of rum barrel–aged pumpkin beer should. Connecticut-based Two Roads went all out with this release and it's way more than just a spooky name. It seems as if the rum aging has been on the lighter side, which actually works here, as it doesn't overwhelm the beer. The brewmasters also added hints of vanilla, molasses and wood to a nice base of pumpkin and spiced ale. There's a hint of the 6.8% accentuated by the taste of rum, but it comes together nicely.
9. Heavy Seas Brewing Company: The Great'ER Pumpkin
Maryland-based Heavy Seas never holds anything back when it comes to pirate's booty or great beer. Here we have one of the bigger pumpkin beers out there in both flavor and in booze — it's 10% ABV — and it's a perfect fall/winter warmer beer. Pumpkin, bourbon, vanilla and a ton of spices dominate. The bourbon isn't huge but it lingers on the palate and combines well with the spiced ale bouquet.
10. 21st Amendment Brewery: He Said Belgian-Style Tripel
Part of a mixed seasonal 4-pack of cans by San Francisco's 21st Amendment in collaboration with Seattle's Elysian Brewing, this one gets major points for doing something no one has before and doing it well: a tripel with pumpkin, and in a can, no less! The spicy Belgian yeast definitely dominates, with hints of banana and coriander, but the pumpkin and fall spices are definitely there. Even for a big 8.2%, this golden ale comes off as super drinkable and is one of the few pumpkin beers I wish we could get year round.
---
More Weekend Drinking Assignments on Food Republic: