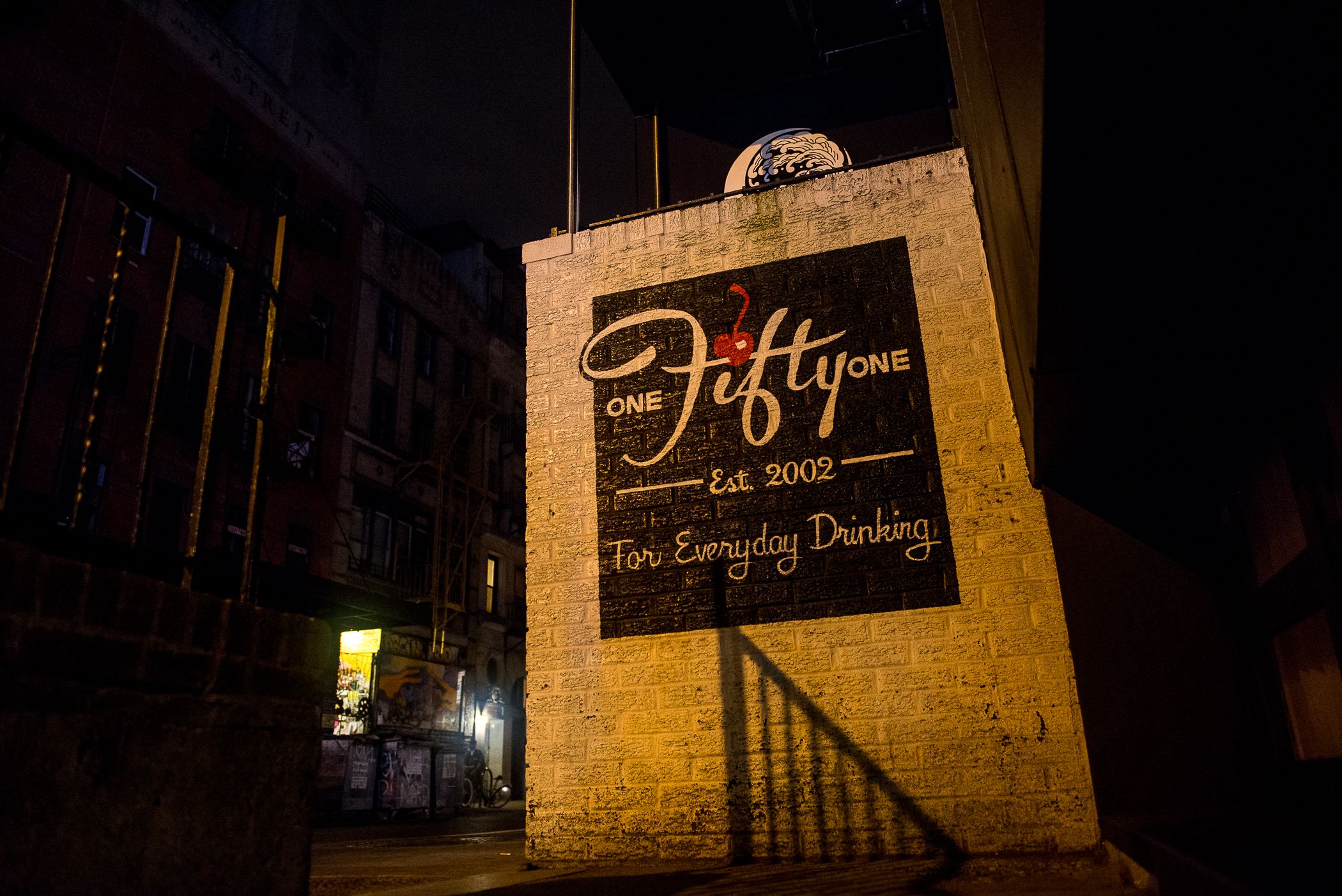 The Lower East Side of the Aughts was still an urban frontier when Francine Marchese opened a basement-level bar at 151 Rivington Street in 2002. It was among the first of its kind in the area and quickly became a divey refuge for musicians, artists and writers one rent hike from getting booted out of the borough.
"In the 80's there was a Wild West element," Marchese says in an interview. "There were some amazing things that used to happen in this city, creatively speaking, because the cops had better things to do."  Her bar harkened a bit back to that pre-Giuliani era with a fun-loving staff, a happy hour that extended until 10 p.m. and a voice-drowning sound system. "People need the right vibe for creativity to flourish," she says.  "It didn't have windows. You're going into a box in the ground. It encouraged people to do things that they might not consider doing."
Among the regulars were Alex Day and David Kaplan, two of the cocktail-crafty co-owners of Death & Co. "Before we knew each other, we both independently went to that bar so many times," Day recalls.  "I used to go there almost every night." In a boozy full circle, the business partners recently bought the bar at 151 Rivington and reopened it with light renovations and a drink menu overhaul.
News that their old haunt was up for sale came soon after they opened their first foothold on the Lower East Side, a quirky subterranean cocktail den, Nitecap, a few blocks west. "We were like, 'This won't happen but how amazing would that be?' Others tried to buy it, but Franny was looking for the right fit. All the pieces came together," says Day.
With Cedd Moses and Eric Needleman — guys behind well-regarded Los Angeles bars  Honeycut and The Varnish — onboard as partners the team strove to preserve the DNA that made the bar special but upgraded the offerings, installing a slushie machine and generating a massive menu of over 75 choices.
To manage a list that large, Day and Kaplan pared down what's behind the bar.  "There are a lot of drinks that can be made with very few ingredients," says Day. The roster of staff includes alumni of places like Grant Achatz's Aviary in Chicago. Day said his crew could work anywhere in the city, but "they're so enthusiastic that they can play loud rock-and-roll music and wear t-shirts and jeans."
The lack of pretense and preciousness reflects the same all-hours rollicking he and Kaplan loved at 151 Rivington years ago and strove to re-create. "We're kind of barely grown up teenagers. We like having shots and beers and being an idiot sometimes. There is a time and place for the cocktail being on a pedestal. I want to go to Death & Co. and have a conversation with my friend, I want to go to 151 and have a rocking good time and be there till late in the night."
Here are five drinks to kick off an epic 151-style evening.
1. Dazzle Ship: A grapefruit slushie spiked with cachaca, Lillet Rose and Aperol. Don't be distracted by the do-dads and stirrers that come in the glass — this drink will take you by surprised.
2. Hero's Welcome: Rich, multi-faceted riff on a Manhattan made with rye, brandy, sherry, and balanced out with Amer.
3. The Old Cuban: Classic that combines aged rum and sparkling wine with lime and mint.
4.  The Radler: Just geeky enough to enthuse cocktail snobs, but easy drinking enough to please the masses.  It's a shandy of sorts made with beer kegged with grapefruit juice. It's poured into a pint glass and can be fortified with your choice of vodka, tequila or Campari.
5. Vieux Carre: Classic made with rye, congac, sweet vermouth and Benedictine, touched with two types of bitters.
Read more about New York City on Food Republic: