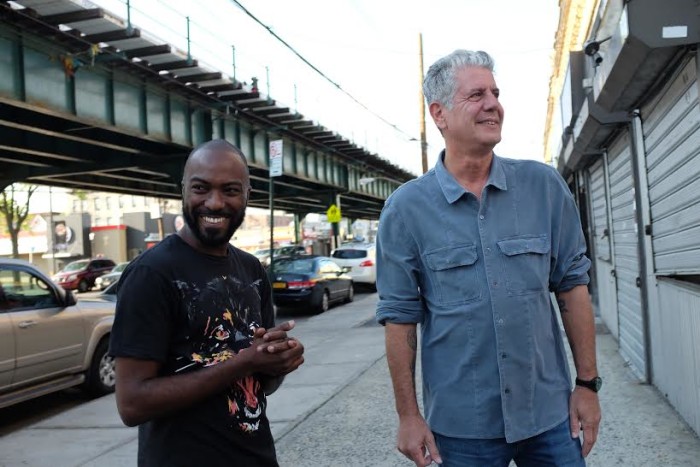 "[I knew] shamefully, shamefully so little about the Bronx," longtime New Yorker Anthony Bourdain told WNYC radio host Brian Lehrer this morning during an appearance on the daily call-in show. Bourdain was speaking about this Sunday's episode of Parts Unknown, the Peabody Award–winning documentary series on CNN that sees its host circling the globe to tell the stories of food culture in unexpected, underexposed locations. (The show is produced by Food Republic parent Zero Point Zero Production.)
The Bronx is such place, long celebrated in gangster movies and as the "birthplace of hip-hop" but really not too much more. Bourdain, who embedded in the borough earlier this summer, sought to push the conversation beyond breakdancing and Italian bad guys. Yes, he sits down with rap pioneers Melle Mel and Afrika Bambaataa. But he also visits with urban bush doctor Baba Rahsan Abdul Hakim, a Jamaican immigrant and well-respected herbal healer behind Sundial International. And Justin Fornal, known better as pimp-matador-Bronx gastronaut Baron Ambrosia, makes an appearance. But our favorite guest on the episode is a man who goes simply by the name of Desus. He runs a prolific Twitter account — sage, culture observing and diplomatic — and hosts a popular video podcast on Complex. He even has a catchphrase: Gotta hear both sides. In the episode of Parts Unknown, which premieres on CNN this Sunday, Oct. 5 at 9 p.m. EST/PST, he shows Bourdain around some of his favorite Bronx neighborhoods, and the two really hit it off. We caught up with d to talk City Island, jerk chicken and the mysterious nutcracker sellers.
Why is food so special in the Bronx, compared with the rest of NYC?
The Bronx is still a mixing pot with a huge immigrant population, so when you get food here it's usually the real deal. You go to Woodlawn and it's all real Irish food made by real Irish people. You can't sell bad roti here; you'll get chased out of town. That said, people take pride in what they make and you taste it.
Can you shout out some of your favorite Bronx restaurants: Street cart, casual, a little fancy. Food you can ONLY find in the Bronx…
For the street cart I have to shout out the jerk chicken truck on East 233rd and Bronx Boulevard. You can smell him from two blocks away. He just fills the air with the smell of jerk chicken barbecue smoke. For 10 bucks you get way too much jerk chicken. For casual, Patina on 169. They have the best West African food. The palm nut soup is great if you like spicy food. For a little fancy, City Island. I mention this in Parts Unknown but if you're trying to be classy it's all about City Island. They even have Don Coqui, where the Kardashians partied with French Montana. If that's not classy, I give up.
OK, then what is it about City Island that is so different from the rest of the borough, in terms of food?
City Island is all about seafood. You know when you eat out there you're getting fresh food and the prices aren't high like in the city. Plus the drinks are really strong, so even if the food is bad you remember it as being really good.
In the episode you take Bourdain to a dive bar selling Wray and Nephew rum, which seems to flow like water in the Bronx. Why is it such an important potable? And when was the last time you had some?
Wray and Nephew is huge with West Indians. It's a staple. You have to have a bottle in your house. We use it in everything: carrot juice, sorrel, black cake for weddings. You might randomly be handed a cup of it when you enter the bodega. It's very popular. I've even been to Appleton Estates where it's made. That's like the Hajj for Jamaicans. Last time I drank it was at a barbecue in the summer. I need to drink it more often. My grandfather drank a half glass of it everyday and lived to be 98 or something (true story).
Speaking of Bronx drinks, what's the deal with nutcracker? Is that still popular in the Bronx? Do you drink it? It got a bit of press in the past few years.
Nutcracker will always be popular in the Bronx. Things got too hot when it started getting press, cops started raiding bodegas and such. But you can always get it up here — people even sell it on Instagram (edit: and Facebook). I'm good on drinking nutcrackers. I had one on a hot summer day and tried to fight a tree at a barbecue. But you gotta hear both sides, the tree might have started it.
Here are two clips from the Bronx episode of Parts Unknown, which airs on CNN this Sunday at 9pm EST/PST: