Meet The Only American To Compete In The World Gelato Championships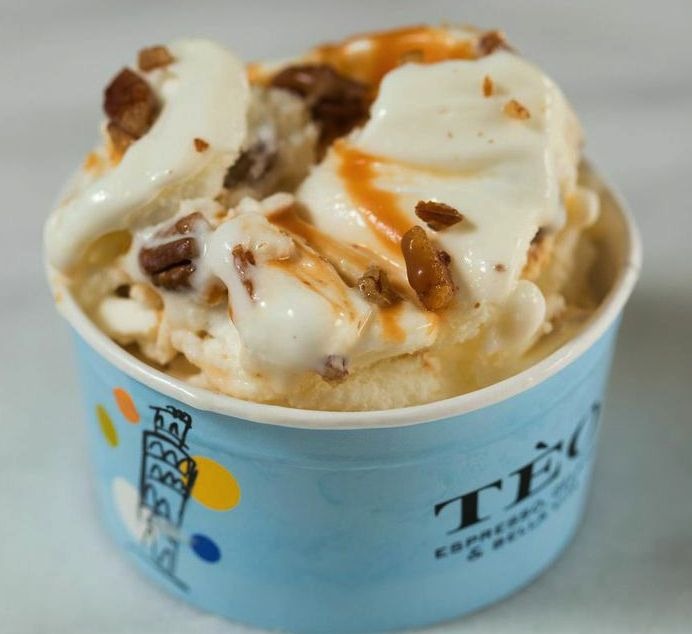 There are few things that beat a scoop – or three – of gelato. And in the United States, there is no gelato as good as the one found at Teo Espresso and Gelato in Austin, Texas. That's a fact: Owner Matthew Lee and his team were the only Americans selected for the annual Gelato World Tour in Rimini, Italy. Over the course of a weekend earlier this month, Lee and 23 other finalists from around the world worked grueling hours (up to 16 per day) in hopes of impressing a total of 30 technical judges and winning the coveted title of world's best gelato. While Lee didn't come away with the grand prize – he blames a last-minute change in the weight of the public vote as part of the reason he didn't take the gold ("welcome to Italy, where nothing is exactly as they tell you!") – he certainly made a name for himself abroad. Here's what he discovered in Italy.
What was the highlight of your trip?
It was an amazing experience and an opportunity to meet and work with the top gelato makers in the world, and to compete in the finals in the birthplace of gelato, Italy.
Lowlight?
Working in Italy is very different than working in America. We arrived Wednesday afternoon, checked in and then on Thursday, started making our base and spinning gelato. We had three shifts and eight machines between the 24 of us so it was a little crazy and stressful, with people grabbing all the tools, pitchers, spoons, scales, etc. It was funny sometimes because you saw the "big ego guy" take stuff from the person next to him when they weren't looking...but they got theirs in the end.
So we made it and then a storm came in and we lost all power! Ice cream in freezers without power...hmm. How about some melted ice cream, everyone?
Luckily, the outage only lasted 15 minutes but the stress and anxiety for the first shift was crazy. We lost power again three hours later but luckily we had put ours in the freezer and I didn't know until the next day. What can you do – everyone is in the same boat!
Where did you stay?
We stayed in Rimini. It's a beautiful seaside town that was an old Roman port. I worked the whole time (8 a.m. – midnight) so I didn't get to see much except what was five blocks from the event.
What was your best meal on the trip?
The gelato at the event and then the pizza in Naples at Michele.
What from your trip, if anything, will you incorporate back in Austin?
Some great flavor ideas and incorporating existing flavors differently, such as the winning flavor of Affogato.
Where do you want to travel to next, and why? 
Australia. All the Aussies there were great, helpful and experienced. It seems to be the next America.
Five observations Matthew Lee made in Italy:
70% of the gelato maestros were Italian. A number of them have moved to Australia, Dubai and Germany to open up shops. I was the lone American from Texas.
I learned that the Italian public/critics do not like sweet and salty. Anyone who had a salted caramel or too much salt in the product didn't fare too well.
I knew Italians liked nuts and even though they didn't like peanut butter, they were very curious about the pecan, a native nut of Texas. They also enjoyed whiskey, so I decided to combine the two and after 20-plus iterations, I came up with the final flavor a week before I left: a pecan gelato with whiskey and a whiskey caramel sauce swirled through it with pieces of whole crunchy pecans.
They don't have pecans in Italy so I had to FedEx 80 pounds of pecans to a friend in Italy and they arrived on the last possible day. Stress!
Italian sugar is from beets. The country's milk has only 3.5% fat versus U.S. 4% and our whipping cream is 40% while theirs is 35%. All of these items play a big part in the final texture, freezing and most importantly, taste!
Craving gelato? Try out these recipes on Food Republic: