10 Things You Didn't Know About Kale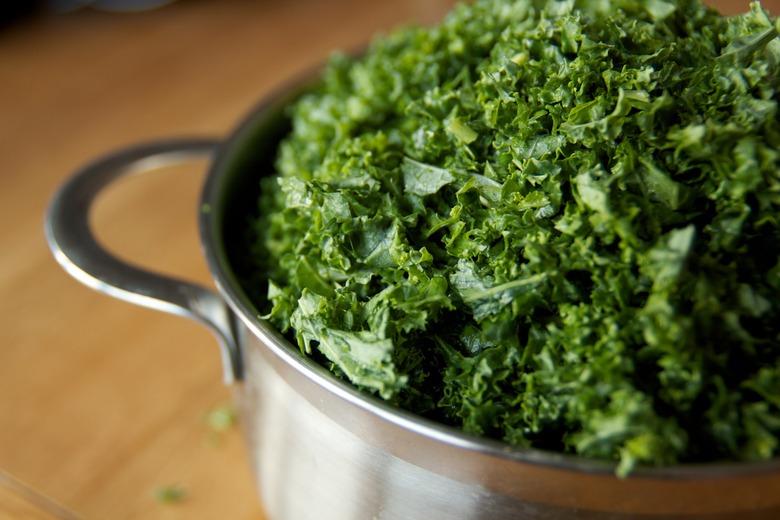 Hated by Jim Gaffigan but beloved by Gwyneth, kale is bigger than us all. The leafy green that launched a thousand chips has survived all manner of rumor and ridicule to become a bona fide international phenomenon. Here are 10 things you need to know about the superfood with staying power.
1. Remember the titans
Green juice and baby kale salads may seem like a modern sensation, but the crop itself is at least 2,000 years old. Ancient Greeks grew the stuff, writings from the pre-Christian Roman Empire mention kale-like cabbages, and the earliest American record is dated 1669.
2. Genetically modified excellence
While GMOs (genetically modified organisms) are generally, rightfully maligned, our modern iteration of kale is actually a product of agricultural science. Breeders crossed members of Brassica oleraco, the wild cabbage family that includes Brussels sprouts, broccoli and cauliflower, to create the desired genetic makeup and long, rippled leaves of contemporary kale.
3. Salad days 365
Since kale's cancer– and inflammation-fighting properties are most effective when it is consumed in conjunction with other foods, the stuff is pretty much made for salads. A Vitamin C–soaked squeeze of lemon helps the body convert kale's iron content into red-meat-worthy levels, and fats like olive oil, parmesan and avocado make kale's antioxidant-laden carotenoids easier to absorb.
4. Hail Caesar
Speaking of salads, kale is credited with reinventing the classic Caesar. Ryan Angulo, chef of Brooklyn's Buttermilk Channel restaurant, introduced a kale Caesar salad in 2008, and thereby whisked the '80s mainstay into the new millennium. Now ubiquitous in restaurants and home kitchens across the country, the kale Caesar "is everywhere," according to everywhere chef Todd English.
5. By the numbers
One cup of kale has three times as many calories as lettuce, but it is simultaneously higher in fiber and can have up to six times as much calcium. Big K also doubles the calories of spinach, but makes up for it with 14 percent more protein, plus higher amounts of Vitamins A, C and K.
6. The Great Kale Shortage of 2014
This spring and summer, reports of kale crops being overwhelmed by pests and exhausted seed supplies launched full-tilt panic from the worldwide juicing community. Fortunately, it was all a (fever) dream. Australia's Bejo Seeds, a major global grower, misread the spike in demand for kale as harbinger of international shortage, instead of mere evidence of its popularity. And the band played on.
7.  Street cred
In an effort to attract millennials with "foodie sensibilit[ies]," Olive Garden began testing kale-centric menu items earlier this year. Will the Zuppa Toscana introduce hip kids everywhere to the art of hospitaliano? Only time (and lots of expensive market research, probs) will tell.
8. Presented without comment
In 2013, more than 260 American parents named their babies Kale.
9. Brand expansion
Those who intend to ride kale's popularity into the great green yonder include the good people at Hansen's Natural, a southern California beverage company that introduced a "surprisingly tasty," limited-edition kale-flavored soda earlier this year. Model Alexa Chung endorses Nailkale, a line of 12 polishes infused with Vitamins A, C and K. And organic beauty brand Alba Botanica recently introduced five products infused with leafy green extracts, because kale woke up looking like this.
10. Food court empire
Fast food purveyor Panda Express capitalized on the kale kraze in May 2014. The WokSmart Shiitake Kale Chicken Breast is made with stir-fried kale, mushrooms and grilled chicken. It was unveiled alongside a new orange chicken with bacon dish, because America.
Read more things you might not know on Food Republic: