Philadelphia Restaurant Abe Fisher Has Possibly Achieved Smoked Meat Nirvana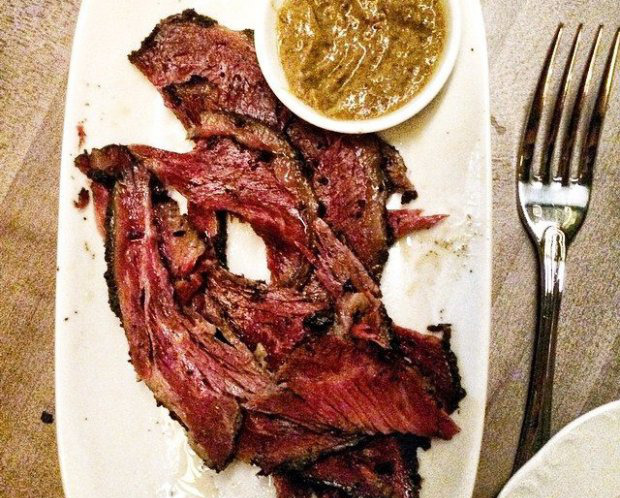 Abe Fisher serves only two orders of smoked short rib each night. Don't be third in li
Steven Cook and Michael Solomonov are behind what is arguably Philadelphia's most popular "ethnic restaurant" — the Israeli gold-standard Zahav in Society Hill. For six years, the restaurant has taken the ancient flavors and techniques established by Moroccan, Portuguese and Sephardic Jews and packaged them in a cool and convivial setting. You can sip cocktails made with vodka, Aperol and grapefruit, and there's Stax and LCD Soundsystem on the speakers, the music turned up high. Dishes like sweetbread schnitzel with beet-brined eggs and fried cauliflower dunked in labneh and mint dance between historical and hotness. But, there is no more winning, and Instagrammed, dish than the pomegranate lamb. A whole shoulder is brined, smoked and then sloooowwwwww roasted and braised with fresh pomegranate juice. It's such a winner and squarely a reason to visit Philadelphia alone.
Then, last Friday, I tried the smoked short rib at Cook and Solo's three-week-old Abe Fisher, and I can fairly say that there are now two reasons to visit Philadelphia alone. With respect to the folks in Central Texas, Montreal and Brooklyn (you know who you are), this dish changed the way I think about smoked beef.
Abe Fisher was opened to celebrate Jewish cooking around the world — mostly Ashkenazi in origin — with a well-polished and creative streak that rises to the level of Zahav. Kasha varnishkes is beautifully and decadently reimagined as a ravioli filled with truffle cream — a major upgrade from the simplistic Rosh Hashanah grain and noodle bowl. A version of trout gefilete fish somehow, miraculously, hits the mark. Shrimp fried rice with kosher salami pays tribute to Jewish Christmas, while pan-fried veal schnitzel wrapped in a taco and topped with a fishy mayonnaise vies for the most unorthodox South of the Border interpretation this side of Copenhagen.
Most of these dishes hit the mark — week three of a restaurant's life can be a little crazy for all involved. And then, the $125 Montreal-styled smoked short rib for four special arrived at the table and time slowed down.
Montreal smoked meat has gotten a lot of attention as of late. Why? Because: (1) it's good and (2) it can be REALLY good. It's different from pastrami in that, besides some subtle spice differences, classic pastrami is brined in a liquid, and Montreal-style is a dry cure. They both get crusted and smoked and they both involve the use of pink salt. "Originally, the short rib was supposed to be a small plate," says the restaurant's co-chef Yehuda Sichel. "We kept testing dry-rubbed New York Strips, and one day we made the short rib at the same time and never went back."
The process is labor intensive. Depending on the size of the short rib (typically, five to seven pounds), there is an eight- to 10-day cure before being smoked over wood chips for two hours, then slow-roasted for two hours in a low-fan convection oven oven at 200 degrees, uncovered, on a rack. "We don't baste it or touch it," says Sichel. "We learned to leave it alone to do its thing, until it's tender."
Yes, the result is tender. Incredibly tender, in a way that an unctuous short rib should be after this much love and attention (the tougher brisket cut is the typical protein used in this type of smoking). But it's also deeply smoked and sliced perfectly to reveal a shade of prime rib pink I'd never seen with smoked meat. Our party of five ate in near-silence (the poor vegetarian sixth was left hanging for the eight minutes it took us to polish off the platters — there were two of them involved).
The meat is served with house-baked rye bread, a caraway-maple mustard and two sides: braised cabbage and pickled Persian cucumbers. But, honestly, nobody was eating much of that. The smoked meat is the star, and we were lucky to score one of two nightly orders (the quantity might change with time but, as of this writing, you are advised to call ahead).
"It was a happy accident," says Cook, happily. "You never think of roasting short ribs, which is synonymous with braise. But we tried doing a very slow roast of short rib at Zahav one day — at a low temp for a long time, and not only was the tenderness there, the flavor was concentrated and beefy.  It wasn't a stretch to apply to this Montreal smoked meat." No Steven, not a stretch. You have yourself a new pomegranate lamb shoulder on your hands.