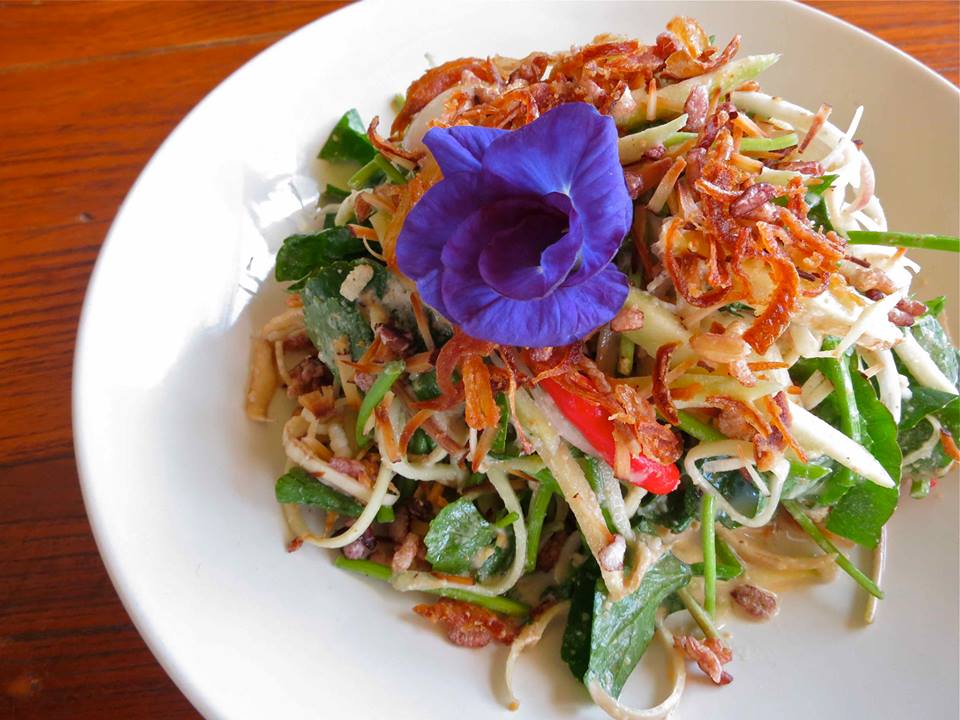 Most restaurants and shops on Koh Samui, a lush island off the coast of southern Thailand, serve what they think visitors want: watered down Thai staples or even Italian or Indian food. This is of course OK in certain situations (you're in paradise, after all). But if you're willing to rent a three-dollar motor scooter and traverse the island's back roads (a worthy way to spend time, period), it's possible to find some genuinely interesting places to eat and drink. Get started with the list below.
1. Hua Thanon Fishing Village
As you head south from Lamai beach, the island ring road will suddenly curve sharply to the right. Go straight instead, and you'll pass through a narrow street that functions like a time warp: When you emerge on the other side, you'll be in a predominantly Muslim fishing village, where it's possible to get a taste of pre-tourism Samui life. The streets are lined with old wooden shophouses, and there's a fish market by the water where women sell sea creatures buzzing with flies, with colorful fishing boats bobbing in the water beyond. Children and chickens run free, veiled women whiz by on motorbikes, and fish is laid to dry out in the sun. There's some good street food for sale as well — keep an eye out for banana-leaf-wrapped hor mak pla (fish steamed with coconut milk).
2. Magic Alambic Rum Distillery
It's pleasant to rent a motor scooter and zoom down the back roads to this unusual destination, a rum distillery tucked away on a remote stretch of the island. The sugarcane spirits made by a French couple come in flavors including orange, pineapple, coconut, lemon and au naturel —which can be sampled in the distillery's garden tasting pavillion. Have a cocktail made with ti punch, a mixer that contains lime juice, brown and cane sugars, cinnamon, vanilla, and nutmeg–it tastes like the tropics. 44/45 Moo 3, T.namuang; +66-862-826-230
3. Sweet Sisters Cafe
Just down the road from Magic Alambic Rum Distillery is this adorable open-air cafe decorated with midcentury furnishings and offering refined, largely organic spins on Thai cuisine. There's lots of seafood — like fish or prawns in sweet-and-sour or tamarind sauce — and plenty of dishes that feature local vegetables, like a banana-blossom salad or fresh spring rolls. Prices are a bit higher than many restaurants in Thailand, but it's worth it for every exceedingly fresh bite. Corner of route 4173 and route 4170, Baan Bang Kao Road; +66 864-708-631
4. Takhoe Bang Po Seafood
One of a handful of restaurants on the island specializing in Samui-style seafood, which tends to be intensely, salty, funky or both. Complimentary with every meal is khoei jii, a local specialty made of shrimp paste, garlic, coconut, chili and other tasty things into a coconut shell — it's served as a sort of dip for raw veggies. Skip the shrimp with stink beans unless you really love bitter flavors, but do opt for the octopus stir-fry or sea urchin salad. 56/4 moo 6, Maenam; +66-77-420-010
5. 4 Monkeys Coffee Bar
With bright pink and teal painted walls, a bamboo roof and tropical kitsch everywhere you look, this place is a visual invitation plop down with a pina colada and do nothing. Luckily, they serve a good one, along with Thai beer, and smoothies and coffee. Grab a seat at any of the eclectically furnished indoor nooks, or better yet, on the beach-adjacent back deck. The crowd is local and laid-back, and it's not hard to see why. Located at Bangpo Beach
6. Horm Lamai Coffee House
At this local-favorite cafe, with a rambling interior and pleasant leafy outdoor dining area, the friendly owner (who is Chinese by heritage) serves some dim sum options and congee in the morning, along with excellent strong coffee, brewed old-school-style in a cheesecloth "sock." The vermicelli-noodle-and-curry smorgasbord known as kanom jeen is the specialty at lunchtime, where the day's offerings, and the unlimited raw veggies that accompany this healthy lunch, are displayed behind counter. Other simple, mostly seafood-based dishes round out the affordable menu. Moo 4, 4169 Ring Road, Lamai