Bar Urbo's Canadian Daiquiri Cocktail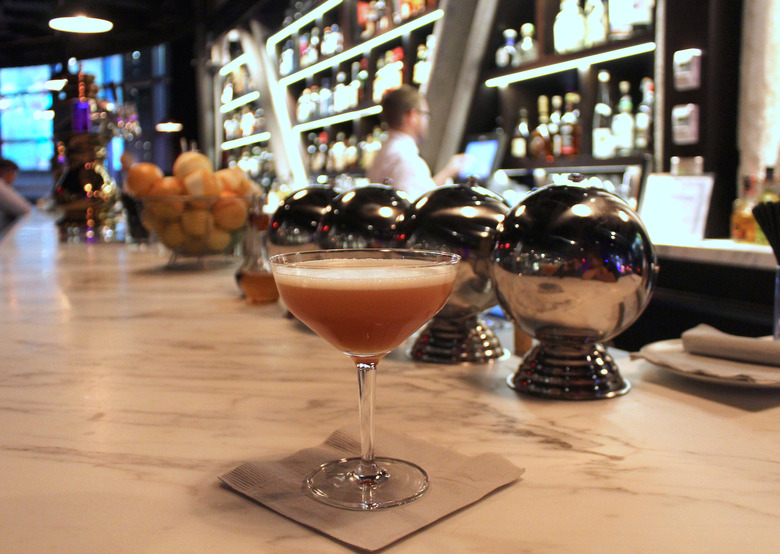 Classy cocktails appear in unusual places these days. Heck, even Denny's features several legit classics at (its New York City location). So, it makes sense that touristy Times Square, now has an excellent drinking destination: Urbo. The multi-faceted restaurant, coffee shop and bar offers a no-nonsense list of drinks forged by Jan Warren, head bartender of the reputable Dutch Kills in Queens. Deriving his palate largely from the tried-and-true recipes made popular by the Milk & Honey family of bars, Warren continues the lineage of the daiquiri by adding several darker elements, like maple syrup and allspice dram for fall. He calls it the Canadian Daiquiri.
There's a bit of brightness and biting citrus that's expected in a daiquiri. That's partly what makes this drink refeshing. The difference in tasting Bar Urbo's take? That sharpness is noticeably absent, the drink has rounded, incredibly well-balanced depth of flavor. This is no accident and stems from Warren's use of layering in the drink: splitting the typical two ounces of rum between the pungent Gosling's Black Seal Rum and a rich añejo, sweetening with maple, aromatizing with allspice dram and chocolate bitters, then somehow instinctively knowing that a small dose of Lolita Coffee Liqueur would be the perfect fit in terms of color and complexity.
It may take some time before Times Square becomes a drinking destination for New Yorker natives, but with the addition of bars like this one, along with the intimate Lantern's Keep, Middle Branch and a soon-to-be re-imagined Rainbow Room, the area could become a new bastion for beverages, even if it has to import much of its talent from outer boroughs. As for drinks like the Canadian Daiquiri, I might just have to endure any journey necessary to enjoy this drink once again.
Canadian Daiquiri Cocktail
Serving: 1 cocktail
1 ounce  Gosling's Black Seal Rum
1 ounce Diplomatico Añejo Rum
3/4 ounce fresh-squeezed lime juice
3/4 ounce maple syrup
1/4 ounce Lolita Coffee Liqueur
1 barspoon St. Elizabeth Allspice Dram
1 dash Bittermens Xocolatl Mole Bitters
Instructions:
Combine ingredients and shake vigorously with ice for 10 seconds.
Strain into a chilled coupe and serve. No garnish.
Prep time: 3 minutes
Difficulty: Easy
More cocktails of the week on Food Republic: