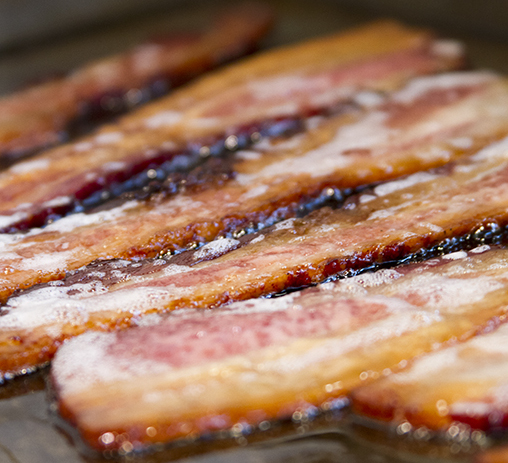 When your life revolves around cured meat it's only a matter of time before you open a shop dedicated to the king of this food, bacon. So, it's no surprise chef and charcuterie maestro Justin Brunson of Denver's Masterpiece Delis and the award-winning restaurant Old Major decided to open up the Denver Bacon Company in February 2013. To make each sizzling piece of maple slab bacon, the 35-year-old Iowa native uses locally raised hogs that are crossbred from White Landrace and Duroc pigs, and smokes the artisan bacon over Colorado Peachwood. The result is a product not only delicious, but something Brunson is incredibly proud of.
What makes your bacon so darn good?
I think what makes it so good is our technique, along with the quality and freshness of the spices we use. We use coriander, thyme, black pepper, juniper, bay leaf and mustard seed, which we get from a local spice company who use only the freshest spices to make our blend. We also dry-cure the bacon, which is an old technique that takes the water out, whereas most people make a brine solution and pump water into the meat.
Is it hard to make bacon?
No, it's one of the easiest cured meats to prepare and anyone can make it. You start with a slab of pork belly, then you take a spice mixture and a cure mixture. The cure mixture is just salt, sugar and nitrate, and you mix it with the spice mix. Then you rub it on the bacon, let it sit for seven days, rinse it off and smoke it with whatever wood you like to an internal temperature of 150 degrees. When it's done smoking, you cool it, slice it and cook it. So, when you buy it, it's already fully cooked, you are just crisping it up and rendering off the fat in a pan.
What is the difference between bacon with nitrates and bacon without nitrates?
Nitrate-free bacon is usually called "uncured," but in reality it still has natural nitrates derived from celery powder in it. Nitrates are a naturally occurring chemical found in celery, broccoli and beets, and your body naturally produces it. Uncured bacon is just using natural celery juice concentrate, so really it all has nitrates. Man-made is the same chemical compound as the natural, and I like to use it because it kills this little thing called botulism. Plus, it gives a nice pink color and a nice cured flavor which I like.
What other cured meats do you make?
I make 25 types of dried, cured salumi and about 100 fresh types. I have been making salumi professionally for almost two years, but I have been cooking since I was 17.
What do you think about the rise in butcher culture today?
There are a lot of new-age butchers in the market today. Having been raised on a farm, I learned about butchering when I was younger. As a chef, I thought it was important to know where my meat comes from and how it's handled. The only way to do that is to buy the whole animal straight from the farmer, and then butcher it yourself or pay someone else to do it. I think it's important to know how to do this and now I train my chefs to do it too.
Why do you think people repeatedly refer to bacon as the "gateway meat?"
Because it smells so damn good. That's what it is – when you smell bacon cooking, there is something about it that gets your entire mind and your taste buds going.
What do you think about non-pork bacon?
I think beef bacon and lamb bacon can be delicious because they contain the same kind of fat that bacon has. Turkey bacon has a distinctly different flavor because it has hardly any fat. Bacon needs about a 50-to-50 meat-to-fat ratio, and you can't do that with turkey.
What is your favorite thing to do with bacon?
I am pretty much a straight up, cast iron skillet–fried bacon person. If you are camping, in the middle of the woods, I think it tastes the best. When you get that crispy piece of bacon off the skillet with that cup of coffee in the middle of the Rocky Mountains, it's just happy land.
Are there any tricks to picking out good bacon in the store?
Always go thick-cut, always go dry-cured and shop as locally as you possibly can.
Finally, what do you do when you're not playing with meat?
I love the Rocky Mountains, camping, fly fishing and music. And there is this little venue here called Red Rocks which has the best of both those worlds.
Red wines pair well with smoky, salty bacon. The salt in the bacon will reduce the perception of tannin on the palate and give a burst of fruit flavors of the wine on your tongue.  Select a varietal that has a nice balance of acidity and flavor such as Bridlewood Central Coast Blend 175 or Bridlewood Monterey County Pinot Noir.
                   This post is brought to you by our friends at Bridlewood Estate Winery.