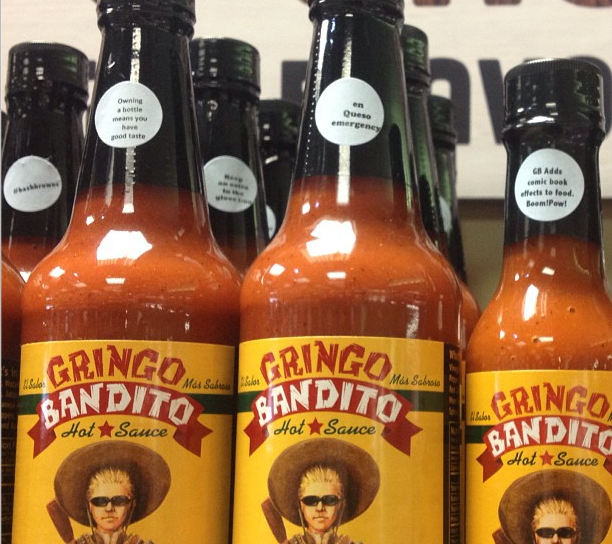 Playboy, the magazine best known for the articles you claim to read, is now doing listicles — ranking various things such as fast-food burgers and celebrity chefs. The latest subject to generate slideshow-worthy ratings for the famous bunny-logo brand is bottled hot sauces. So, which peppery product is spicy enough to earn the top spot from Team Hefner? Not standard-bearer Tabasco (No. 10), nor contemporary standby Sriracha (No. 16), not even Mexican staples Tapatio (No. 18) or Cholula (No. 15).
The winner is Gringo Bandito, produced by Dexter Holland, lead singer of The Offspring. That's right, the güero behind the incessant 1998 radio hit "Pretty Fly (for a White Guy)" is now slinging bottles of capsaicin-laden taco topping imprinted with his own lilywhite mug dressed up like Pancho Villa on the label. Is that irony? Perhaps intentionally so. In any case, it seems to be doing pretty well.
Holland's signature hot sauce has been steadily gaining popularity in its native Southern California over the past several years. And according to its web site, the sauce is now also available in "Australia, Japan, Canada, Finland, Germany, Belgium, Hungary and coast to coast in the US" — albeit not yet at New York City's virtual hot sauce emporium Kalusytan's, where we searched a vast selection in vain for a sample.
In 2010, OC Weekly chronicled how Holland's saucy sideline began as a simple gag gift that eventually turned into a serious business. The article notably catches the singer unwittingly quoting his own song lyrics while discussing the sauce-making process — something about the ingredients and how boiling "keeps them separated." Playboy senior editor and "in-house hot sauce specialist" Joe Donatelli couldn't resist the urge to reference the same lyric in his own write-up, either. Nonetheless, he stands by his findings, calling Holland's brand "the best combination of sweet and hot I have come across."
Not everyone is so thoroughly blown away by Holland's recipe, of course. Watch YouTube hot-sauce reviewer Ted Barrus, AKA "The Fire Breathing Idiot," give his take on Gringo Bandito, which he likens to "a Taco Bell-style taco sauce" with more heat. "Have I had better sauces? Yeah," says Barrus. On a scale of one to 10, he gives it an eight. Quick judgments can be tricky, though. In the video, the self-described "Idiot" also mistakes Dexter Holland for a "bad-ass woman."
Read more saucy stories on Food Republic: