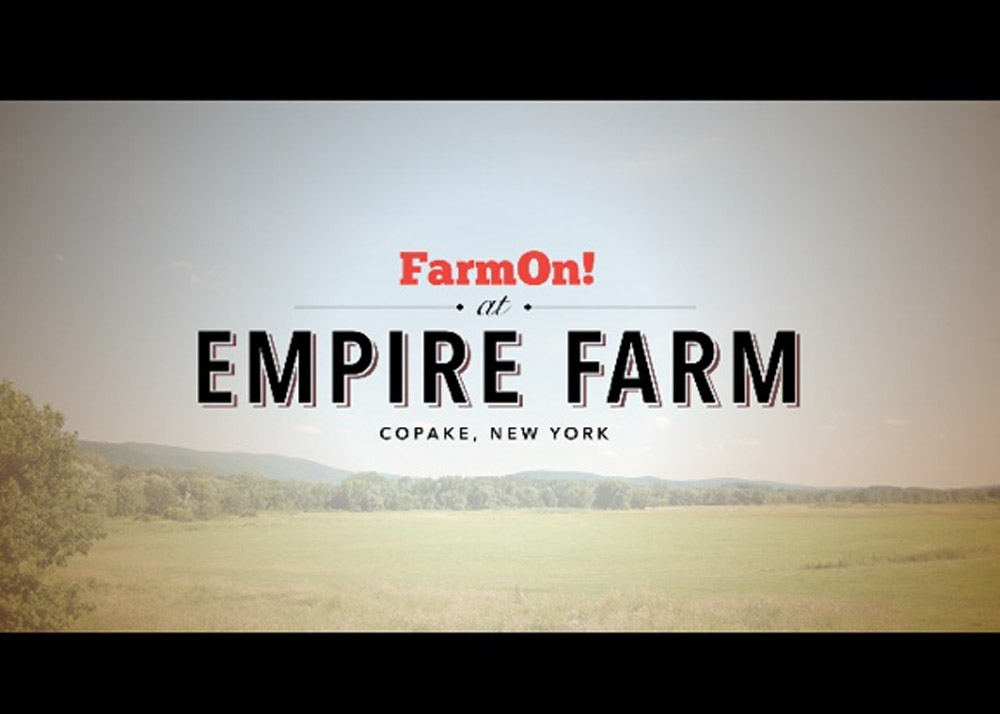 It had to happen eventually: Alice Waters, the West Coast's poster gal for eating seasonally and locally, will grace New York's similar-minded region this weekend when she cuts the ribbon at the brand new Empire Farm in the Hudson Valley. The ceremony is slated to take place at 4:30 p.m. on Saturday, Sept. 27, as part of the Hudson Valley Food Lovers Festival benefitting Farm On! Foundation (the organization also recently involved in the very cool Play With Fire event), with Waters helping roll out the new educational facility. If you're in the New York City area and looking for a fun food event, this should be the ticket. Event details and the full release below.
EVENT INFORMATION:
FARMON! FARM FEST
4TH Annual Friends of the Farmer Hudson Valley Food Lovers Festival
WHEN: Saturday, September 27, 10am – 6pm
WHERE:
FarmOn! Empire Farm
556 Empire Road
Copake, NY 12516
518.329.FARM (3276)
Donation at Entrance for Tickets: Adults – $15 / Kids attend Free
For more information: www.FriendsoftheFarmer.com
(Copake, NY) – On Saturday, September 27th, Friends of the Farmer (FriendsOfTheFarmer.com ) will hold the 4th annual Hudson Valley Food Lovers Farm Festival benefiting the FarmOn! Foundation at the grand opening of Empire Farm – the foundation's first Ag Entrepreneurial education center and working farm on the 400 year old Astor farm in Copake, NY. Famed chef, restaurateur and food activist, Alice Waters will also be on hand for the Empire Farm grand opening ribbon cutting ceremony at 4:30pm announcing the FarmOn! at Empire Farm community Victory Garden.
This interactive, family event is designed to engage festivalgoers with their food choices by offering them the unique opportunity to meet local farmers and connect with their better food sources first hand.
The FarmOn! Farm Fest will feature a wide range of kid-friendly activities including a performance by a Disney musical artist, a farm animal petting zoo and educational games. Guests can also shop at the Farm Fest's locavore village farmers market, enjoy free samples of locally grown, seasonal fruits and vegetables, eat at the Grill with organic grass fed meat sourced within 5 Mile Grill of your plate and sample local libations at the Farm Fest's bar from TasteNY Hudson Valley distillers, vitners, brewers as well as Harney & Sons and Saratoga water.
Festival goers will also have the opportunity to learn more about the Hudson Valley's agricultural community at the 'Future of Farming Tent,' enjoy hands on introductions to the extensive agriculture-based community resources, nonprofits and small businesses from throughout the region as well as CSA signup and information about FarmOn! at Empire Farm build out and programming for the students interested in the business of food on the farm.
ABOUT EMPIRE FARM:
FarmOn! at Empire Farm is the FarmOn! Foundation latest initiative – a working farm with an educational community center fostering the entrepreneurial spirit in agriculture and established to inspire us to support succession on the family farm and bring awareness to the importance of the family farm and sourcing food grown responsibly and down the road. For more information about the FarmOn! Foundation's youth educational programs and other initiatives click HERE.
ABOUT THE FARMON! FOUNDATION:
The FarmOn! Foundation is a 501(c)(3)nonprofit organization and public charity that funds entrepreneurial educational programs throughout the Hudson Valley and benefits from events that promote community, commerce, sustainability and succession to preserve family farming in America. The foundation has quickly grown into a movement that is shifting the way we think and changing the way we eat by raising awareness about the importance of our food choices and sources. By reinvigorating the public's respect for family farming and nurturing young people interested in agricultural careers with inspiring educational experiences, FarmOn! is working to build the economic engine that will connect rural and urban marketplaces to ensure the future of financially and environmentally sustainable farm operations at the family farm beyond organic. For more information about the FarmOn! Foundation click HERE.
SPONSORSHIPS & PARTNERS:
Walt Disney Company, Whole Foods Market, Local Economies Project, TasteNY, Chobani, Applegate, John Varvatos, Culinary Partnership, Herrington Fuel, Ed Herrington Inc, Kinderhook Bank, ABC Kitchen, Hudson Valley Fresh.
Finally, cap off the summer season with the 4th Annual Farm Festival and the grand opening of FarmOn! Foundation's first working farm. The organization has dedicated its resources to raising awareness of the importance of eating local; creating and funding educational youth programs, including their "FarmOn! Local Milk Initiative" for public schoolsand fostering entrepreneurial spirit with summer enrichment CampFarmOn! and community-based outreach efforts like #ABCSA, a "citified"and curated CSA program for ABC Kitchen NYC with Chef Jean-Georges Vongerichten.
"Farmers – we call them 'Starmers' – are the real stars in food. We are bringing awareness to what people eat by meeting your farmer and having one conversation," says Tessa Edick, Executive Director of the FarmOn! Foundation, Friends of the Farmer Festival and the Culinary Partnership she founded. "We are standing up for our farming community and food choices by raising funds and awareness for the farmers who work hard to feed us well to change the way we think about the food we eat and consume. This supports community, commerce and encourages the next generation to heed the calling to the land. If you ate today, thank a farmer. FarmOn!"