How Savory Green Soup Will Save You From That Horrible Green Juice Habit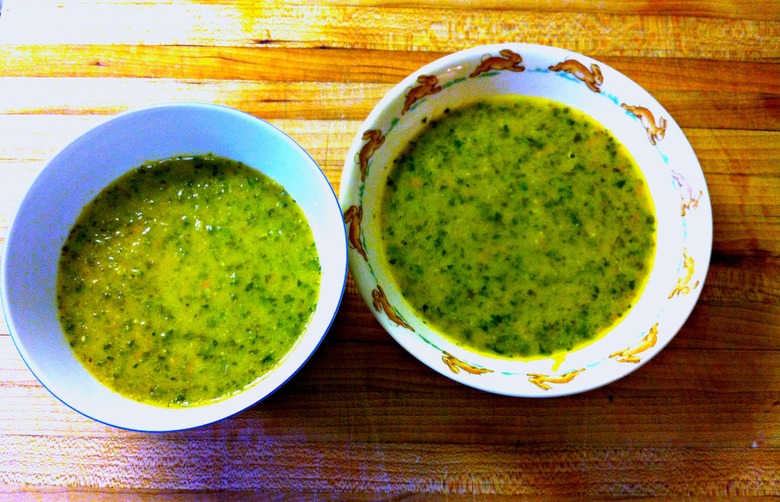 I like to eat healthy foods and I know, and want, the benefits of taking in tons of leafy greens every day. But I hate wasting time and money on dubious health food fads. I call bullshit, for instance, on green juice fasts. To my eye, this is just an expensive way to starve, get hangry and hallucinate cheeseburgers while sitting on the toilet for nine non-consecutive hours, temporarily lose a few pounds and swear on Facebook or Huffington Post or GOOP that you'll never do it again. Even a daily, or occasional, green juice seems like a waste: you're throwing out all the fiber and adding a big shot of sugar in the form of apple juice to make the thing palatable, which negates some of the health benefits. You'll pay around $9 for 16 ounces at a juice bar, or if you want to do it yourself, you've got to invest in a machine, of course, then spend time shopping for and prepping raw ingredients, not to mention scrubbing a bunch of green scum off the insides of your juicer.
I'm also wary of the "green smoothie," in which all the raw vegetable fiber remains, and is augmented by flax seeds — which look too much like bedbugs — and things like coconut water and almond milk, which I suspect are bullshit health fad foods in their own right.
What I can get behind, however, is a green soup — served hot, in a bowl, with a spoon. I've been making variations on the following hot green soup recipe for the last several months. It's got all the life-prolonging chlorophyll of a green juice or smoothie, but it's actual food that I can cook myself and change up, depending on what's in my CSA box and pantry.
It starts with a typical mirepoix base of chopped onions, carrots and garlic. (I leave out celery because there's enough green flavor going on elsewhere, and celery takes up too much room in my small fridge.) If you have the time and inclination, you can deeply caramelize the onions in a separate pan, but I usually just sweat or lightly brown everything in a few tablespoons of fat. Olive oil will enhance the "green" flavor, and gives the best mouthfeel if you want to eventually eat the soup cold. Coconut oil works well, especially when you add some grated ginger and a pinch of curry powder or paste to the mirepoix. Lard's slight porkiness tastes great, and makes you feel like you're getting away with something. But, please, do not truck with the hydrogenated garbage masquerading as lard on your grocery store shelves. Render it yourself, buy it rendered or choose another fat.
Then you add your coarsely chopped greens — typically some combination of chard, Tuscan kale, bok choi, spinach, escarole, parsley, cilantro, lettuce, arugula, along with a zucchini or a green pepper, if you've got one. Throw in a handful of cherry tomatoes for a bit of acidity if you can handle those little needles of cooked tomato skin. Simmer the whole thing with a quart or more of kombu-lead dashi or chicken stock (a bouillon cube — good enough for Marco Pierre White — is fine in a pinch). Red or white miso, or nutritional yeast, adds an extra blast of savory. When everything is tender and fragrant, blitz it right in the pot with an immersion blender, taste it and adjust the seasoning — a vital step that can mean the difference between a punishing pot of green sludge and many bowls of healthy happy time.
Here's the recipe for the version I made the other day, but as noted a lot of this comes from feel and through making a few batches. Which is hopefully what you want to do in the near future.
SIMPLE GREEN SOUP RECIPE
2 tablespoons lard
1 carrot, peeled and chopped
3 red onions, peeled and chopped
4 cloves garlic, peeled and crushed
1 bunch scallions, chopped
Salt and freshly ground black pepper to taste
1 cup yellow cherry tomatoes
2 zucchini, chopped
1 green pepper, cored, seeded and chopped
1 bunch escarole, cored and coarsely chopped
1 bunch kale, thick stems removed, coarsely chopped
1 chicken bouillon cube
1 to 2 quarts of water, as needed
2 tablespoons red miso
1. In a soup pot, heat the lard over medium-high heat until it shimmers. Add the carrot, onions, garlic and scallions and stir well to evenly incorporate the fat. Season with salt to draw out the moisture in the vegetables. Cook, stirring occasionally, until vegetables are fragrant and lightly browned. Add the tomatoes and cook until they burst, using a potato masher if desired to speed the process along.
2. Add the zucchini, pepper, escarole and kale and move the vegetables around the pan, using tongs, so that the hot chopped mirepoix is evenly distributed among the new arrivals. Season with salt and cook over medium-high heat for a few minutes, until the greens have started to wilt, then crumble the bouillon cube over the mixture and add enough water so that the vegetables are just barely covered. Simmer until everything is tender and fragrant, about 15 to 20 minutes. Add the miso and stir until it is at least partially melted into the hot mixture.
3. Remove the pan from the heat and carefully puree the mixture with an immersion blender. Taste the soup and adjust seasoning with salt, pepper, soy sauce, fish sauce and/or hot sauce as desired. Yields about 2 1/2 quarts of soup.
Check out some crucial recipe roundups on Food Republic: