Francis Mallmann Is On Mind Of A Chef, Cooking At Il Buco This Weekend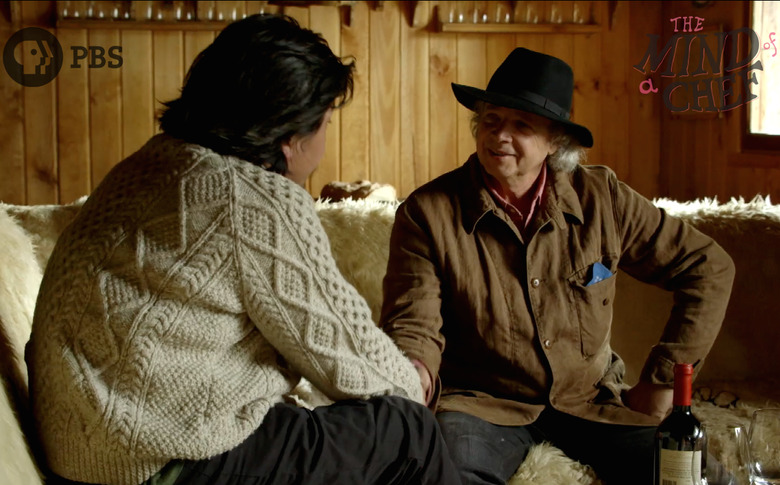 We may receive a commission on purchases made from links.
Argentinian chef and grillmaster Francis Mallmann is renowned for cooking with fire: over it, under it, in it and around it. His second cookbook, aptly titled Mallmann on Fire, was featured on our list of books to look out for this fall. The esteemed chef will certainly have his hands full this weekend, appearing on an episode of The Mind of a Chef and working in the kitchen at New York's Italian institution il Buco as part of the restaurant's 20-year anniversary celebration.
The Mind of a Chef recently began airing its third season on PBS (the show is produced by Zero Point Zero Production, Food Republic's parent company). In an upcoming episode, chef Edward Lee – one of the season's leads, along with Magnus Nilsson – travels to La Isla, a remote island in the foothills of the Andes, to meet Mallmann. The two chefs discuss and experiment with the various techniques involved in cooking over fire. Take a sneak peak below.
This weekend, Mallmann will also be involved in celebrating the 20-year anniversary of New York's beloved, rustic il Buco. Originally an antiques store, il Buco became the city's first restaurant on Bond Street when it opened in 1994. Many of the culinary experiences found at Donna Lennard's Italian restaurant – small plates, a daily changing menu of ingredient-focused cooking, a commitment to source from small farms and purveyors and a private label of products – have stood the test of time and have often become the norm in dining some 20 years later.
On Sunday, Mallmann will head a sidewalk pig roast with il Buco chef Joel Hough. From 1-6 p.m. the public is welcome to gather outside the restaurant to purchase plates of slow-roasted Flying Pigs Farm pork, cooked throughout the night by the two acclaimed chefs.
In honor of its two-decade existence, il Buco is hosting nightly seated dinners cooked by many of its distinguished alumni (and Mallmann). This weekend's lineup is included below.
Friday, September 19 – Christopher Lee (Chez Panisse, Eccolo)

Saturday, September 20 – Ignacio Mattos (Estela)
Sunday, September 21 – Francis Mallmann (1884, Patagonia Sur, Garzon)
Reservations can be made by calling il Buco at 212-533-1932 or by booking online.
Mallmann will also be cooking a special four-course dinner at il Buco Alimentari & Vineria on Tuesday, September 23. For more information, contact the restaurant directly.
Read more about Mind of a Chef on Food Republic: