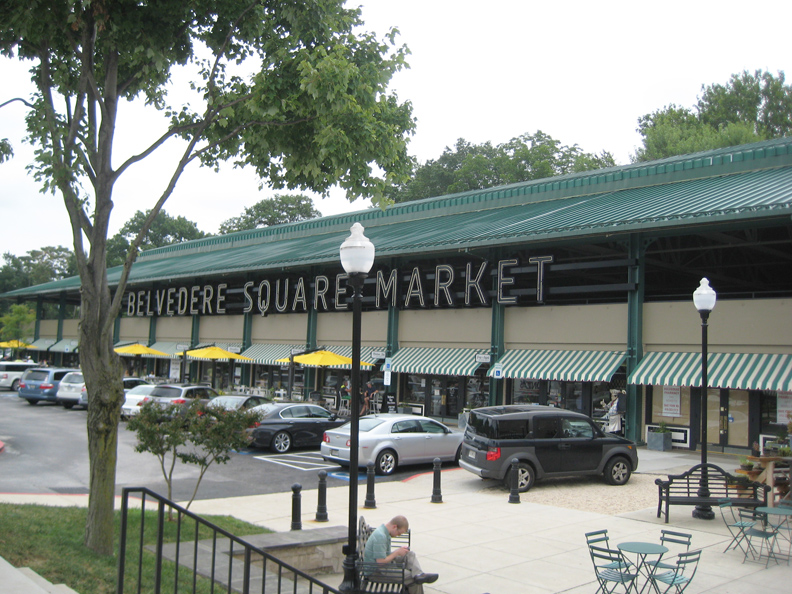 Kathy Wielech Patterson, a life-long Baltimorean and avid eater, blogs at Minxeats.com. She's the co-author of the restaurant guide,  Food Lovers' Guide to Baltimore , and the cookbook,  Baltimore Chef's Table , both written with her husband, Neal.
Baltimore has long been known for its public markets, and the city has the oldest continually running market system in the U.S. The "world famous" Lexington Market on the west side of downtown has been in its current location since 1782, and five other markets are still in operation in other parts of the city. Most still offer raw ingredients like fresh poultry and vegetables, but more and more, the market stalls are filled with ready-to-eat food purveyors specializing in deli sandwiches, Asian stir-fries and plenty of deep-fried…everything.
In 1986, the privately owned Belvedere Square Market opened in Govans – a neighborhood just below the county line — and was much like the City's public markets: a place to get fresh produce, meats and seafood. Within a handful of years, however, rents skyrocketed and businesses fled Belvedere Square for less-pricey digs elsewhere. In what seemed like no time at all, the market, once bustling with activity, fell quiet. Only a handful of the original restaurants and shops remained. Then, after a few fallow years, a new management team took over, bringing in merchants with more upscale goods. New York butcher Ceriello Fine Foods took over a sizable chunk, and Grand Cru wine bar moved into a space next door. Atwater's Bakery assumed a spot on the opposite end, and soon the outdoor tables were once again full of patrons chatting over sandwiches and coffee.
Like the public markets, the stalls at Belvedere Square are transitioning from selling fruit and poultry to those serving prepared foods. But rather than the fried-and-true, these new tenants are offering items that are freshly prepared, locally produced and even healthful. While not always at the forefront of current food trends, Baltimore's culinary scene is becoming more delicious every day, and there's proof of that at Belvedere Square. They're even getting a ramen shop in the fall.
Atwater's
Opened in 2003, Atwater's is the grand dame of the rejuvenated Belvedere Square Market. Owner Ned Atwater, who originally wanted to be a part of Baltimore's public market system, went to Belvedere Square instead. There he sells not only loaves of amazing bread (try the struan: a hearty, lightly sweet bread made with cornmeal), but also cakes, pastries, sandwiches, soups, cheeses, artisan jams and now, house-made ice cream. Plus, beer and wine to wash it all down.
Neopol Savory Smokery
When Neopol Savory Smokery opened a few years back, I really hoped that Baltimore would appreciate the deliciousness of hot smoked Scottish salmon, the shop's specialty. Neopol's lusciously moist fish, which comes in several flavors, has been so popular that owner Barbara Lahnstein has recently been able to expand the stall size twice. Not only is there salmon, but also shrimp, mussels, chicken salad, egg salad, pastrami and more – all smoked – as well as vegetable-bedecked savory cheese pies that are as beautiful as flowers.
HEX Ferments
HEX Ferments is one of the new kids on the block. Meaghan Carpenter has been making kombucha and sauerkraut for years and now, with the help of her husband Shane, is selling them in their retail space at Belvedere Square. For those unfamiliar with fermented foods, Meaghan is happy to put together a tasting of their offerings. On a recent visit, I tried three flavors of her probiotic-rich kraut, including garlic-oregano, sea kraut and a version made with beets and celery root, vegan kimchi with miso to replace the usual fish sauce/shrimp paste and two flavors of kombucha, one tangy and spicy with ginger, the other, called "Butterfly Lime," made with herbs that color the liquid a delightful fuchsia. There are pickles, too, of course.
Pure Chocolate by Jinji
Next door is a tiny stall selling Pure Chocolate by Jinji. A holistic nutrition counselor, Jinji Fisher takes already antioxidant and polyphenol-rich cacao and adds other beneficial ingredients, like vitamin-packed fruits and nuts. Her sweet treats are organic, raw, vegan, gluten-free and contain no refined sugars. Not only are they ridiculously healthy, but Jinji's chocolates come in varieties like lemon white chocolate truffle with a coconut "bacon" core and a sprinkle of heirloom tomato dust; Thai peanut butter cup pralines spiced with galangal, ginger and cayenne; and sweet caramel corn white chocolate truffles with a blueberry ganache core. There's also fudge, and Jinji's own better-than-that-famous-Euro-brand hazelnut chocolate spread.
Tooloulou
Tooloulou started out as a tiny storefront on Harford Road, in northeast Baltimore City. Specializing in Louisiana favorites like po' boys and muffulettas, the restaurant also made a mighty fine pizza. This summer, they packed up everything and brought it to Belvedere Square, where their inside-the-counter space is roughly equal to the entire original shop and diners can choose between sitting counter-side or at one of the tables just outside the Market's doors. ­
Owner Shawn Lagergren hails from New Orleans, where he learned to cook at his maw-maw's knee. The name Tooloulou comes from the Cajun word for crab, which seems entirely at home in crab-centric Baltimore. And some of the best things on Tooloulou's menu are the crabbiest: the house pizza – topped with white sauce, crab, andouille sausage, banana peppers and a soupçon of Old Bay seasoning – has an intoxicating aroma and tastes even better. And while their oyster, roast beef and shrimp po' boys, dressed proper, are all excellent, when the soft shell crab version is on special, I come running. Then there's the muffuletta sandwich, which is slightly non-traditional. Lagergren uses prosciutto, pepperoni and salami, tops them with aged asiago cheese and olive salad, and serves them not on the typically dense sesame seed-topped round Italian loaf but on his airy, crisp-crusted house-made focaccia…and then toasts the whole damn thing. So. Good.
Shoo-Fly Diner
Spike Gjerde, of Woodberry Kitchen a couple of miles southwest of Belvedere Square, opened the Shoo-Fly Diner in an old Hess shoe store that is now part of the Square's complex, across from the Market building. While not open 24 hours, when it is open, Shoo-Fly serves breakfast any time, along with traditional diner foods that have been, as I like to call it, "Woodberry-fied." Everything comes from local farms, condiments and pickled stuff are made in-house, and yes, there is shoo-fly pie on the menu.
Greg's Bagels
Belvedere Square isn't all about the newfangled. Greg's Bagels is an original tenant of the market complex. It's owned by Greg Novik, a former ad-man and jingle-writer who got into the bagel business with his wife Kathy despite having no prior bagel-making (or business-running) experience. His bagels get plenty of the usual comparisons to New York City bagels, but the Noviks are closer in style to those produced in Canada: boiled in honey water and hand-rolled. There are numerous flavors; even more mind-boggling is the selection of toppings, which in addition to the ubiquitous cream cheese include various chutneys and preserves, hummus, bacon and egg, and even duck confit. Greg's also serves an amazing variety of smoked fish – salmon in particular – from gravlax to hot smoked, and even Thai and Moroccan flavors.
Despite some hard times early on, business is booming. It's the best place to stop for a meal before catching a movie at the historic Senator Theater, a recently-renovated Art Deco-era movie palace around the corner. It's also walking distance from several residential neighborhoods full of young families looking for interesting alternatives to the fast-casual restaurants that have proliferated in the area. Visitors to Charm City, who may focus much of their attention on the Inner Harbor area, would be well-rewarded by traveling a few miles north to Belvedere Square.
529 E. Belvedere Ave., Baltimore, MD 21212, 410-464-9773, belvederesquare.com
Read more about Maryland on Food Republic: