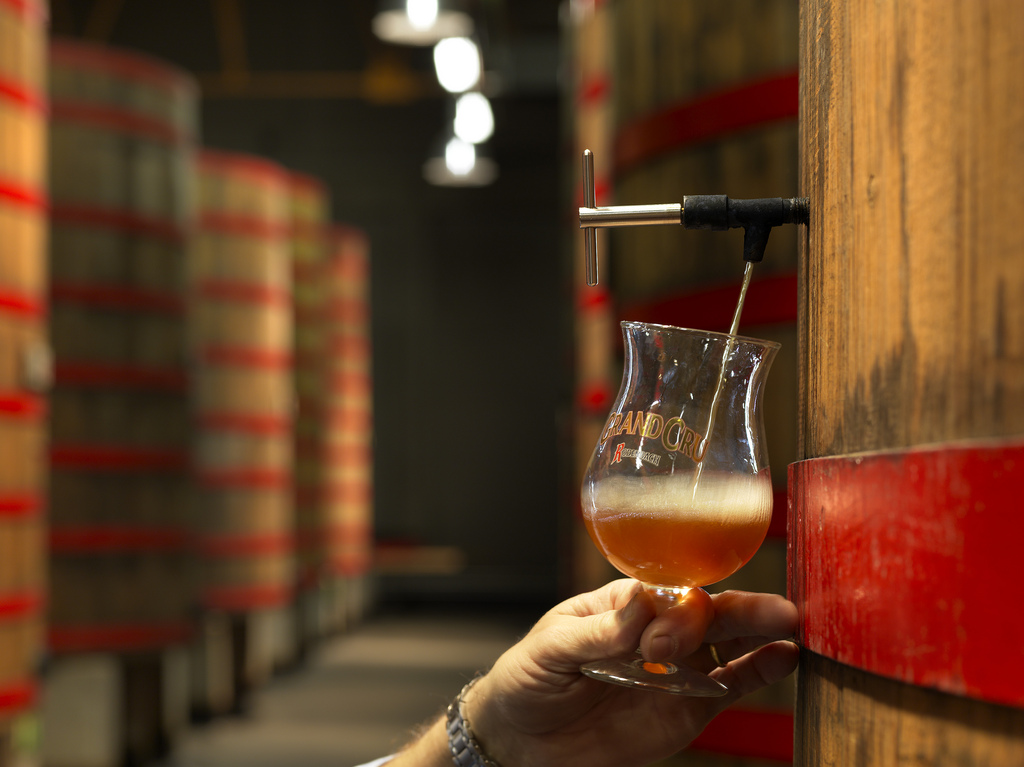 Beer holidays tend to be good benchmarks for seasonal changes, and while next week's Oktoberfest signifies the beginning of fall, we're taking one more pass at refreshing brews on Saturday, September 13th: International Sour Beer Day. It's the darling style of craft brewers everywhere but if you haven't puckered up yet, there's never been a better time to get in on the action.
Now this stuff isn't for everyone. The extreme flavor, ranging from puckering sour candy to acetic balsamic notes, can be off-putting. While these flavors might be considered prime suspects in "bad" pale ale or porter, there's no doubt that yeast and bacteria have evolved from a brewer's worst enemy to a secret weapon of experimental brewing. There are so many sour versions of styles ranging from saison to stout. While this might be all the rage with American beer drinkers, the technique originally comes from Europe. Gueuze and Flemish Red have long been favorite regional delicacies in Belgium while the nearly lost styles of Lichtenheiner and Gose in Germany and Grodziskie in Poland have been revived by American brewers.
There are specific guidelines as to what qualifies as a traditional style: gueuze, for instance, is a blend of aged lambic beers. While Belgian brewers would probably insist there are no true lambics outside of Belgium, plenty of American breweries have something to say about that, offering up stateside versions of the classic spontaneously fermented brew, with similar musty barnyard flavors of the classics. The sour revolution is in full swing. Whether you're an aficianado or just trying the style for the first time, here are some of our favorites to celebrate sour beer day.
Rodenbach Brewery: Vintage Oak Aged Ale
It's a treat to drink not just aged beer but a specific barrel selection by the masters of the Flanders Red style. It's hard to believe there's no fruit added, as you'll taste huge tart cherry flavors along with red berries. It's oaky and certainly sour, but in a fruity way without being overly acidic. This one's a fantastic beer for both newcomers and lovers of the style.
Cascade Brewery: Noyaux
Pesky shipping laws recently forced a closure of direct shipping from Cascade's website. This means a ton of rare bottles are popping up all over their distribution map. Noyaux has a combination of blonde and tripel ales aged on apricots and raspberries. The result is tart, lactic, sweet and bursting with juicy fruit flavors. It's quite acidic but captures the stone fruit and berry flavors perfectly, and does so while masking the nearly 9% ABV.
Westbrook Brewing Company: Gozu
A riff on a fine traditional German gose brewed with salt and coriander, Gozu is spiked with yuzu, a fragrant Japanese citrus fruit, replacing the funk of the original beer with huge citrus flavors. While the lemony flavor is a huge element in the original, Westbrook's is dripping with the refreshing exotic fruit flavor.
Gueuzerie Tilquin: Oude Quetsche Tilquin à L'Ancienne
Tilquin has outdone itself with a blend of lambics from the best producers in Belgium, including Boon and Cantillion. This special version of their traditional Gueuze is brewed with plums, which mix elegantly with the lemony tartness of the base brew.
Almanac Beer Company: Dark Pumpkin Sour
Almanac has been blowing minds out on the West Coast with their fruited sour ales for the past few years, and finally next week, they're coming to New York! Along with this exciting news, they released several new seasonal ales, including this strange, wonderful seasonal treat. Roasted malt, sour dark cherry, spice and plenty of pumpkin taste.
Brouwerij Boon: Oude Geuze Mariage Parfait
Blonde beers aren't typically the style that comes to mind when it comes to aging beer. Not so with Gueuze, which can be aged for decades. This is an aged version of the traditional Boon Geuze (different spelling) and you can see how the complexity of the beer develops without having to wait a decade yourself. There's lots of funk, green apple and lemon. There are more complex Gueuzes out there, but this one's recommended because you can definitely find it (unlike others which you'll have to go on a wild turkey chase to find).
Avery Brewing Company: Rufus Corvus
There's plenty of competition for sour supremacy in Colorado, but Avery has outdone itself with this blend of sour ales aged in Cabernet, Sauvignon, Chardonnay and Zinfandel barrels. You'll taste sweet and tart fruits, tartness that evokes Jolly Ranchers, currants, sour cherries, caramel malt, oak and complex vinious notes.
Crooked Stave: Nightmare on Brett
Crooked Stave head brewer Chad Yakobson is an aficionado of brettanomyces, the tart yeast which makes so many of his beers instant winners. This is a dark sour ale aged in whiskey barrels with hints of musk, roasted malt, chocolate, sour black cherries, blackberries and prominent notes of bourbon.
Firestone Walker Brewing Company: Agrestic
Double Barrel Ale is Firestone's bread and butter, but it's also the base for this remarkable soured brew aged in a combination of wine barrels, including barrels from the highly sought-after Opus One winery. Cherry, raspberry, grape and oak notes dominate. It's definitely on the lighter side of sour red ales but that's a good thing since it's easy to drink. Shame it's so damn hard to come by.
Grimm Artisan Ales: Action/Adventure
Sometimes sour doesn't have to be puckeringly tart to be good. Action/Adventure is an excellent example of the German style Lichtenhainer, which is both tart and smoky. There are elements of lemon, citrus, pepper, wheat and for a real German treat: smoked meat.
A quick note for fellow beer geeks: there's no Cantillon on this list, since they have their own sour beer holiday, Zwanze Day, coming up next weekend — stay tuned!
More Weekend Drinking Assignment on Food Republic: