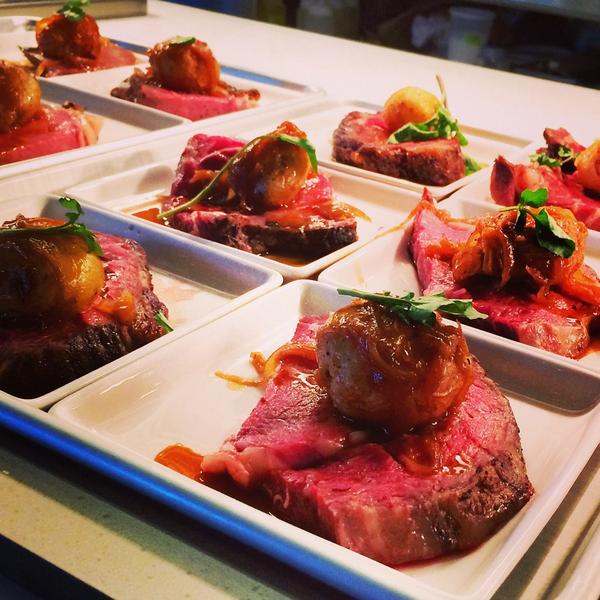 Michelin-starred chef and longtime San Francisco 49ers fan Michael Mina used to host some pretty epic tailgate parties in the parking lot outside the football stadium. This year, the 49ers have brought Mina's party inside. The team's brand-spankin' new Levi's Stadium includes a full-service restaurant under Mina's multi-locational Bourbon Steak brand, where the chef now hosts a weekly pre-game feast for season-ticket holders that sets a pretty high bar for extravagant sports fan dining. Access to the party costs $5,000 annually, which works out to $500 for each of the Niners' 10 home games this season and includes all-you-can-eat, all-you-can-drink everything. And, by everything, we're talking about some pretty impressive stuff.
Earlier this week, Mina took CBSSports.com on a tour of the facility — which notably features "two giant rotisseries that can handle 12 animals at once" — and offered a preview of what's in store menu-wise for lucky pre-gamers at Sunday's match-up against the Chicago Bears:
"For Chicago, the whole thing is going to be a steakhouse concept with an Italian flare," Mina said. "So what'll happen on that day is outdoors is going to turn into a meatball bar and we're going to do all these crazy meatballs. When you come inside, we've got this crazy dessert area that has liquid nitrogen ice cream — we can make floats to order. We call it the Willy Wonka area."
And, that's not all:
"Other things Mina tentatively plans to have available on Sunday: Lobster rolls, deep dish Chicago pizza. Wagyu prime ribs, lobster pot pies, three different steak house salads, Chicago dogs and giant Alaskan King crabs."
Oh, and according to the stadium restaurant's Twitter feed, this week's party also features two prominent guest chefs: Christopher Kostow of Napa Valley's acclaimed The Restaurant at Meadowood and Adam Sobel from Mina's rejuvenated San Francisco restaurant RN74.
Read more stadium food stories on Food Republic: