Best Present, Ever: Meatloaf Bakery's Meatloaf By Mail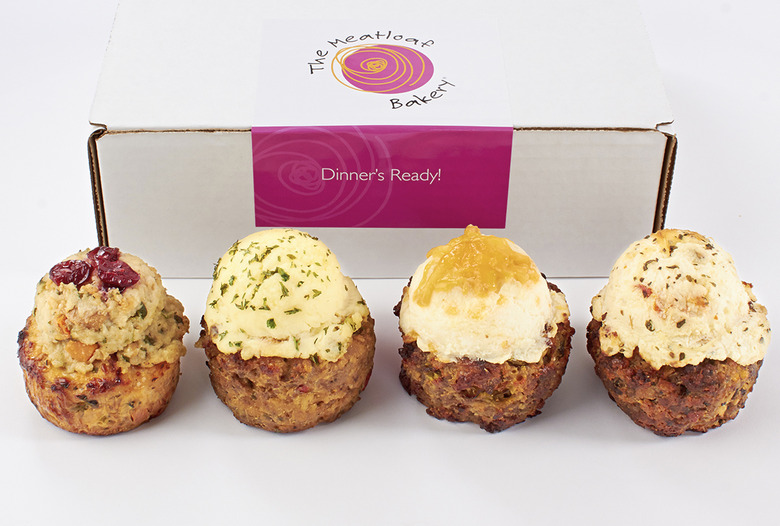 I'm really into restaurants that do a few things really well and don't bother with the rest. The all mac and cheese place down the street? They know my name. The "fried chicken only" place down the street? They know my name, too. Sadly I don't live in Chicago, or The Meatloaf Bakery would know my name, too. (I'm Jess and I'd like some meatloaf, please).
With beloved variations like the cheeseburger loaf, Italian-themed Loaf-A-Rama — whole milk mozz, sun-dried tomatoes, red wine and basil — and spicy Mexican chorizo-spiked El Loafo Del Fuego with sherry mushroom sauce, Meatloaf Bakery is no one-trick pony. This is love worth sharing, and owner Cynthia Kallile intends to do just that with their new Meatloaf By Mail program. The various loafs are available, starting at $48.95 plus shipping, on their website.
"I love what 'meatloaf' represents," says Kallile. "It's a coming together of many wonderful ingredients, baked with love and enjoyed by just about everyone. The best part of cooking for me is to blend ingredients together without recipes and meatloaf is a great way to do this. Because I appreciate all types of meat, poultry and fish, it's ideal for being creative. People always ask, why meatloaf cupcakes? Why not create something that's not only delicious, but pretty too! And you also get the entire meal in one neat package."
So make sure your college kid is eating something other than burritos, thank Grandma for all the meatloaf she's made for you or support the freakish hunger pangs of your very pregnant friend — send a box of love topped with more love. Beats the hell out of a fruit basket.
More comfort food on Food Republic: