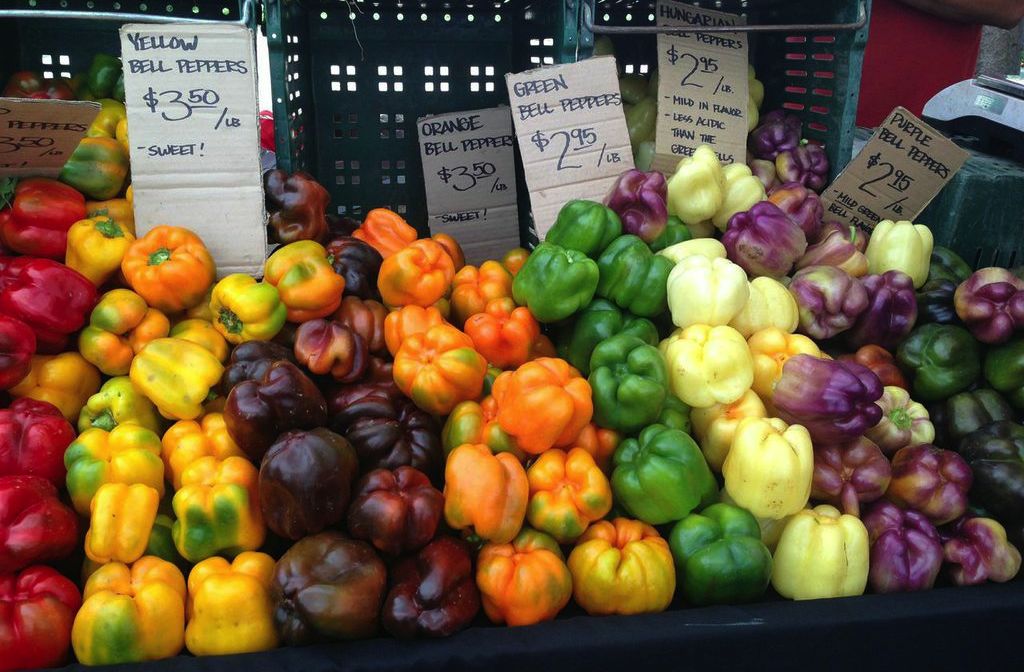 Any food enthusiast worth their fancy rock salt grater will recognize Alex Guarnaschelli from Food Network and Cooking Channel. And every food enthusiast should hit her NYC packed-to-the-gills Midtown hot spot Butter. Her New American cuisine is…well, it's pretty darn close to perfect.
Always searching for new techniques and ingredients to implement in her kitchens, Guarnaschelli spent much of her summer traveling for inspiration. Her journeys took her east to Long Island, west to Los Angeles, south to Orlando, and north to Toronto. It was certainly a jetsetting few months for the celebrity chef, who took her seven-year-old daughter along for the ride. After a summer spent perusing farmers' markets and cooking fresh produce, we have no doubt that the little one will soon be following in her mother's footsteps. Guarnaschelli wrote in – and snapped up some stunning photos – for Food Republic to detail her travels.
Los Angeles
It's hard for chefs to find a place to relax. My place is Los Angeles. I think it's all the types of trees, fruits and plants. It's also a desert and the opposite of Manhattan, which I call home. I took my daughter there recently and we spent the majority of time on the beach in Santa Monica, pretending we were filming the remake of the TV show Baywatch. I love being able to share the wide array of produce Los Angeles offers with my daughter. I'll admit it now: I have a produce problem. I love it! My daughter and I bought some lemons, went back to a friend's house and made some lemonade. My daughter took a very satisfied sip of that lemonade and took pride in picking the lemons, squeezing them, mixing the drink and then kicking back with a glass of it.
I also find the light in California to be refreshing. The basement of a kitchen or the hallways of an apartment building don't allow a connection with the outdoors on the day-to-day. There is such a feeling of freshness between the ocean and the hills. I knew it had gone a bit far when I felt as if I might possibly want to come back in another life as a really beautiful jacaranda or eucalyptus tree. As for the eating, I really loved Suzanne Goin's homage to Chef Judy Rodgers' famous Zuni Café roast chicken with panzanella. I also ate a few heirloom tomatoes and let the juice run down my arm to my elbow. I took my daughter to the Beverly Hills Hotel to the little diner/counter they have in the basement level and we had some breakfast. The wallpaper and the old menus that adorn the walls give such a great sense of the history of the hotel. It was dreamy… and then we missed our plane home!
Toronto
I had never been to Canada before, so landing in Toronto in that little propeller plane was almost adventure enough. While Toronto doesn't have as much of a French influence as other parts of Canada, my previous years of living in Paris led me to seek out the Frenchie side. I had some incredible chocolates from Soma, where they make their own chocolate from cacao beans. I also had pain au chocolate from a place named Clafouti that was as good as the many I had enjoyed in France. The skyline in Toronto is beautiful, framed by water and some really cool clouds. It felt like a mixture of Los Angeles and Paris with some Nantucket thrown in for good measure. There's a Tim Horton's on every corner and for a couple of "loonies" or "toonies" (as one and two-dollar coins are nicknamed in Canada), I got myself a cup of "dark roast" coffee at the local "Timmy's." There was lots of interesting lingo to be learned. As I was leaving, someone held the door for me at the airport and then carried my bags to the baggage area before telling me to have a good day. Huh? This kind of stuff does not happen in Manhattan.
Sag Harbor
I love Long Island. My father is a Garden City native and attended Chaminade High School. I have friends who have a beautiful house near Sag Harbor village and I take my daughter there periodically. Our mission: cooking. We hit Pike's Farm or Balsam Farms (two of my favorite farmstands) and pick out whatever is good. Shishito peppers, eggplants, zucchini, corn, tomatoes and lots of herbs. Stunning stuff. My daughter gets really excited when we get the corn – that's her thing. We got back to my friends' house and she disappeared with a bag with 24 ears of corn. She returned to the kitchen about a half hour later with all the corn cleaned beautifully. I was stunned. My friend also has a great garden with some edible flowers (Nasturtium) and lots of herbs; particularly tarragon, thyme, chives and mint. There is not much that can replace the feeling of going out back to cut your herbs and then eating them in a salad a few minutes later. I was impressed with how much my daughter enjoyed the process. Because she is seven, the priority often becomes eating dinner over taking too long to make it. She was so excited about the corn and the herbs.
We also attended a cookout on the beach, where everything was made atop glowing embers. Open flame cooking feels so real! My daughter looked at me and whispered: "I wanna be a chef, Mom." Oh, boy…
Orlando
A convention center that is actually like a contained indoor planet? Yes. An accidental nature walk within those walls that I found inspiring? Yes. Did I eat gourmet food while I was there? No. Did I have a great cheeseburger and fries that could rival a few gourmet experiences I've had? Yes.
I went on a little discovery walk and found all these cool plants and flowers – I even found ones that are clearly inedible to be appetizing or inspiring. I definitely find nature directly linked to appetizing food. I know a chef who converted soil from his garden into a sauce (by way of an extremely elaborate process) and I wish I could make a salad composed of some Floridian succulents combined with some inedible dahlias and delphinium. The cloud patterns and open fields were so surprising to me. It looked more like home in New York than Florida.
Of course, the view from the plane as I touched down in NYC was also stunning.
Read about chefs' recent trips on Food Republic: