No Crying Over Spilled Wine! Napa Valley Vintners Rally For Quake-Affected Workers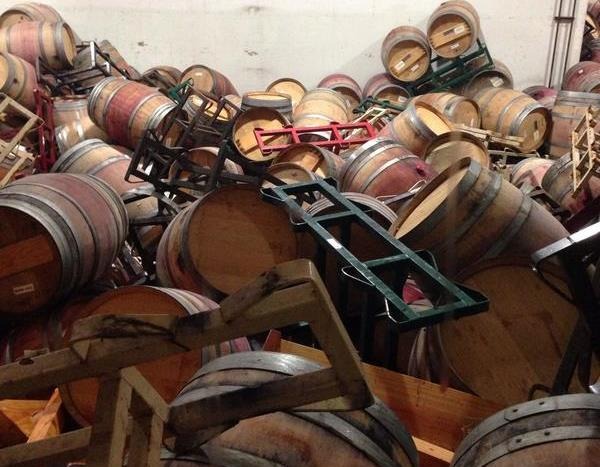 The 6.0-magnitude earthquake that throttled the Napa Valley on Aug. 24 damaged much more than just the vines. The epicenter of the earthquake, the largest to hit the Bay Area since 1989, was the American Canyon near the West Napa Fault. This is where many small producers, who don't have their own wineries, had rented space in crushing facilities. It is also where many vineyard workers were living in rented homes.
The quake hit Steve and Jill Matthiasson, as well as many other area small producers, quite hard. The Matthiassons are known for making small amounts of elegant, Old World-style wines, often with unusual varietals, such as Ribolla Gialla and Refosco, which come from the Fruili region of Italy. If there is such a thing as a "wine power couple," the Matthiassons fit the bill. Before venturing into making wine with her husband, Jill worked for the non-profit Community Alliance for Family Farmers, promoting sustainable agriculture all over the state. Steve, in addition to wine-making, consults to various local wineries, and he was named by the San Francisco Chronicle as "Winemaker of the Year" in early 2014.
The Matthiassons not only lost many barrels of wine that was being crushed in one of the West Napa Fault facilities, they also will have to basically rebuild the foundation of their beloved 110-year-old farmhouse. But despite having to leave their home due to the extensive damage — and also losing about 15 percent of their 2013 harvest — the couple say they are not so worried about themselves. Instead they are working with other Napa producers to provide support to displaced workers.
"The section of Napa that was most damaged is where there are a lot of rental units, where a lot of vineyard workers live," Jill explains over the phone. These rental properties have been red-tagged or yellow-tagged, meaning the landlords will have to do extensive and lengthy repairs — providing a possible opening for rent hikes in the future.
The Matthiassons are currently taking orders for a "Quake Cuvee," a specially bottled red blend; after-tax proceeds will go toward the Napa Valley Community Relief Disaster Fund. The fund is a collaboration between several area vintners who are more concerned about their workers than they are about lost wine. Just before our phone conversation, Jill had heard from a nearby winery that their workers had been displaced, and the winery had decided to focus their fundraising on helping them. "The janitor at that winery is now living in a car with his wife and kids," says Jill.
The Matthiassons' "Quake Cuvee" can be ordered until Sept. 15, and will ship in spring 2015. You can also donate directly to the Napa Valley Community Relief Disaster Fund here.
Read more wine country reports on Food Republic: