Olive Picking In Tuscany Is More Idyllic With Porsena's Sara Jenkins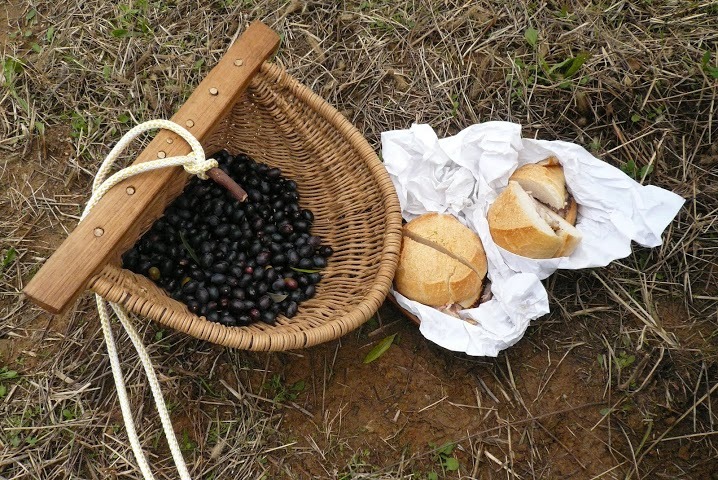 Last year, thanks to Facebook serendipity, I had the good fortune to get invited to pick olives with New York City chef Sara Jenkins, of Porsena and Porchetta fame, at her family's small farm in Tuscany. Her mom, cookbook and food writer Nancy Harmon Jenkins, was also there, along with a few other family members, and 10 or so food-crazed Americans who knew the family one way or another.
The week was just as dreamy as it sounds, starting with an adventurous drive in a diminutive Italian rental car around hairpin corners that caused me to let out a tense breath when we finally arrived. The farmhouse sits down in a small Tuscan valley that didn't have electricity or running water when they bought the place 30 years ago. When my friends and I pulled up, it was growing dark, and a warm, smoky scent curled out from the chimney, reminding me that, despite the warm Indian summer, it was indeed fall.
That first night, the gang filled the house, talking, laughing, drinking copious amounts of the red "teenage wine" that Sara cracked open (so-called because it was suitable for the kind of casual binge drinking she and her friends had done as teenagers). Meanwhile, various people took a stab at kitchen duty and others milled about the farmhouse's spacious ground floor or its vine-draped patio.
Nancy put those of us who volunteered as sous chef at ease with her relaxed, intuitive cooking style. In the living room, Sara was occupied roasting maiale (pork) over the fire on a miniature rotisserie of sorts that she'd bought in a nearby village. Some of us hung out with her and chatted and watched, or played hide-and-seek with her son, Nadir, who was then six.
The following day, we started the olive picking, which is probably the most pleasant "work" I've ever done. A group of us would cluster around a bush and toss the green olives into baskets we carried through the field, filling each other in on our love lives and even sometimes breaking into song as the autumn sun shone gently down, like something out of a certain Diane Lane movie that shall not be named.
We broke for a snack and some 11 a.m. wine (hey, when in Italy!) as Nancy brought a platter of freshly baked schiacciata con l'uva — Tuscan-style grape flatbread — out to the field. (You can only imagine the Instagramming that ensued in that moment.) And later, after a lunch of zuppa frantoio, some of us relaxed in hammocks before resuming our picking.
We finished the harvest in just two days. The trees had been pruned the previous year, making their yield lower. Then, we trooped in our rental cars down to the mill in a nearby village, where we deposited our olives for oil processing. Out came the ambrosial fluid in an otherworldly shade of chartreuse green. Later, we drizzled this fragrant, grassy-tasting nectar on slices of Tuscan bread.
Relieved of olive duty, we spent the next few days touring the adorable medieval villages in the area, walking up and down cobblestoned alleys in car-free town centers and sitting down to slow lunches of truffles and pasta and plates of translucent salumi for a fraction of what similar feasts would cost in the U.S. We also drove around more curves on bumpy roads to Umbria and met the unforgettable Salvatore Denaro, a terrific chef, avid gardener, and all-around bon vivant. Salvatore speaks only a little English, but it comes through in translation that his heart and humor are as large as his straining belly.
One sunny midday, for a lunch that will go down as one of my dreamiest repasts to date, we feasted on fire-roasted lamb and freshly harvested vegetables at a long table that had been set up in Salvatore's sprawling, overgrown garden. The whole experience was as idyllic as it sounds, and I kept pinching myself with the dumb luck of having stumbled on the kind of dolce vita I thought only happened in movies. Autumn in the Italian countryside is something everybody should experience at least once.
Happily, here's an opportunity to do just that. Sara recently posted on Facebook that she's leading an olive-oil-themed trip to Umbria from October 30-November 3. Guests will stay at the Agriturismo and cooking school Madonna dei Piatto, where they'll take part in a cooking class one day. The agenda also includes an olive-picking demonstration and olive oil tasting, a visit to the olive oil mill, a winery visit and tasting, an artisan chocolate maker visit, wandering and shopping in several medieval hill towns and decadent dinners paired with great Italian vino. Plus, a meal with Salvatore, of course.
Sara will be there (though Nancy can't make it) and certified sommelier Barbara D'Agapti, who hung out with us last year, is helping lead the trip. Email her at barbara.dagapiti@gmail.com for more details, or to reserve a space. The cost is 1,400 euros per person and includes all transportation, lodging, meals and activities.
Read more about Tuscany on Food Republic: