Fall Preview 2014: Upcoming Trends In Restaurant Design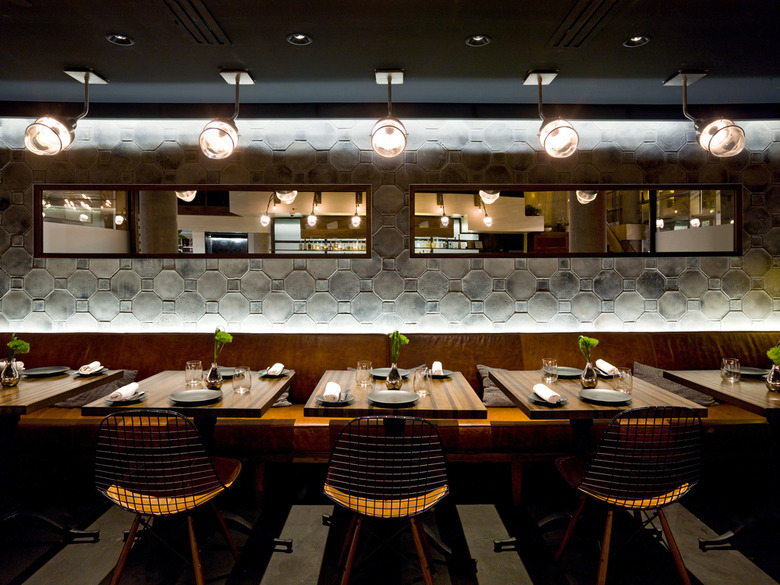 When it comes to opening a new restaurant, the recipe for success requires so much more than food and service. There's the space to consider, from its overall structure and decor concept to the supporting components: materials, fixtures and lighting. It goes without saying, especially in a city like New York, teeming with restaurants, that there's no specific design formula or prevailing style out there right now. We've seen plant-covered green walls, industrial-chic gastropubs, and airy, large-format French brasseries, as well as the rustic charm of communal tables — reclaimed wood, of course — come to the forefront in the past few years.
Looking ahead, we asked principals at design firms responsible for some of NYC's most visible restaurants and bars right now to give us their thoughts on what's new and exciting right now, and what we can expect to see more of.
Recently completed projects: The NoMad Hotel, as well as its recently-opened standalone bar, The NoMad Bar and a slew of other recognizable NYC-based hotels such as Refinery Hotel, Crosby Street Hotel and The Ace.
What's next: FireLake Grill House & Cocktail Bar at the Radisson Blu in Minneapolis
Design forecast: "The idea behind a design movement I call 'Mixxed' has its roots deep in the history of America as a bubbling melting pot of unique and very different cultures," explains Michael Suomi, a principal and VP of design at the firm. "Its translation to design involves the combination of unrelated and unlikely elements, global eclecticism, sensory overload, abundant graphics or artwork and sometimes an eye to the future or distant past. It's Japanese manga meets Fidel Castro at a Stockholm Street food truck." Also, the continued notion of an "authentic" dining experience: "Design hallmarks include historic accuracy, hand-craft, raw finished natural materials and endless detailing and accessorizing. Keith McNally has always seen the value of this approach in his perennially-popular Balthazaar and his newly opened Cherche Midi are a testament to this approaches bottom line strengths," adds Suomi.
Recently completed projects: Partners Jeremy Levitt and Andrew Cohen are the team behind Atera and Paul Liebrandt's The Elm.
What's next: Porchlight, a West Chelsea-based Southern bar food concept and the newest addition to the Union Square Hospitality family; and Marcus Samuelsson's forthcoming restaurant at the Fairmont Hamilton Princess hotel in Bermuda (where they recently created a temporary pop-up space).
Design forecast: More considered and integrative design (ie, form and function) based around food trends like raw bars, front-of-house coffee/bakery areas, chefs' tables and other high-low offerings. "Creating multiple different experiences within a single space," says Levitt. Also noting that while "using reclaimed wood as a material is pretty much here to stay," Levitt says there's been strong movement away from the rough-luxe of late. "Looking ahead, the idea is to create a space that may have some nostalgia to it, but doesn't feel convoluted — 'timeless' is really the right note to strike for moving design forward."
Maysville by Berman Horn StudioBERMAN HORN STUDIO
Recently completed projects: Maysville, a whiskey bar/restaurant with a Southern-inspired menu in the Flatiron district.
What's next: Wassail, a cider bar on the Lower East Side co-owned by the team behind The Queens Kickshaw; and an as-of-yet unnamed restaurant in New Orleans.
Design forecast: A trending towards a more crafts-focused, artisan aesthetic. "I think we're all hungry for the hand of an artisan after so many years of Edison bulbs, black metal piping and other 'industrial' nostalgia," says co-founder Maria Berman. "I would say Isa in Williamsburg reflects that idea, as does El Jac in Mallorca. It's not really about maximal or minimal, but a homegrown and nurtured vision of specificity."
Claudette by Dekar Interior Design (Photo by Brian Park)
Recently completed projects: Partners Caroline Grant and Dolores Suarez are responsible for the breezy, North African-inflected interiors at Claudette, as well as Rosemary's, Babbo and Trattoria Nervosa in Toronto.
What's next: An Italian panini-style sandwich shop in Midtown, opening later this fall.
Design forecast: Authenticity instead of transportive themes, with local and sustainable design becoming major components in furthering that concept. "The farm-to-table concept is very popular right now, and speaks to people's interest in healthy food and sustainability. The idea of eating local is very important and the design has followed that trend," says Grant. Expect to see more reclaimed materials, and design elements that are inherent to the actual spaces.
More Fall Preview 2014 on Food Republic: