2014 Fall Craft Beer Preview: 15 Festivals, Releases And Inspired Collaborations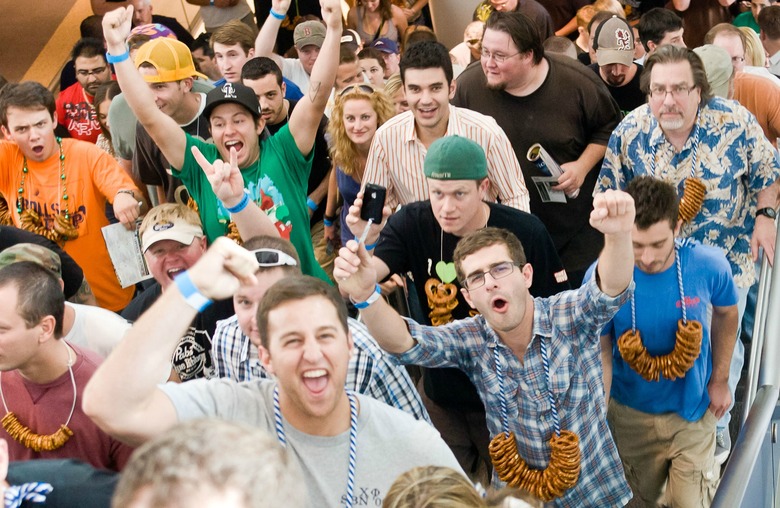 Festive Partnerships
When it comes to massive West Coast double IPAs, Knee Deep and Kern River do them just about better than anyone else. This is bound to be a juicy, tropical, bitter hit to your hop receptors. Last year Double Dose from Lawsons/Otter Creek was a surprise collaboration runaway for my favorite new IPA – I have high hopes this might be the West Coast version of that.
Amager Bryghus collaborates with basically every awesome brewer, ever
Denmark's Amager is releasing a whopping FIVE collaborative ales with some of the best breweries in the U.S., including Prairie Artisanal Ales (farmhouse saison), Jester King (imperial stout), Surly (IPA), Cigar City (session IPA, brewed with orange peel) and Shaun Hill of Hill Farmstead's Grassroots Brewing (double IPA).
Sierra Nevada & Boulevard Brewing Co.: Terra Incognita 3
Pumpkin Beer
A dark sour ale with pumpkins and spices aged in red wine barrels with Almanac's signature "Dogpatch" wild yeast.
Hangar 24 Brewery: Barrel Roll No. 8 Falling Leaf
Their fan-favorite Gourdgeous Imperial Pumpkin Porter is made with over 1,000 pounds of local pumpkins and aged for a year in single-use bourbon barrels.
Avery Brewing Company: Pump[KY]n
Other Notable Fall Releases
2013 saw the return of a past fan-favorite release in their Bourbon County Barleywine. This year, Goose Island once again rewards their fans with the return of Bourbon County Vanilla. This year's version is aged in rye whiskey barrels, clocking in at a warming 13%.
Firestone Walker Brewing Company: Agrestic, Feral Vinifera and 18th Anniversary
There will always be plenty of debate on who reigns as King of the Barrels, but Firestone Walker has set an insanely high bar with their remarkable mastery of blending techniques. Agrestic is a sour ale aged in a combination of French and American oak, Feral Vinifera is a sour ale aged in 100% French oak barrels along with white wine grapes and 18th Anniversary is a master blend of their best non-sour brews.
Deschutes Brewery: The Dissident 2014
This sour ale made with cherries takes two full years to mature in wine barrels. Up until this year, that meant we had to wait a few years per batch but starting this year it will be an annual release. With the brewery expanding into Michigan and Pennsylvania, that means this will be the first time you'll see this release out east.
Founders Brewing Company: Dark Penance
The Black IPA game has quickly become the new favorite hybrid style for brewers worldwide. Founders may not have been first to market it, but like many of their other styles, they simply found a way to do it better. A combination of hoppy and roasty flavors, this brew clocks in at 8.9% and features Chinook hops as well as brewery favorite, centennial.
Night Shift Brewing: Morph and Whirlpool
Festivals & Celebrations
Dates: September 20–October 5
Where: Munich, Germany
Why you should go: Each year the massive tents go up in Munich during the end of September to ring in the fall with many liters of awesome beer. There simply is no other festival like it in the world. Expect many steins of Paulaner and absolutely no pumpkin beer.
Zwanze Day
Date: September 20
Where: Various locations around the globe. Check out the list here.
Why you should go: Cantillon, the prestigious producer of spontaneously fermented sour ales, release a special beer each year specifically for this worldwide celebration. Many of the participating bars will carry rare drafts and bottles of sour brew from Cantillon, along with many other sour producing breweries to make it a real celebration of sour beer.
Great American Beer Festival
Dates: October 2-4
Where: Denver, CO
Why you should go: If sampling around 3,500 beers from more than 700 breweries sounds like a good idea, this is the place you need to be. Unlimited 1 oz. pours for 4+ hours with nearly 50,000 festivalgoers: this is your ultimate beer party.
Darkness Day
Date: October 25
Where: Surly Brewery, Brooklyn Center, Minnesota
Why You Should Go: For years, Surly has gone toe-to-toe with Three Floyds for the title of best Russian Imperial Stout with a release soirée. Credit Surly for bringing a knife to the party, as they recently announced that for 2014 all bottles of Darkness will finally be bourbon barrel-aged. This release will only be available in Minnesota and Illinois, so that's reason enough for a road trip!
More fall preview on Food Republic: