A Day With Paul Qui At MAD 4 In Copenhagen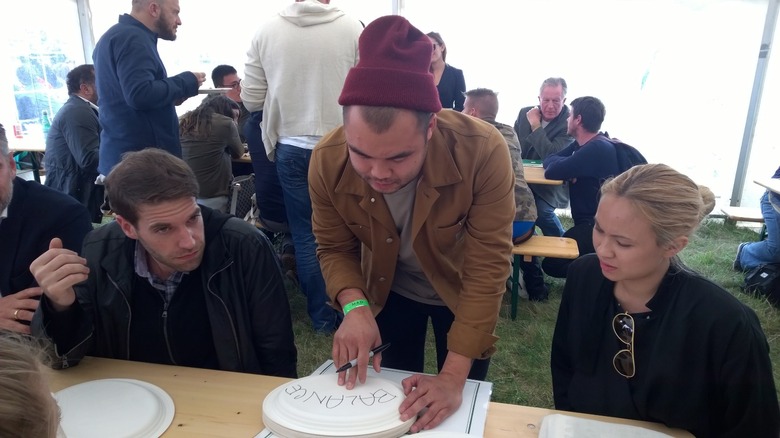 Chef Paul Qui, of Austin's East Side King food trucks and the restaurant Qui attended MAD this year for the second time. The fourth iteration of the symposium in Copenhagen just wrapped up but not before we spent a day trailing Qui for the cachaça and fermented casava–infused ride.
9 a.m.
Paul and his crew, consisting of his partner and press agent Deana and two chefs from his restaurant Qui in Austin, have registered for the intensity that is MAD by wrapping a green band around their wrists and walking through the hay bale – lined entryway flanked by the conference's co-curators Rene Redzepi and Alex Atala, who greet each attendee with a hug and a welcome.
Team Austin's heads are buzzing thanks to expertly roasted cups of coffee from around the world curated by Nordic Barista Cup winner Jens Norgaard and Oslo roaster Tim Wendelboe. Plates of half-eaten pastries and Danish cheese and charcuterie from Swedish chef Magnus Nilsson litter their tables.
Between greeting friends who he met at last year's conference and old compatriots from the industry who admire his stamina and determination to forge his own path, Qui remarks that "attending MAD is like going to the library for chefs. You get out of it what you put into it and for me, the inspiration flows from beginning to end."
Deana jokes about the "selfie stick" they considered picking up on their recent press trip to Hong Kong to fulfill a commitment Qui has to Top Chef. The pair, which came to MAD via Alaska, should be exhausted, but they look exuberant as they head into the big red circus tent.
10 a.m.
The crowd of 600 includes Daniel Patterson, David Chang, Danny Bowien and crowd favorite Roy Choi,  all huddled on padded wooden benches in the now-iconic MAD tent. They begin the day in total silence. It's a virtue that is stressed again and again by the co-presenters who take the stage to answer the conference's theme, "What is Cooking?" Many of them seem to think that the perpetual drone of our chef-obsessed media leaves little time for cooks to contemplate what they're actually doing at the stove.
The first presenter illustrates why silence is often the key to achieving the ideals we hold for ourselves.  Soba master Tatsura Rai, owner and chef of Sobatei Rakuichi, prepares his legendary soba noodles from beginning to end on a darkened stage with only a single light beaming on his work table. The silence is so complete you could have heard a carrot that was given as a snack inside the MAD goodie bag drop to the hay-lined floor.
Qui says that he respects Rai's mastery over a single element, having spent four years at the rice station during his early years at Uchi in Austin. He admits that he doesn't have the time right now in the midst of press trips, running his restaurants, and being a Top Chef winner, to devote to learning something as comprehensively as Rai, but he's glad that chefs like Rai exist to remind younger cooks to slow it down and learn something intimately.
The silence is broken when chef Alex Atala, MAD's co-curator, runs on stage to whip the crowd into a frenzy that intensifies when Rene Redzepi emerges, hugging his Brazilian counterpart before greeting the crowd to a standing ovation.
Qui writes feverishly in his notebook. He says it's something he always does at conferences like this because they trigger a flow of ideas that he brings back to his restaurants. He says that that he doesn't understand why people sometimes criticize conferences like MAD because for him and most other chefs, they are a way to fill the brain with new ideas and exchange ideas with chefs from around the world.
"You can't work in a petri dish. You have to get out there, you have to be continually learning and evolving. You can only taste a dish 10 or 12 times before your palate goes numb. It's the same with ideas. When you're only cooking in your kitchen, you lose perspective and the ability to taste the same thing day after day. Conferences represent that new dish, the new flavor that reinvigorates your palate."
11 a.m.
Writer and philosopher Julian Baggini's presentation on how to inspire conviviality at the table leads Qui to reflect on how the restaurant model is different in the U.S. than it is in Europe, where the inspiration for a new restaurant is usually the restaurant itself. In the U.S., Qui says, owners typically build their restaurants upon the foundation of the dollar signs they see. He adds that this sometimes inhibits the conviviality a restaurant dining room should inspire because it hinders a chef's freedom to pour his heart and soul into his cooking.
Paul Freeman's presentation about the history of celebrity chefs also hits close to home, given that Qui has won the James Beard Award for Best Chef Southwest and Top Chef Season 9. He doesn't see the role as something negative though. Instead, it's a way to shine some light on the unique cuisine of Austin, a city he relocated to 12 years ago from his native Manila.
12 p.m.
Paola Antonelli, Senior Director of Architecture and Design from NYC's MoMA, discusses the confluence of design and food. Such high-brow conversation might not apply at other food trucks, where the primary goal is sustenance, but at his popular East Side King restaurants, Qui says every detail is carefully designed to elicit joy in his guests and get them to return again and again.
The next presenter and Indian author Madhur Jaffrey says that our love of specific foods are inextricably linked to our earliest taste memories. "Definitely," says Qui. "For me it's rice. I've always had to have my rice or things just don't feel right. And dried fish. There's nothing better for me than the flavor dried fish imparts to a dish."
1 p.m.
Qui thinks a great deal about how to keep his staff happy, the theme of Silvano Giraldin's presentation. The famed maitre d' and managing director of Michelin three starred restaurant Le Gavroche says that if a chef respects his staff, feeds them well, educates them, and pays them properly they will be their ambassadors for life.
Qui agrees, especially about feeding the staff well, an art he learned from Uchi's epic staff meals. He's carried that tradition with him to his restaurants but has also added an extra perk to keep his staff loyal and healthy. "At Qui, we even offer optional yoga classes."
2 p.m.
Qui piles his plate high for lunch with Brazilian dishes like fermented casava root washed down by Chopp!, a beer made with rapadura, the unrefined pure cane sugar found throughout South America, and shots of Cachaça, a Brazilian liquor that imparts the same mouth numbing sensation as Szechuan peppercorns. The mindboggingly colorful meal was prepared by famed chefs Rodrigo Oliveira, Thiago Castanho, David Hertz, and members of Gastromotiva, an organization that promotes the empowerment of disenfranchised Brazilian youth through culinary skills and training.
But Qui's lunch isn't just about the plate in front of him. At MAD this year, attendees were assigned "homework" in the form of an essay from MAD Dispatches, a book of compiled articles about all aspects of the culinary world.
Qui's group is led by The Meadowood's chef Christopher Kostow, and includes chefs from around the globe, including Shake Shack's Culinary Director Mark Rosati. The theme of "the role of the chef" is a broad one, but the group tackles it well, Qui enthusiastically diving in to record on paper plates for the video required of each group phrases and words like "balance," "responsibility to create change, and "enrich your community beyond the kitchen."
3 p.m.
French chef Olivier Roellinger, who notoriously gave back his three Michelin stars to pursue his passions free from the shackles that can come with such a distinction, follows French chef Alain Senderens, who discusses the topic of wine, never mentioning the fact that he too once gave back the three stars once awarded to him.
Roellinger's message that "being a chef is about keeping your integrity," resonates with Qui, who reflects about how he too sometimes struggles to maintain his identity in a high profile career. "The expectations have shifted in the food world and they are sometimes dauntingly high," Qui says. "I play to them but at the same time, I also cling tightly to my own foundation, my own identity."
4 p.m.
Italian chef Fulvio Pierangelini discusses the empowerment that can come with doing your own thing. He shuttered his restaurant in 2008 but says he doesn't miss being a celebrated chef. What he misses is waiting for the fishermen to come into shore, the heat of a bubbling pot on his face, the dirt under the nails of his farmers.
Should Qui ever close down his own restaurants, he will most likely miss HausBar with the same nostalgic longing. It's the sustainable farm he's been working with in Austin to supply his restaurants. "I love my farmer. We work in synchronicity together. She gives me what I want and I try to keep her happy and inspired, just like she does me."
5 p.m.
Qui says he remembers a similar stress of opening a restaurant that one of the day's final presenters, French chef Tatiana Levha, explores. "You never can really settle into it like you can other jobs," Qui says. "Being a chef is stressful and adding business owner on top of it can sometimes nearly break you but you have to keep going. If you love what you're doing, you'll find a way to succeed."
6 p.m.
Qui and his partner Deana are nearly though with their day. With dinner in one of Copenhagen's beloved restaurants on their minds (they went to an Australian restaurant called Tight the night before and want something more authentically Danish tonight) they settle in for writer Anya Von Bremzen's heartfelt presentation about fleeing the Soviet Union and her discovery of American restaurants throughout her storied career. She concludes by imploring the chefs in the audience to "leave a little room in their fairytale of cooking for the guests who will be dining at their table."
For Qui, a chef who has always made hospitality his priority, it couldn't have been a more poignant message to conclude his day at MAD.