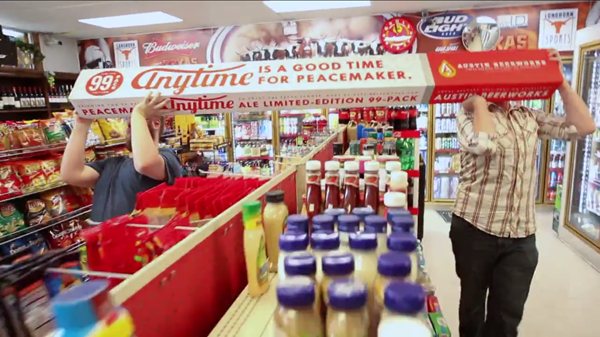 Say hello to the latest debauchery to come from Austin-based brewery Austin Beerworks: the 99-pack. It weighs 82 pounds. It's seven feet long. And most importantly, it really does hold 99 beers.
While it might sound like a drunken pipe dream conceived after one too many rounds, the Beerworks crew and designers Helms Workshop teamed up to make the idea a reality for the re-launch of Peacemaker, the brewery's flagship pale ale.
The beer's new moniker "Anytime Ale," is what sparked the idea for the novel packaging system, Christian Helms says. The beer is devised to be "a simple, balanced beer that you'd want to have more than one of at a time," Beerworks co-founder Michael Graham explains, so as Helms and his team listed out all of the ideal occasions one might reach for a cold can, they "quickly realized we could come up with far more occasions than drinkers would have cans on-hand. That sparked an idea."
The resulting behemoth is so big that the Austin Beerworks crew suggest "bringing a friend" to help carry the burden — if you're one of the lucky few to score a limited edition pack. In order to manufacture the larger-than-life vessel, Helms worked with structural engineers to ensure it would hold up under the significant weight of the beer, reiterating that there was much "quality control" involved in the process "to make sure folks would enjoy consuming the 99-Pack even more than we enjoyed coming up with it."
While the whole scheme sounds, as Helms Workshop says, "as overindulgent as it is awesome," Graham says he's seen about "95% excitement and 5% disdain" from the general public thus far. "That seems to be the golden ratio for anything that's worth doing, so I think we're on the right track," he says.
For the price of about a buck a beer, we tend to agree.
Read these beer stories on Food Republic: