Where To Eat At The 2014 U.S. Open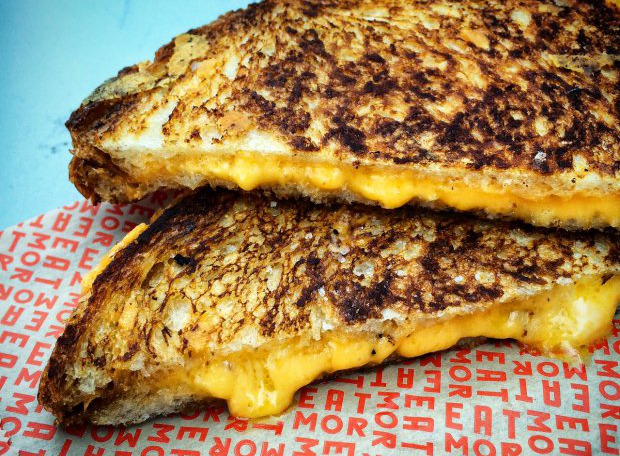 The U.S. Open, which runs August 25-September 8, is the world's highest-attended sporting event — attracting a ridiculous 700,000 fans over the course of the two-week tournament. In this food-obsessed era, where jeers about a team's crappy stadium food can overshadow even poor play, it is essential to the Open planners that they get concessions right. I've covered the Open's food scene for many years, having witnessed a dedication to working with local vendors (Pat LaFrieda Meats, Blue Marble Ice Cream) and celebrity chefs (Susan Feniger, Jonathan Waxman, Tony Mantuano), and this year food is an even bigger part of the draw.
Once again, there will be no shortage of inspiring food and drink available at the tournament, with well-known chefs and NYC favorites flexing during the two-week event. A major theme of the food is undoubtedly local fare, as over 40 percent of all produce served is sourced from the region. Here's a rundown of what you can expect to eat and drink in Flushing after two editors played hooky from the office and attended the opening session.
Food Village
The bulk of the eating options are housed in the massive Food Village, which operates with a concession-stand style setup that slinks along the outside of Arthur Ashe Stadium. New this year is a Pat LaFrieda sandwich stand selling signature filet mignon and meatball sandwiches, along with shoestring fries and milkshakes. Also new is a stand from Mexican chef and former tennis professional Richard Sandoval. Mini Maya is a pop-up version of his New York City restaurant Maya and serves a chopped salad, grilled corn and an assortment of tacos (chicken, steak, pork). The guacamole we tried missed lime like an injured Andy Murray missed forehands in his opening match (thankfully the Scot was able to gut it out to an eventual four-set victory).
Outside Court 17, the Morris Grilled Cheese Truck, owned by chef Michael Jacober, is parked and serving two options: the Classic (New York Cheddar, New Hampshire Landaff) and the Gouda (bacon and ramp butter). They are hot, deliciously stretchy and served in wax paper sleeves. Make sure to get rid of them before entering the hushed-tones of the tennis stadium, lest you get yelled at by the security guards. And like most big-ticketed sporting events, the premium liquor sponsors show up with their best signature drinks. This year, Grey Goose brings back its Honey Deuce, served with raspberry liqueur, lemonade and honeydew melon "tennis" balls.
Wine Bar Food
Tony Mantuano is the James Beard Award–winning chef-owner of Chicago's Spiaggia (also known as Barack Obama's favorite restaurant), as well as the newly opened River Roast. At the Open, his two locations of Wine Bar Food, located in the South Plaza and on the Club Level of Arthur Ashe Stadium, are by far Team Food Republic's favorite spots. The dishes are all Mediterranean small plates, so think tomato bread with Serrano ham and a really good ouzo shrimp, which has been a fan favorite seven years running. "I was trying to capture the Mediterranean in one bite," he says, proudly, while pouring us a glass of Alois Lageder pinot grigio. He contends that every food culture on the Mediterranean uses the combination of anis-flavored liqueur and lemon juice and he was looking to create a dish that he could do quickly, but to-order (which is not really the case with most food at large-scale sporting events). The aromatic dish, which carries by the chef's estimates a 30-40 yard aroma trail, is sizzled from 11 a.m. until the second set of the last match. It's the best.
Restaurants
Now we're not the type of tennis fan that goes to the U.S. Open for an omakase dinner from chef Masaharu Morimoto. That is, we are tennis fans and there to WATCH TENNIS. That said, the Open is oftentimes much more that that. Also, it rains sometimes, so you might need to kill a few hours. If you find yourself in the mood for a more formal affair, there are a couple of restaurants that will give you that. Aces, located on the Club Level of Arthur Ashe Stadium, is Morimoto's spot, so expect rotating sushi and sashimi. There's also a chilled seafood tower available, as well as chilled corn and lemongrass soup. It's a popular spot for lunch and dinner, so call ahead for reservations. Mojitos (located on the ground floor of Arthur Ashe Stadium) does pan-Latin dishes like smoked pork bocaditos with sweet plantains and charred shrimp. There's a more-casual Patio Café (located outside the U.S. Open Club) serving chopped salad, burgers and sandwiches.You can also hang out in the Moet Champagne Bar for a glass of bubbly between (or during) matches.
Heineken House
For the second year running, your favorite Dutch beer company has set up near the food village in a spacious second-level party deck that features televisions, lots of wooden benches, tables and chairs — as well as the game corn hole. Like last year, when Sandwich Modigliani Tyler Kord appeared, the organizers have invited a cool NYC chef, this time Mario Carbone of Torrisi Italian Specialties, Carbone and ZZ's Clam Bar, to offer two sandwiches — a "zesty Italian" combo on a really outstanding house made sesame hero and stuffed with sopressata, salami, pepperoni, ham, mortadella and provolone cheese. Carbone was raised 10 minutes from the Open grounds and grew up visiting the Lemon Ice King in Corona. "We didn't want to overthink this one," says Carbone, who had just returned from Hong Kong and is readying the opening of his latest NYC restaurant, Dirty French. "This is a quintessential deli sandwich, and a good one at that."