In Chicago, Great Design Collides With Even Better Craft Beer And Fried Chicken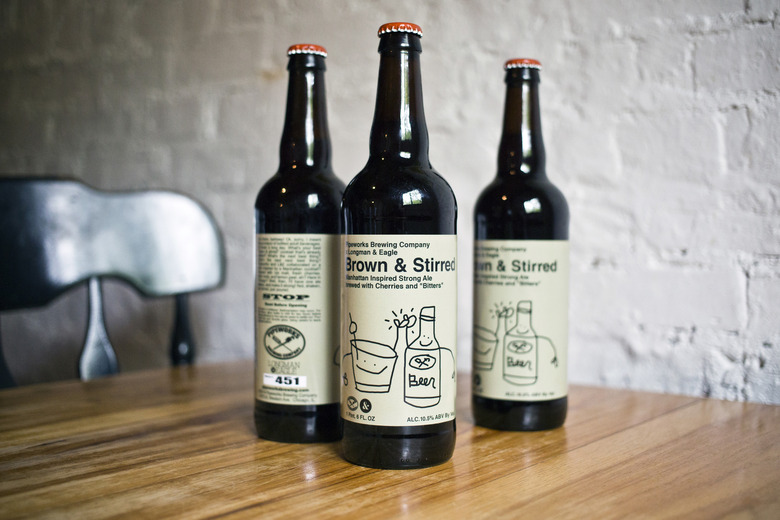 Chicago's Pipeworks Brewing Company is known for creating wildly fantastical craft beers with labeling to match, as in the astronaut unicorn hurtling through space on its Imperial India Pale Ale bottle. The label for its latest offbeat brew — "Brown & Stirred" — goes in an entirely different direction. The beer, a collaboration with Longman & Eagle, is a strong rye ale (10.5 ABV) inspired by the Manhattan cocktail. The label features a whimsical drawing of a bottle of beer high-fiving a cocktail; the beer is even served over ice in a Manhattan glass, with a twist of lemon of course.
"Pipeworks is known for their crazy illustrated labels, so even though this was a departure visually from the illustration style they use, I still think it fits nicely with their vibe," says Cody Hudson, a co-founder of the design firm Land and Sea Dept., which has crossover with Longman & Eagle's ownership team. Hudson, whose long-running Struggle Inc. design company created the branding for beloved local spirits company Letherbee, notes that the Pipeworks Brown & Stirred label features a doodle style that's been driving L&E branding as well.
Last summer, Land and Sea Dept. opened Parson's Chicken & Fish, whose clean aesthetic and red, black and white color palette stand out as much as the highly praised fried birds and of course the well-known Negroni slushies. Hudson hints that the Parson's business has worked well, and that the design agency has a few more spots "in the works."
I ask Hudson about design's role in promoting products like craft beer and restaurants, and he shoots back, "It plays a huge role. Obviously, if the food and drink are no good then it doesn't matter, but when you can have the combination of great food, a great beverage program mixed with really smart design (both interior and graphic), it can make for a great experience during dinner."
Read more about Chicago on Food Republic: