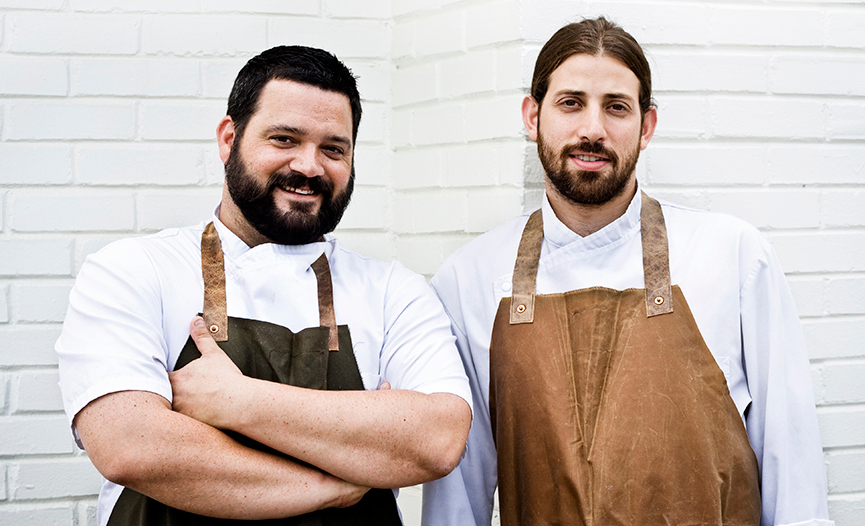 If you track population statistics, it's pretty obvious that gravity must have some effect on migration, since folks are flowing toward the bottom half of the U.S. map to fill up all those new condos and apartments that are flying up around the southern half of the country. Somebody's gonna have to feed all those new hungry residents, so many restaurateurs are taking advantage of the influx to open new dining establishments in the South's culinary capitals. Here's the lowdown on the most anticipated openings between now and the end of the year:
In Atlanta, diners mourned the closing of Asha Gomez's Cardamom Hill, where Gomez highlighted the cuisine of Kerala, a lush coastal state of South India known for fragrant spices, coconut and seafood. A highlight of the Cardamom Hill menu was Gomez's dish of Kerala fried chicken with cardamom waffles. Fusing the traditional Southern buttermilk bath before frying with a coating of green herbs, chiles, garlic and ginger, the dish was finished with a drizzle of coconut oil, maple syrup infused with traditional Indian spices and curry leaves which were flash fried.
Fortunately, Gomez plans to revive this delicious bird at a small eatery named Spice Road Chicken. The restaurant will actually be a market stall at Atlanta's Krog Street Market, already a favorite culinary destination thanks to Eli Kirshtein's French-American brasserie, The Luminary. Gomez hopes to start frying up the chicken at Spice Road by late autumn.
Another chef bringing Indian-inspired flavors to the South is Food Network personality Maneet Chahuan. Opening in Nashville in September, Chahaun's Ale and Marsala House aims to be a "British pub with Indian influences," offering fusion fare in addition to a section of the menu dedicated to classic Indian dishes. The beverage offering will focus on custom beers, including flavors such as English toffee cayenne, a Chai porter, saffron cardamom and a garam masala spiced brew which they plan to partner with local brewer Cool Springs Brewery to create.
Also opening this fall in Nashville is Prima, the latest project from local restaurateur Miranda Whitcomb Pontes. Her other two restaurants, Burger Up and Josephine, have become anchor properties at either end of Nashville's burgeoning 12 South neighborhood. For Prima, Pontes has brought on local chef Sal Avila to helm the kitchen. Avila has experience working in fine dining at Grand Café in San Francisco and The Ritz-Carlton at Half Moon Bay as well as some of Nashville's best restaurants, including 360 Bistro and City House. At Prima, Avila plans a modern international steakhouse vibe a vegetable-heavy menu where the non-meat dishes will be highlights, not afterthoughts. After completing the build out in the ground floor of the ritzy Terrazzo condominium complex, Prima hopes to begin service sometime in September or October.
Part-time Nashvillian Sean Brock is returning to his home base of Charleston to open a new Mexican concept next to the spot where he first sprang onto the national chef radar at McCrady's. Minero is Spanish for "miners," and is referential to Mexican miners who used to wrap their explosive charges in paper and call them tacos. The food and rich culture of Mexico will be the inspiration for what Brock promises will be a taqueria with "a fun atmosphere, affordable menu and casual service." Minero should be open in time for Día de Muertos at the end of October.
Fellow Chucktown chef Craig Diehl has plans for a new meat market that will show off his charcuterie skills. Artisan Meat Share will take advantage of Diehl's flagship restaurant Cypress as a commissary kitchen to bake breads for grab-and-go sandwiches at this upscale deli. There will be a few seats for diners who want to stick around to enjoy Diehl's menu of cold and hot sandwiches plus inventive Southern sides like barbecued baked peanuts, sweet corn and okra, and fried cheese grits with gravy. Opening is imminent at Artisan Meat Share, so Charlestonians need to start digging their picnic baskets out of the basement.
Memphis wunderkinder Andy Ticer and Michael Hudman also have their eyes on opening a new butcher shop next door to their casual Southern/Italian eatery Hog and Hominy and across the street from their original outpost at Andrew Michael Italian Kitchen. Named after a baby pig, Porcellino, a community butcher shop and sundry store that will feature pork and lamb from Newman Farm in Myrtle, MO and beef from Double H Farm in Nashville, TN. Porcellino will also offer fresh and dried pastas, made daily, and charcuterie, both fresh and cured, as well as cookbooks and other items that will assist the home cook in preparing a meal. During lunch, the butcher shop will serve sandwiches and coffee. Look for the doors to swing open sometime in November.
In the Lone Star State, Austinites are excited about the impending opening of Olamaie, where chefs Michael Fojtasek and Grae Nonas plan to share their version of modern Southern cuisine. The pair piqued local diners' appetites with a series of pop-ups late last year, and their new restaurant has settled into a 83 year-old house that they have updated with a new sleek décor. Permitting hassles have stalled the planned summer opening, but Fojtasek and Nonas are finally just about ready to start service any time now.
In Dallas, Proof + Pantry is also imminently ready to open their doors in the Arts District. Executive chef Kyle McClelland has created a menu which he has separated into sections labeled "soil," "land," "sea" and "bulk" to showcase his brand of global cuisine. Expect lots of distressed barn wood and shelving lined with preserves to play up the "pantry" vibe and a creative cocktail program designed by Michael Martensen and Josh Mceachern to represent the "proof" side of the equation.
Ryan Hildebrand has also been scouring old barns for building materials to decorate his new Houston venture, FM 903. Promising "rustic farmhouse fare" and ingredients sourced from a greenhouse located on site, FM 903 will also feature an attached bakery for retail sales of breads and pastries that will also appear on the restaurant's menu. A wood-burning oven will dominate the kitchen space, pumping out pizzas. Maybe that hot-ass oven is why they plan to wait until the mercury fell below 100 degrees in Houston before opening later this fall.
Down in New Orleans, the culinary community was rocked by the closing of New Orleans stalwart Brennan's at the end of June. Fortunately, Ralph Brennan purchased the property at auction after his cousins walked away from their ownership. Management is currently restaffing the restaurant's front and back of the house staff in preparation for a September grand reopening.
Another New Orleans chef with multiple restaurants, John Besh, is partnering with his fellow Next Iron Chef contestant Aarón Sánchez to open a modern taqueria in the Central Business District on Poydras Street (we caught up with them after an intense research trip). Johnny Sánchez will focus on tacos, tostadas and ceviches, plus larger entrees that will combine Sánchez's experience cooking traditional Mexican cuisine with Besh's commitment to Louisiana ingredients and flavor profiles. The exact opening date is still hazy, but expected before the end of the year. A Baltimore outpost of Johnny Sánchez will begin service in August, so that should free up Besh and Sánchez to focus on their CBD project.
In the meantime, Southern diners can keep on refreshing the Open Table reservations screens to try to snatch up the premium early tables at all of these new projects.
Read The Hidden South columns on Food Republic: