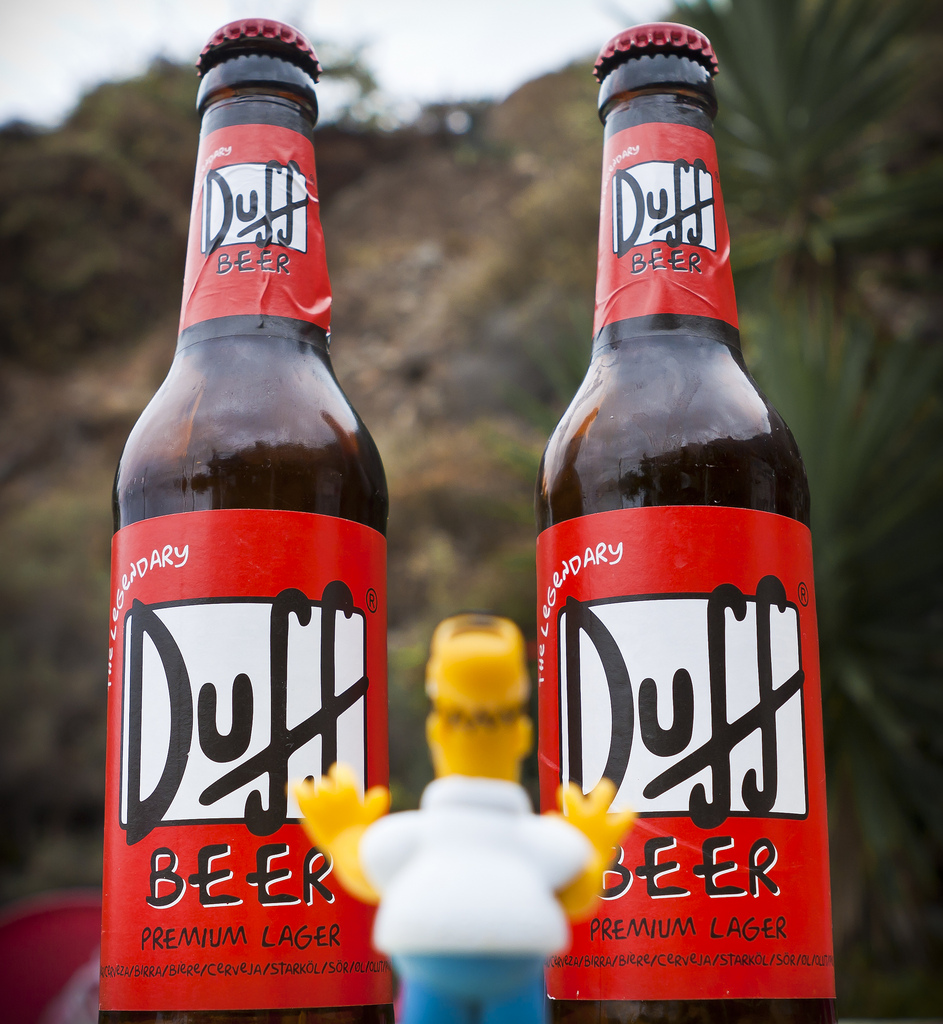 Are you a fan of binge TV watching? Did you command and conquer the Netflix bingefests of Orange is the New Black and House of Cards? Never missed a Star Wars or LOTR marathon? Well FXX is airing a mega-marathon of all 25 seasons (that would be 552 episodes) of everyone's favorite animated family, The Simpsons. You're going to need some beer, and I recommend Duff. You do recall Homer's love affair with Duff beer, yes?
The fictional brew finally became a reality last year when Moe's Tavern opened up at Universal Studios Orlando, with beers by Florida Beer Company. As you might expect, it's an American adjunct lager, but it's not too bad. This isn't actually the first time Duff beer has made the rounds, as breweries in Belgium and Mexico have sought to bypass copyright laws to capitalize on the show's popularity. If you're planning on a trip to Moe's in Orlando, don't worry, Florida Beer Company's is 100% legit.
A major point of contention in the series was always where, exactly, Springfield was located. In 2013, creator Matt Groening revealed its location to be Oregon. While I will always cherish Barney's iconic burps and Bart's many, many prank phone calls, I still can't shake the fact that I've always wanted to try the beers in the show, especially now that they have an awesome Oregon inspiration. If you're gearing up to watch the epic Simpsons marathon this weekend and well, all of next week, too (did I mention it's 552 episodes?) make the right choice. Today, I transform into a yellow-skinned cartoon to sample all the Duff beers, ever.
Regular Duff
Real Beer Equivalent: Pabst Brewing Company — PBR
A hilarious twist in the series is that Regular Duff is actually the same thing as Duff Light and Duff Dry. This won't surprise just about anyone familiar with "light" or "dry" beer, it's the same exact thing. If you ask Homer, it's the best beer ever made, but he's not a very reliable source. I taste hints of water, corn, barley and 'Murica.
Lady Duff
Real Beer Equivalent: Pabst Brewing Company — PBR
Not to be confused with Titanic survivor and fashion designer, Lady Duff-Gordon nor former Disney star Hilary Duff, this too is exactly the same as regular Duff, just in a sleeker and sexier package. This would basically be PBR if it came in those trendy new 10-ounce skinny cans.
Raspberry Duff
Real Beer Equivalent: Abita Brewing Company — Purple Haze
This beer is light enough for a lady but Duff enough for a man and is probably what Smithers drinks after a day of shellacking from Mr. Burns. Then again, if any beer is fit for Charles Montgomery Burns, this is probably it.
Tartar Control Duff
Real Beer Equivalent: Bear Republic Brewery — Tartare
The name sounds it should taste like toothpaste, but if it tasted anything like Bear Republic's Tartare, it's gonna be a shock to your gumline. This Berliner weissbier has huge tart flavors of lemon and green apple mellowed by sweet, wheaty acidity, which makes me think these beers probably have nothing in common. I just really want a Tartare, it's Friday.
Duff Stout
Real Beer Equivalent: Deschutes Brewery — Obsidian Stout
Stout is "the beer that made Ireland famous." Surely this would be Groundskeeper Willie's go-to (or was he Scottish?) but even at 6.4% it's easy drinking enough that Barney could easily put away, say, 10 or 15. This isn't just one of the best stouts in Oregon, it's one of the best in the world; however I'm going to review it from the perspective of Barney's thunderous beer burp: hints of roasted malts, pickled eggs and more Duff stout.
Duff Zero (non-alcoholic)
Real Beer Equivalent: Guinness — Kaliber
When alcohol is banned in Springfield, Duff's CEO claims it's not the alcohol that drives people to Duff beer but the flavor. Now let's be honest, where have we heard this before? This little number ends up failing completely because apparently without the alcohol, it's not worth the hype. Fact is, non-alcoholic beers aren't very good, but this one would probably stand the taste test for Homer as long as you don't tell him what's missing.
Now kick off your Simpsons binge by making your very own Duffman costume, because Halloween sneaks up on you.
More Weekend Drinking Assignment on Food Republic: